Ben Olivo
Chori-quiles taco from Yatzil Mexican Restaurant
Written on its sign that overlooks Zarzamora Street, Yatzil Mexican Restaurant claims to be "The Best in the West." I assume the marketing gurus behind the slogan are referring to San Antonio's West Side. I'm not ready to agree with that, because the West Side is the Mecca of breakfast tacos, and I have not yet tried all the taquerias, but damn …
Three tacos stand out here: the Yatzil special taco ($2.50) with papas a la Mexicana with cheese and bacon; the Taco Amigo ($1.99) with bean and cheese with bacon and guacamole; and the Chori-quiles ($1.99; above), which combines chilaquiles with chorizo. And they are all wonderful.
The Yatzil taco seemed larger than the others and included big chunks of potato. One of my favorite tacos — the papas a la Mexicana — is enhanced here with cheese and bacon. The diced onions, tomato and peppers blend beautifully with well-seasoned potatoes. Sure, the potatoes could have been more crisp, but now I'm nitpicking.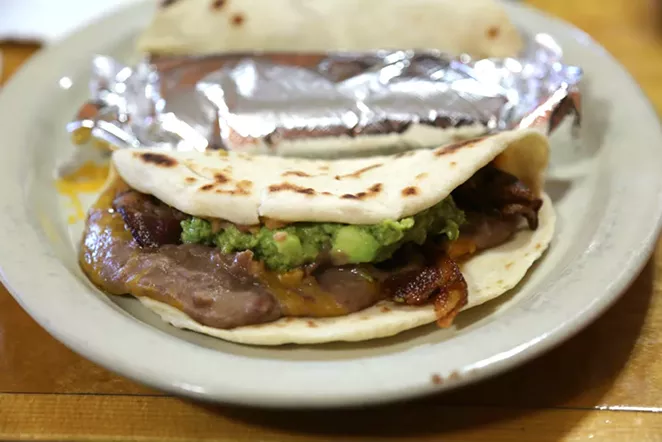 Ben Olivo
The Taco Amigo
The Taco Amigo is not exactly revelatory: add guacamole to the classic bean, cheese and bacon (my favorite taco growing up). But, damn, everything was obviously fresh. I would bet money that those buttery beans and fresh guacamole were smashed on site.
The one that really tickled my fancy was the chori-quiles (pictured at the top). I knew exactly what it was when I saw it on the menu, and it delivered. The chips crunched like no other chilaquiles have crunched in my mouth before. This means the cook put the chips with the chorizo and egg mixture just before serving. I cannot emphasize how kickass this is, that a single taco would be paid that much attention. The chorizo a perfect ratio to the taco's other elements. And with melty, white cheese? Game, set, match. It's now one of my favorite tacos.
We ordered others, but these were the standouts. The flour tortillas were fluffy with perfect chew. The green salsa seemed like straight-up serrano and the red, a non-oily chile de arbol with a serious vinegar kick. Either of these work on any taco there, and I invite you to explore the menu. We would have ordered the nopales con huevo and the weenie and egg, but there wasn't enough room.
Lastly, the potato and egg taco. It was made with freshly scrambled eggs, and of course potatoes, which were all hot on one those excellent tortillas. It's 99 cents if you order it between 6-10 a.m. Monday- Friday. As a friend pointed out, order two of those and you're good through lunch and maybe beyond. More often than not, super cheap tacos also mean a reduction in quality. Not here. Definitely not here.

502 S. Zarzamora St., (210) 432-2240.
Visit TheTacoist.com for more reviews of San Antonio taquerias. Reposted with permission from TheTacoist.com.