The Current's Food Editor on the Best Bites of 2014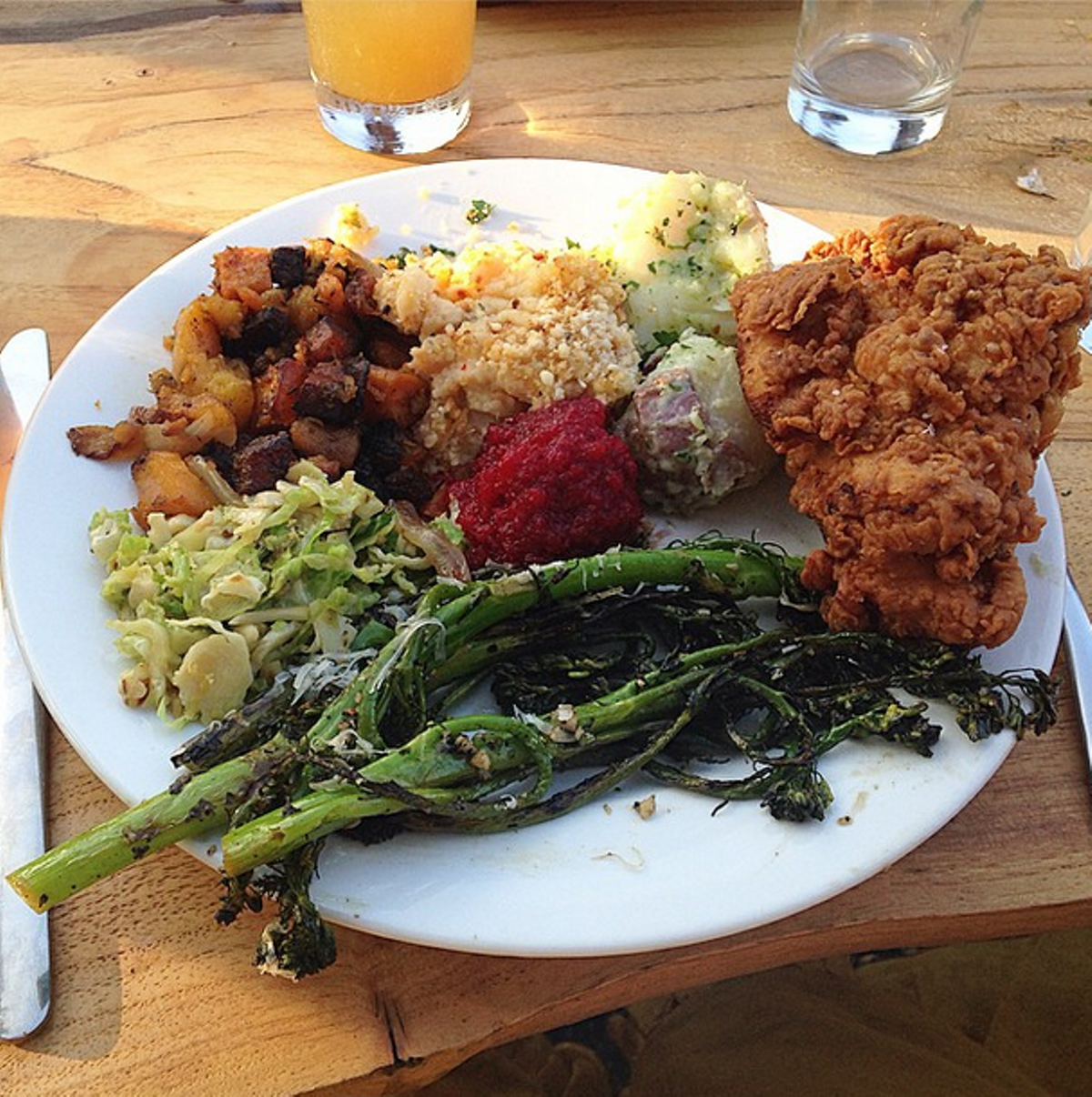 Fried Chicken
Martin Tamez at Canadian Thanksgiving
I'm not entirely familiar with the goings-on of our neighbors up north, other than my not-so-secret penchant for Celine Dion's power ballads and longing for universal health care, I really don't keep up with Canadian holidays. But when Tim McDiarmid of Tim the Girl hosts a Canadian Thanksgiving (October 12) at the picturesque Peeler Farms, you go. Along with sampling a life-changing bit of turnip puff via McDiarmid, and a solid boudin via John Russ of Lüke San Antonio, Canadian Thanksgiving included the best fried chicken I've had, possibly to date. Whipped up by Lüke cook Martin Tamez, and fried up fresh outside the Peeler's farmhouse, the chicken was moist, tender, perfectly seasoned and crisp. I may have gone for seconds (and thirds).
Terrapin Stew
John Russ, Alamo City Provisions dinner
The first-ever Alamo City Provisions dinner in August, inside the Josephine Theatre, saw a focus on game from Mixtli's dainty elk tartar to Michael Sohocki's canned quail, and while each dish was as delicious as the next, series instigator Russ stole the show with an unlikely offering. Russ and co. plated Louisiana-favorite terrapin stew made with common snapping turtle (worry not, the threatened alligator snapping turtle was not used) with a hint of chile pequin and dotted with a dollop of sweet potato mousse. Although I'm far from a vegetarian, the stew inspired the same feeling as when I eat rabbit, a tremendous amount of guilt for enjoying such a delicious bite. Yeah, I'm upset at myself, too.
Jicama Shrimp Tacos
Rosario's North
Jicama tacos are nothing new (Acenar offered them at Culinaria's Grand Tasting last year), but these are worth seeking out if only to check out Rosario North's digs. After opening at 9715 San Pedro in late March inside the former Barbaresco, the popular Southtown-based eatery added a few new menu items, including said tacos, where the jicama slides in as a faux tortilla, adding both crunch and slight peace of mind. The taco is refreshingly crunchy as the jicama, cabbage slaw and fried shallots meet well-seasoned shrimp. You'll want these early in the new year.
Blue Ribbon Burger
Cured
Choosing a burger over Cured's (306 Pearl Pkwy, Ste 101) insane charcuterie feels like an oversight, but bear with me. I talked many a pal into ordering one of these cute little burgers since Cured's opening last December. Served during lunch and happy hour, this little number is incredibly deceiving in its simplicity. For starters, everything's made a la minute, from the bacon/beef blend and onion jam to the drippy American cheese sauce and fresh-cut fries. If anything, the burger helped lure folks in with its legit flavors, while encouraging them to try everything else the kitchen is creating. A single is more than enough, but we can't fault you for wanting to double (or even triple) the patties.
Black Sesame Seed Ice Cream
Hot Joy
Long gone from Hot Joy's (1014 S Alamo) menu, this dessert had just about everything going for it. Creamy and balanced black sesame ice cream? Check. Smoky chocolate? Yeah, it's in there. Pretzel bits for extra crunch? You know it. Griddled banana cake that dreams are made of? Yes, yes, oh gods, yes. Together the concoction was delectable without being tooth-achingly overpowering, as one of my fellow fans put it, and a perfect end to cap off a night at HJ. Regardless of whether the black sesame ice cream ever makes it back onto Hot Joy's menu, we're fully on board with what new pastry chef Jessica Perez is already dishing out.
Tomato Artichoke Cannoli
The Cookhouse
Pieter Sypesteyn has a way with most animal proteins, whether it's found on land or at sea. Heck, even his rice and beans is made using house-cured jowl fat at The Cookhouse (720 E Mistletoe). Although I'm a fan of the eatery's roasted duck and pork cutlet (available for dinner), and the ham and pimento cheese po'boy (available for lunch), the tomato artichoke cannoli also holds my heart. A house-made noodle sheet filled with a savory veggie goodness that combines artichoke hearts, tomato confit, goat cheese and hints of marjoram is nothing to sneeze at. The dish is warm, comforting and easily shared between pals.
Barbecue Everything
Big Bib BBQ
For this year's Best Of, I packed up a group of pals, a bottle of Pepto and my Lisinopril, and headed out to find San Anto's best 'cue. Several places fit the bill, but one particularly embodied great barbecue within 1604 (because we have to stop claiming outlining eateries as our own), and that was The Big Big BBQ (104 Lanark). The brisket was thick, flavorful and tender throughout; the chicken was smoky and rich; and those spicy riblets will continue to draw us back. Then there was the matter of those sides, which included a loaded potato salad with gobs of butter and cheese, and a sweet potato casserole so sinful, I'd rather not worry about how much brown sugar is in it.
Mini Tacos
Taquitos West Ave.
After living in San Antonio for 10 years, I've finally managed to find a suitable replacement for my beloved Rio Grande Valley mini tacos, and no, it's not the truck outside Hardbodies (although, those are a close second). A favorite server of mine, who shares my love for mini tacos by the dozen, introduced me to Taquitos West Ave. (2818 West Avenue) this past September. What sets this joint apart from the rest, aside from the outdoor kitchen complete with bright orange trompo, is their consistency and authentic ingredients. Yes, you'll find bistec and tripa (prepared regular or extra crunchy), but you'll also find lengua, cabeza and suadero, a smooth and extremely thin cut of beef. Don't dilly dally with your order, the chef whips up any number of tacos thrown at him in record speed.
Pork and Chive Dumplings
Kung Fu Noodle
I don't like comparing myself to a giant endangered bear or Jack Black very often, if at all. But after first sampling Kung Fu Noodle (6733 Bandera), I very well could have been Black's Po in DreamWorks' Kung Fu Panda. Presented on a rather demure plate, and in groups of more than two dozen little pillows, the dumplings are rustic, poppable bites of yum. There's really no secret ingredient other than the fresh dough they're made with. Get an order for sharing with friends or just go to town on them by your lonesome.