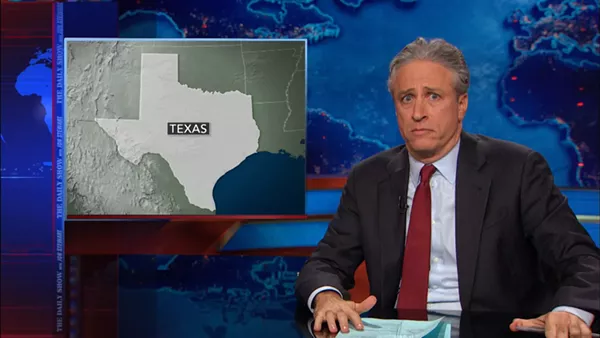 Courtesy of 'The Daily Show'
Last night, "The Daily Show with Jon Stewart" launched its
first episode in a series of Austin-based installments
which have been sardonically dubbed "Democalypse 2014: South by South Mess."
The episode opens with a string of totally necessary jabs at Texans and our collective fear of Ebola. Samantha Bee, Jessica Williams, and Aasif Mandvi report as medical correspondents from various locations, all beneath headers titled "Texas Ebol'em."
With the obligatory Dallas-Ebola jokes out of the way, Stewart moves on to a brief interview about next week's midterm elections with gubernatorial candidate and Texas' resident Government Barbie, Senator Wendy Davis.
Davis touches on her infamous anti-abortion filibuster and her continued fight against the anti-choice legislation in Texas, at which point Stewart chimes in and suggests some type of Planned Parenthood food truck be created where Austinites can get both tacos and pap smears. Yes, I am uncomfortable now too.
Senator Davis then threw some shade in Attorney General Greg Abbott's direction, calling him out for his defense of a voter ID law which could potentially disenfranchise up to 700,000 Texans. Davis went on to say that she believes Texas voters are "disengaged" and are not educated in regards to the substantial differences between candidates and what each candidate stands for. As an example, Davis tells "The Daily Show" audience that she does not support a potential $5.5 billion cut from the state's education funds, unlike some of her opponents.
All in all, according to her interview with Stewart, Senator Davis wants Texans to know that she is "going to be true" and continue to fight for the rights of the voters that support her. In other words, Wendy Davis is going to keep it real, y'all.
Watch Wendy Davis' extended interview on "The Daily Show" website.