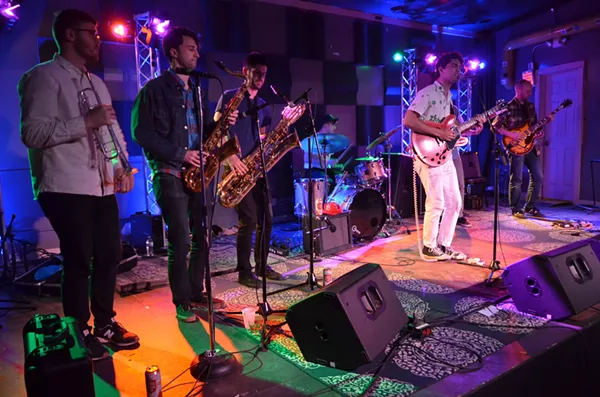 Chris Conde
The Dip

If you decided to skip Cornyation, or migrate from chaos of NIOSA Thursday night, a good place to land would have been the North St. Mary's Strip.
That's because last night, Seattle soul band The Dip was in town closing out an evening at Limelight with local openers The Foreign Arm. It was a special night, one that started with the spirit of victory still lingering in the air from the Spurs win (the bar was full of people watching the game before the music started) when The Foreign Arm took the stage.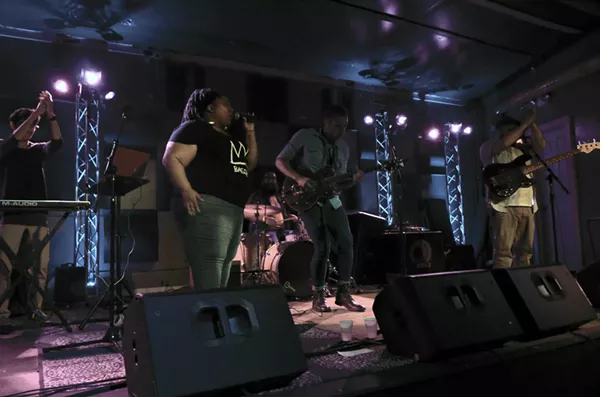 Chris Conde
The Foreign Arm
The members of the band aren't strangers. In fact, most play in other beloved SA bands like Fishermen, Deer Vibes, and Pop Pistol. On Thursday they played a solid hour-long set, as Andrea "Vocab" Sanderson and Nick Blevins took turns leading the band through alternative R&B-soaked tracks. The harmonies were on point and they were grooving hard.


Next up was The Dip.
Chris Conde
The Dip

Shout out to whoever the sound guy was at Limelight Thursday because we're assuming mic-ing and mixing sound for seven dudes on stage, three of them horns, isn't an easy task. Ass-shaking soul filled the venue once The Dip got started. The audience danced (and some even roller skated) to the music as Tom Eddy, with his ridiculously lush tenor vocals, led the band through an hour and a half of funk-stitched songs that pretty much got everyone in the room bustin' moves on the dance floor. Which was awesome — because we have to assume that anyone who doesn't get down to Jarret Katz's drumming and rhythm has no soul.


Basically, the Dip somehow turned Limelight into what we assume was one of SA's best dance parties last night (no small feat — this is Fiesta, after all). If you weren't there, you really missed something special, so you might consider catching them on one of their only other Texas dates this weekend, in Austin or Houston. We're seriously considering a road trip ourselves.