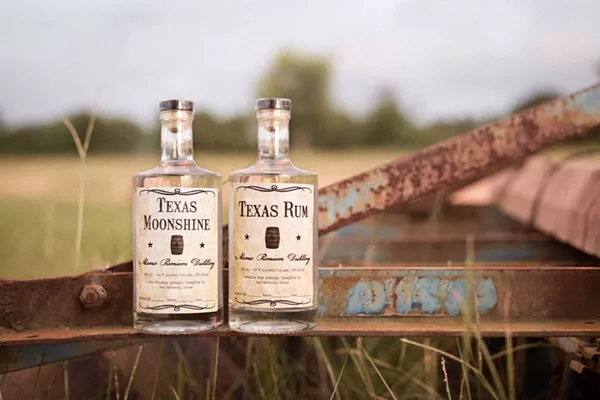 Alamo Premium Distillery is moving its operations from the airport-adjacent industrial park they've operated out of for the past two years to 621 Chestnut.

Launched by church buddies Noel Burns and Daniel Taylor, the distillery will also rebrand in the coming weeks and transition into Alamo Distilling Co., which customers use more regularly. Burns, an affable former chemist with a strange likeness to another chemist that focused on Blue Sky to pay for his cancer treatment, and Taylor, formerly a operations manager at Lowe's, met while attending Journey Fellowship's Schertz campus several years ago and decided to get into the craft business based on Burn's distilling prowess and Taylor's ability to implement successful packaging and production systems.


Those systems worked and now Alamo's Texas Craft whiskey can be found across 300 stores statewide, and 100 shops in San Antonio as distributed through GIMA International, which puts them in Spec's, Total Wine, Gabriel's and the like. But while demand has grown exponentially since 2015 — bottles are currently on back order — the distillery's 1,100-square-foot space at 540 Sandau hasn't. The facility, complete with a teensy air-conditioned office, is stuffed with whiskey aging in plastic drums, the 140-gallon still that runs almost continuously to keep up with demand and distribution materials for Flaviar (the European-based spirit of the month subscription service Burns and Taylor label and package as a side hustle).
"We never intended this to be a very public venue, but a lot of people love coming to see that we produce the craft spirits right here," Burns said.
The Chestnut location will feature approximately 7,000 square feet of space, 3,000 of which will be used for production and 1,500 or so designated for an air conditioned tasting room and offices. No major changes will be made to the facility, aside from a few repairs, a paint job and said tasting room, so Burns and Taylor are hoping to open their doors sometime this summer. They're currently waiting on their TABC 60-day notice to wrap and other local and state agencies to give them the go-ahead.
Alamo Distilling Co. will join Alamo Beer Company, Bexar Pub, Big Hops The Bridge and Burleson Yard Beer Garden as early adopters to the changing Dignowity Hill area.
It's easy to see why people would want to seek out the distillery. The highest-selling spirit so far, the Texas Craft whiskey, aged using live oak inside plastic barrels, is rich in character and surprisingly smooth (Though his careful distillation methods, Burn is able to rid the spirit of any harsh alcohol burn). Their Texas Moonshine is gaining followers, and the Texas rum is just as playful. The prices are also low for industry standards — $20 for the rum, $35 for the whiskey. The new facility means they'll pick up more equipment, which will help them grow the line to include a single-barrel and a dark rum.
Some of the Alamo Distilling office equipment and other tools are at the new location, but distillation begins the minute Burns is given the green light. The public will have to wait to tour the new facility as they catch up on orders from local liquor stores. Trust us, it'll be worth it.