... From Music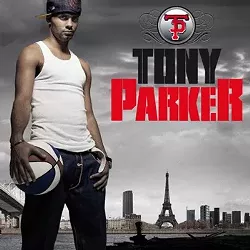 You know the saying: all actors want to be rock stars, and all rock stars want to be actors. Well, you can add that all athletes want to be rappers. I shouldn't be surprised to hear that San Antonio Spur Tony Parker has a music career, or I should say had a music career. After all, he was tangentially involved in a legitimate hip-hop brawl between Chris Brown and Drake at a nightclub in NYC in 2012 that left Parker with a scratched eyeball (that's major street cred). But just like Tony's endeavors in nightclub ownership, his music career is now over as well.
French site TeLe-Loisirs.fr confirmed Tony's retirement, "Je suis en retraite musicale." That's right, our boy Tony has retired from the rough and tumble rap game.
The NBA All-Star released his debut album TP in 2007. If his album cover is any indication, he meant business! I know most music is consumed digitally and kids these days don't care about album artwork, but let's take a moment and examine the cover for TP. Tony Parker trying to look tough in a wife beater and slightly off-tilt backwards baseball cap–check. He's holding a basketball, because we like rappers who can ball and Tony can certainly ball and he doesn't want us to forget that. Then there's Paris in the background with the Eiffel Tower, homage to his home country, sure why not, adds a bit of class. The lack of any firearms suggests that we shouldn't be expecting any gangsta rap–kudos for keeping it clean, TP. Honestly, it looks like he's a former boy-bander trying to make a go of a solo career.
Go to the next page and tell us who's the better (or worse) rapper: Tony P or Shaq?
Spurs fans got a preview of Parker's rap skills at the 2007 Spurs Championship fan celebration.
Tony raps in French so while I have no idea what he's rapping about, it actually doesn't sound that bad. We all remember Shaq trying to rap, right? Did you forget? Well, let's take a look.
Here's Tony's videos for "Balance Toi" and "Premier Love," which have very respectable YouTube views at over 2.5 million each, nothing to scoff at. To his credit, he reached number one with "Balance Toi" in France.
Let's hope this retirement allows him more time to fully concentrate on his b-ball skills rather than his rap skillz and bring San Antonio home another championship.
If we haven't quenched your thirst for athletes dabbling in music, find some of the best on the next page
Oscar De La Hoya released a Latin pop album in 2000, its single, "Ven A Mí" (a cover of the Bee Gees' "Run to Me") reached number 1 on the Hot Latin Tracks chart.
The Chicago Bears released "Super Bowl Shuffle" in 1985, which reached number 41 on Billboard's Hot 100.
Chicago Bears - Superbowl Shuffle by jpdc11
Finally, Deion Sanders tried his hand at rap in 1994.
Did we miss anyone? I'm sure we did. In the comments section, tell us who your favorite (or least favorite) athlete turned rapper/singer is.