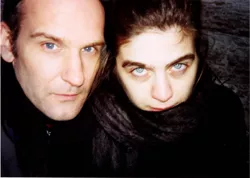 Release Date:
2007-11-07
The Evens add a bit of dynamism to Dischord Records' punk and hardcore family. Ian MacKaye (Minor Threat/Fugazi/Embrace/Dischord founder) paired with Amy Farina (The Warmers) in 2001 to form this ambitious, melodic, minimalist, DC-based duo, and they formally recorded their first nine-song demo two years later with MacKaye on baritone guitar and Farina on drums. Her voice is strong, adamant, and occasionally heavy with intention, which works well MacKaye's legendary raw tone (that's become a tad gentle).
The Evens maintain a democratic structure, with MacKaye and Farina trading vocal responsibilities, and they openly converse with their audiences, cultivating dialogue about issues of universal interest. "Cut from the Cloth," a track from their 2006 release Get Evens, finds them casting out subtle commentary about how far-gone we are: "Maybe they found their voice while out shopping/ the price was hard to beat."
Merging their individual experiences in music and extracting inspired touches from their
previous bands, MacKaye and Farina have created a near-folky sound, balanced with the barest indie-rock undertones, while always being smoothly adventurous. Farina's drums can be scattered or steady. Either way they lead the listener into unlit, unexplored avenues. The Evens have quietly mastered the art of the candid back-and-forth, nudging listeners to really listen, and then really think, without ever being imposing. The Evens, 8:30pm Tue, Nov 13, $5 (all ages), Fl!ght Gallery, 1906 S. Flores, (210) 872-2586.