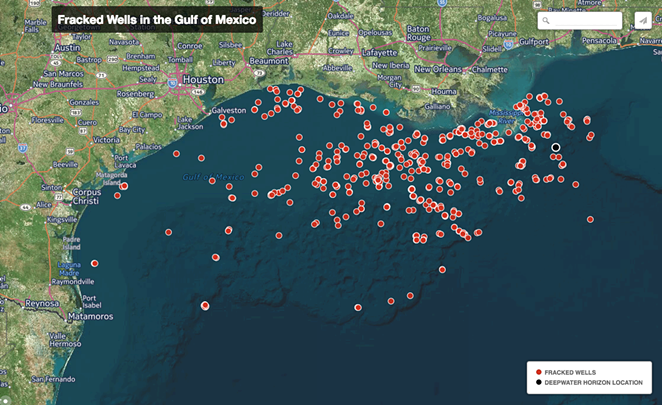 As oil gushed from the sea floor for 87 days in the Gulf of Mexico in 2010 after an explosion and fire on a BP-operated rig, the federal government quietly began allowing oil companies to frack in Gulf waters.
In the three following years, federal officials would approve more than 1,200 offshore fracks at 630 wells off the coasts of Texas, Louisiana, Mississippi and Alabama.
The only reason that information is public is because the Center for Biological Diversity, an environmental group from California, sued the bureaus of Ocean Energy Management and Safety and Environment Enforcement after the agencies refused to release offshore fracking documents under a federal Freedom of Information Act request.
Kristen Monsell, an attorney with the Center for Biological Diversity, says the government still hasn't turned over some of those documents.
"The hold up seems due to the fact that the agency has informed the oil companies about the FOIA request and potential disclosure and given them a chance to request the agency withhold any proprietary information," Monsell said via email.
On June 2, a Washington D.C.-based federal judge ordered the bureaus to turn over permits, reports, emails and related documents to the Center for Biological Diversity.
The companies who are fracking include BP, ConocoPhillips, Shells and nearly 24 other companies who were operating in the Gulf in 2013, according to a
February 2015 investigation
by Al Jazeera America. The Bureau of Safety and Environmental Enforcement undersold the number of fracking wells to the news outlet by the hundreds, saying there were just over 100. There at least 630 and Monsell expects there are even more.
"From what the agency has told us, we think [there] are additional drilling permits from 2014 [that] will reveal even more fracking permitted in the Gulf," Monsell said.
A map created by the Center for Biological Diversity shows an abundance of fracked wells that are near the 2010 BP oil spill site. The vast majority of the fracking sites stretch from the eastern Louisiana coast toward Houston. There are a couple off the coast near Corpus Christi and one that's just north of South Padre Island.
The documents obtained by the Center for Biological Diversity also revealed oil companies were allowed to dump more than 76 billion gallons of waste fluids used in fracking into the Gulf in 2014 and confirmed that the federal government is not conducting site-specific analysis on threats the operations pose to ecosystems around the wells.