Long-time favorite food truck and ultimate munchies spot, The Fridge announced Friday morning that it will close its truck doors at the end of this month.
The food truck will remain open every Wednesday through Saturday evening at the Alamo Street Eat Bar until July 29, so Fridge fans can still get fill of Hot Cheetos fried chicken sandwiches and grilled paninis for a little while longer. This year, The Fridge was voted runner-up for Best Food Truck and took the top spot for Best French Fries (reader's picks) in the
Current'
s annual Best of San Antonio.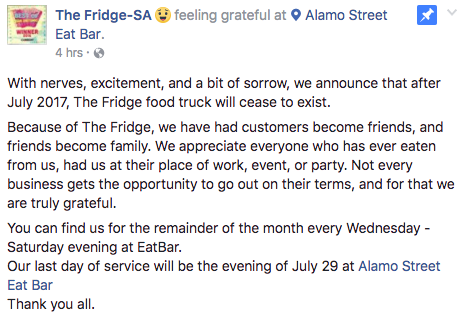 Gabe Cardenas, The Fridge owner, told the Current that there are no new food-related business plans as of now. "


"We're just excited to move onto the next phase of life. We spent six years of our lives taking The Fridge from idea to award winner," Caradenas continued, "we're excited to get some time off."