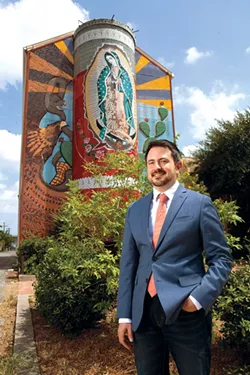 Courtesy
Jerry Ruiz
From the Rio Grande Valley to the New York City theater scene and now to Brazos Street on the Westside, the Guadalupe Cultural Arts Center's new executive director brings Big Apple experience back to his Texas roots.
Born in Brownsville, Jerry Ruiz is a Harvard University graduate who earned his MFA from the University of California — San Diego. While in New York City, he passionately demonstrated himself as an advocate for Latino arts.
What attracted you about the position at the Guadalupe Cultural Arts Center?
I was really interested in this idea that the arts are for everyone, and it should be a really democratic experience where anyone can have access to the arts, so that's kind of what intrigued me about coming here when I heard about the opening. I have family and friends who have lived in San Antonio and was familiar with the Guadalupe. I thought it was a really cool opportunity to come back home to South Texas and lead this organization that has such a great history and a strong presence in the community, in this neighborhood. This has been such a proving ground for so many great notable Latino artists, so I was really interested in building on that legacy.
What is your vision?
The vision is to really do work that grapples with the question of what it means to be Latino, Chicano, Mexican-American in the 21st century. We want to do contemporary and new work that helps audiences navigate that tricky identity presentation.
Can you provide an example of how to express that tricky navigation through the arts?
Piñata Protest played last Friday (August 21), they are a great example of the kind of artist that are rooted in tradition but are mashing up tejano and punk rock.
Will you work to bring in new audiences?
At the Piñata Protest show we were all kind of marveling at how blended the audience was. They're your young people but also some older people. It was a really interesting blend across generations. So we definitely hope to attract those new audiences while still serving the audiences loyal to us for many years.
How do you balance the intersection of young and old?
I know that my generation and the younger generation, the Millennials, we have had it easier as a result of all the struggle and the result of progress the other generations have gone through. It is perhaps easy to forget that we didn't always have it this good. That could lead to some interesting conversations and perspectives. It's a good question to wrestle with.