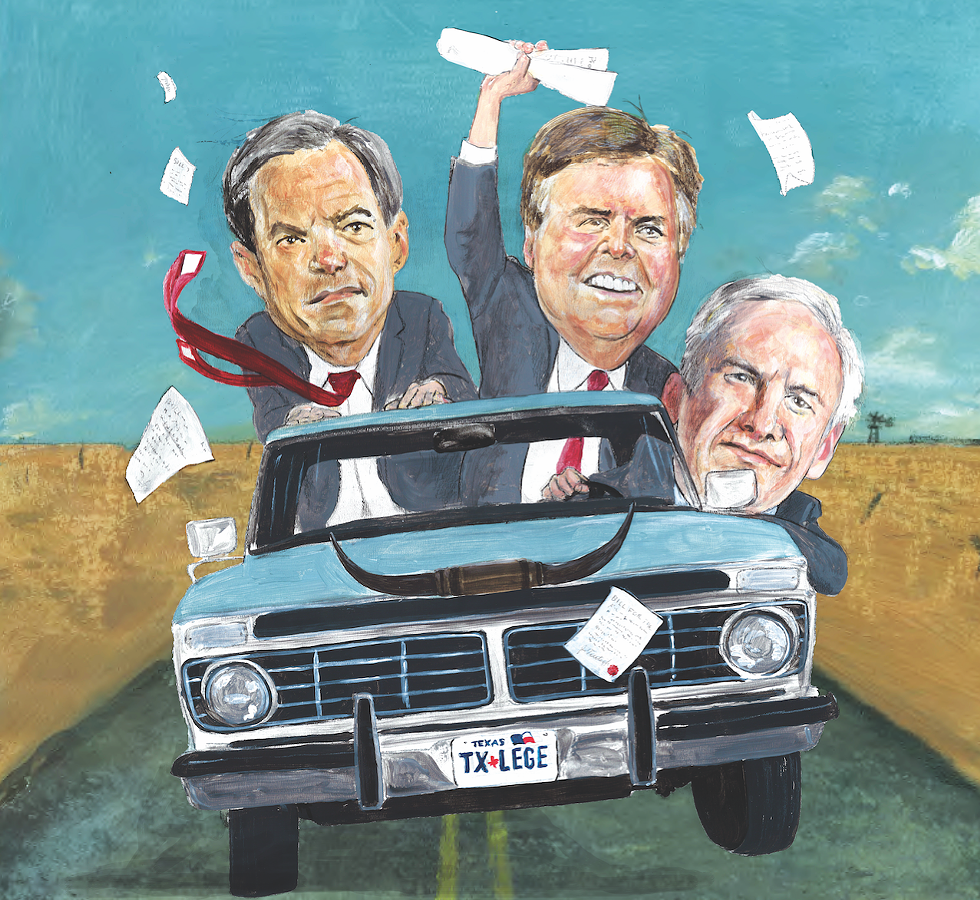 It ended just how it began, in perhaps the most Texas way imaginable: With a standoff.

On August 15, a day before the end of Texas Legislature's whirlwind special session was set to end, House lawmakers declared they wouldn't tweak a property tax reform bill to appease the Senate — and called their session over. A few hours later, the Senate refused to pass the House's bill without its proposed adjustments, effectively ending the month-long special session.
This stubbornness between the House and Senate became a central theme to Governor Greg Abbott's special session, and left most of his top demands fizzling out before reaching his desk. Instead of a "20 for 20" victory on Abbott's 20 priorities for the 30-day session, lawmakers gave the governor bills that addressed about half of them.
After the session's premature end, Abbott issued a statement claiming that the "special session has produced a far better Texas than before." But Abbott's top requirements for the bonus session — passing the so-called "bathroom bill," a tax reform measure, and an oddly-specific ban on tree laws — never reached his desk. His biggest wins lie in passing strict anti-abortion bills, a bill clarifying "do not resuscitate" orders, and a measure requiring a public vote before a city annexes an outlying community. With his re-election campaign on the horizon, however, that may not be enough.
GOP lawmakers are already rallying for a second special session to tie up their unfinished business. It wouldn't be too unusual for Texas, home to a legislature that once trickled into six special sessions, but it means taxpayers would being paying $1 million more to keep their representatives in session.
A special session has traditionally been a powerful tool for a governor to wield. But Abbott's polarized chambers in the capitol building have thrown a wrench in his ability to pass truly meaningful bills. As we hold our breath to see if he'll unleash a sequel, let's pick apart how the legislature fumbled, forfeited, and flourished its way through Abbott's 30-day rollercoaster.

***

The session's stagnancy shouldn't come as a surprise. It's this kind of inter-chamber stubbornness that kicked lawmakers into a bonus session in the first place. Enter Lieutenant Gov. Dan Patrick, head of the Texas Senate and poster boy for social conservatism. Patrick ended the regular legislative session with a hostage scenario, refusing to pass a number of "must-pass" bills that generally keep state agencies running — unless his equal in the House, Speaker Joe Straus, got his chamber to pass Patrick's so-called "bathroom bill." That's the bill conservative lawmakers like to call the "privacy act," believing it protects women from being attacked by men in bathrooms. In reality, the bill would mostly keep transgender kids in public schools from using the bathroom they feel most comfortable in, the one that aligns with their gender identity.
Straus, a moderate Republican who's been outspoken against the bill, didn't bend to Patrick's pressure and kept the House from approving the Senate bill. After the fact, Straus told the New Yorker that when he received the final text of the Senate's bathroom bill, he told the Senator delivering it: "I'm disgusted by all this. Tell the Lieutenant Governor I don't want the suicide of a single Texan on my hands."
The session ended without Senate lawmakers approving those mandatory bills that keep state agencies open, effectively forcing Abbott to re-open the legislature for a July special session to, at least, get those bills signed.
This final standoff set the tone for the special session.


***
The debate over the anti-trans bathroom bill sparked the July 18 session, but it never made it to Abbott's office — to the relief of most Texans. By the time Patrick's prized bill made it to the Senate floor, Texas law enforcement, the NFL, religious leaders, major tech companies, small business organizations, and oil companies had come out in strong opposition to the bill. The economic angle seemed to make a bigger impression on lawmakers than the "let's not punish trans children" one. The only group left in support of the bill was Texas' powerful coalition of religious right lobbyists, the same ones who are still fighting to ban gay marriage in the state. Straus never let the bill touch the House floor.
Since the bill rolled into the session with Patrick-fueled fervor, its demise came somewhat as a surprise to longtime LGBT advocates fighting against it.
"This is a victory against all odds," wrote Chuck Smith, the CEO of Equality Texas, after the special session's close. "We were up against two of the most powerful people in Texas state government, dictating to a Republican controlled Legislature that anti-transgender 'bathroom bill' legislation must pass."
Other bills involving schools (but not bathrooms) met a different fate, like a piece of the sweeping education finance bill that approved a $40 million grant program for public schools that provide special services for students with dyslexia and autism. The meat of this bill, however, was an overall disappointment to House lawmakers who initially penned a bill to funnel $1.8 billion into Texas' public education system over the next two years. The Senate shrunk the bill to a paltry $351 million promise, and the House begrudgingly accepted.
Which came with a cost. This jab from the Senate encourages House lawmakers to take revenge on another bill at the top of the governor's list.
Rising property tax costs are one of the biggest complaints lawmakers hear about from voters. But, despite what Abbott promised, state legislators don't have any real power to decrease these taxes — that's in the hands of local governments. Instead, state lawmakers used this session to create a bill that would let voters block property tax increases if it spikes over a certain percent. Currently, that percent is 8. The House proposed a vote when the tax grows 6 percent and the Senate was determined to drop it to 4 percent.
Local government agencies strongly opposed both the House and Senate bills, arguing that a forced vote stalls needed investments in public safety that may cause that tax rate to spike. It's a decision they say the public shouldn't hold the key to.
But it was the House and Senate standoff, and refusal to compromise, that ultimately killed this bill. It was an eye for an eye: The Senate hurt the House's education finance bill, so the House kept the Senate from getting the property tax bill they wanted.
Property taxes weren't the only tool the legislature used to try and swipe local control from city and county governments. Lawmakers targeted a city's ability to annex communities that lie outside the city limits without a vote. This was a particularly contentious issue in San Antonio, where lawmakers feared outlying military bases wouldn't be able to rely on city protection if faced with encroaching development. It's an issue San Antonio Rep. Jose Menendez successfully filibustered against during the regular session. Although the bill passed this time around, Menendez was able to attach an amendment adding a 5-mile buffer of immunity around any military facility.
Then there's Greg Abbott's personal beef with municipal tree laws. It began in 2011, when then-Attorney General Abbott decided to tear down his 4,540-square-foot West Austin home and replace it with a larger four-bedroom house and in-ground pool. However, two massive, old pecan trees that were considered "heritage" by an Austin ordinance, stood in his way. This meant Abbott was legally required to protect these trees from being harmed by the construction. He didn't. Instead, Abbott was stuck with a fine from the city, and was asked to replace the damaged trees. As it turns out, he didn't want to do that, either.
That's why Abbott included "preventing cities from regulating what property owners do with trees on private land" on his list of special session priorities.
San Antonio Mayor Ron Nirenberg called this issue a "publicity stunt."
"This is the legislative equivalent of shouting 'fire' in a crowded theater," he told the Current in July. "San Antonio's tree ordinance is balanced to meet both private and public interests."
It was one of the many reasons Nirenberg signed a letter — along the other mayors of Texas' biggest cities — opposing Abbott's focus on big-government legislation aimed directly at disempowering big city governments, which are predominantly run by progressive politicians.
The tree bill ultimately passed, but with far less muscle than Abbott hoped for. Instead of uprooting city ordinances involving tree maintenance, he was handed a bill that banned cities from imposing fines on people who messed with heritage trees. But they're still on the line to replace the trees they damaged.


What may be Abbott's biggest trophy to flaunt at campaign financiers and conservative voters before the 2018 election is his sign-off on two anti-abortion bills. One creates what democrat lawmakers bluntly call "rape insurance" — a separate health insurance plan that only covers abortion that women must preemptively buy into. This forbids private insurers from including any abortion coverage in a regular health insurance plan. And, as its nickname suggests, it includes victims of rape and incest who become pregnant, suggesting that women should predict their rape before it happens — and buy insurance accordingly. On the House floor, lawmakers argued this bill would specifically hurt low-income women who wouldn't be able to pay for an unexpected abortion out of pocket.
"We have to face the economic realities here," said San Antonio Rep. Ina Minjarez during an August 8 debate. "This bill takes us backwards. Women face economic hardships men don't have to face."
The other bill signed into law places unusually strict rules on doctors who provide abortions (a side door technique Texas lawmakers have repeatedly used to restrict abortion access). Texas doctors will now have to report any kind of complications with an abortion procedure to the Department of State Health Services within 72 hours after the incident. These providers are already required by law to report these incidents within 30 days, like most physicians, but that apparently doesn't cut it for GOP lawmakers.
That's mostly anti-abortion groups that back these lawmakers don't trust the data already coming from these clinics — because it is clear evidence that abortion is an extremely low-risk procedure. There's no research showing that the current reporting method is at all flawed. In fact, a woman is 14 times more likely to die from complications related to a pregnancy than an abortion, according to a University of North Carolina School of Medicine study.
These bills come on the heels of a regular legislative session that passed a measure banning the safest, most common abortion produce after 13 weeks gestation.
But Abbott did sign a bill Minjarez had fought for in the regular session renewing the Texas' Maternal Mortality Task Force, allowing researchers to continue to investigate why more women are dying after a pregnancy in Texas than anywhere else in the U.S. (or the developed world). Not all anti-abortion bills made it through the special session so easily. Like the bill that would have prohibited any federal dollars from going to a health clinic that provides abortions or any other organization that even "affiliates" with that provider. While the bill's text doesn't explicitly mention it, Georgetown Sen. Charles Schwertner made it clear through his incessant tweeting that the bill was mostly created to attack Planned Parenthood.
Texas may be in the midst of multiple lawsuits over its history of discriminatory voting laws, but that didn't stop Abbott from nudging a few more across the line. Under the unproven argument that the state is fraught with mail-in ballot fraud cases, Dallas Sen. Kelly Hancock wrote a bill that would stick people who help those filling out mail-in ballots (usually the disabled or elderly) with a felony. A selected person may drop off the sealed ballot in the mail for a voter — but that's as close as they get.
"When we're dealing with the disabled, when we're dealing with the elderly, I think they deserve the same privacy and protection as every other voter," Hancock argued on the Senate floor.
This includes talking with family members or roommates about political candidate choices while a mail-in ballot was nearby. It's still unclear how the state intends to regulate this without placing cameras in the homes of mail-in ballot voters.


***
With the constant tug-of-war between the Senate and House, it's a surprise Abbott left the special session with any bills on his desk. Expectedly, neither chamber nor political party are overjoyed with the session's turnout, which further reinforced the simmering dislike between Patrick and Straus.
Patrick, who promised to be Abbott's "wing man" during the session, left the Senate chamber swinging. Straus had treated the governor's addenda "like horse manure," and "walked off the job," Patrick told reporters after the session wrapped.
"Thank goodness Travis didn't have the speaker at the Alamo," Patrick chided. "He would've been the first one over the wall."
Straus, traditionally more soft-spoken than former talk radio host Patrick, released a curt, milquetoast statement of his own: "The House was thoughtful, respectful and decisive in its solution-oriented approach."
So, what now?
Already, GOP lawmakers are clamoring for a second special session. "We are not going to accept the take-it-or-leave it proposal from the House, and we are going to fight another day," said Sen. Paul Bettencourt, who authored the hotly-debated property tax bill. "I hope the governor calls us back as soon as possible."
Abbott's the only one who can make the call to reopen another session, one that will likely feature the tedious standoffs he saw the first time around. For now, he mostly sounds like a disappointed father.
"There is a deep divide between the House and Senate on these important issues," Abbott told Houston KRTH in a post-mortem interview August 16. "So I'm going to be making decisions later on about whether we call another special session." Like Patrick, Abbott blamed the House, and specifically Straus, for standing between priority legislation and his signature.
"All options are always on the table."