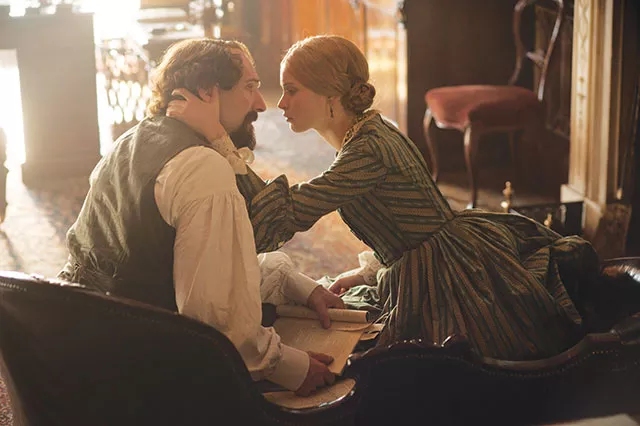 Courtesy Photo
Charles Dickens (Ralph Fiennes) and Nelly Ternan (Felicity Jones) share a moment in 'The Invisible Woman.' The affair lasted until the end of his days.
Adapted from 1991's The Invisible Woman: The Story of Nelly Ternan and Charles Dickens by Claire Tomalin, screenwriter Abi Morgan's (Shame, The Iron Lady) The Invisible Woman is the second and best film directed by Ralph Fiennes, who also stars as the acclaimed author.
Dickens was 45 and Ternan (Felicity Jones) 18 when they met during a 1857 staging of The Frozen Deep, which Dickens co-wrote with collaborator and protégé Wilkie Collins (aptly played by Tom Hollander), but the flashback-rich movie begins in 1883, 13 years after Dickens' death, with Nelly immersed in an unhappy marriage and unable to truly move past her previous affair. After all, Dickens is presumably a hard act to follow.
As an actor, Ralph Fiennes is at his most frenetic, his Dickens being the life of the party: ebullient, egotistically charming yet immensely flawed, to the point of hypocrisy in one scene in which he simultaneously proclaims his moral superiority while humiliating those around him.
The movie expertly combines brilliant dialogues (on and off the stage) and epic silent scenes, the type Terrence Malick loves to shoot, all exquisitely captured (especially in the natural light scenes) by cinematographer Rob Hardy. Besides the central Dickens-Ternan relationship, the tortured Mrs. Dickens (a perfectly cast Joanna Scanlan) is the personification of dignity in the midst of an embarrassing heartbreak.
Dickens, admired by high society and adored by the working masses, soon realizes than in Ternan he has found his match. Not only is she beautiful and desirable (has a female romantic lead ever been anything else?), but she can also go toe-to-toe with him on magical verbal riffs.
Nelly's mother, Frances (Kristin Scott Thomas), is perfectly aware of the chemistry between her daughter and the noted writer and, in a particularly crackling scene, she tells Dickens, "I cannot risk my daughter's reputation."
"Nothing I could offer would compromise her," Dickens replies. It is a moment of suffocating tension in which the loudest words are the ones better left unsaid.
Of course, the ensuing romantic arrangement is more convenient for Dickens than it is for Ternan, who at one point complaints to the writer, "My name is whispered with yours, yet I have nothing."
That being said, The Invisible Woman isn't your usual steamy, passionate cheating drama. In a potential turn-off for popcorn-munching Cineplex-goers (but manna from heaven for lovers of real drama), Dickens and Ternan take their time in their courtship. The movie's only sex occurs during a clumsy Victorian bed scene that conveys to the audience that the carnal element was of least importance for these two—they were united by literature and a tremendous loneliness which only got more difficult around most other people. The pair's witty banter and intimate confessions drive much of the attraction here. Despite Dickens' self-centeredness and Ternan's ongoing struggles between societal conventions and true love, you get a glimpse of their immense hearts, flaws and all. When Dickens and Ternan finally confess their love, they do so in such a tender way that it's almost shocking, with the perfect length and rhythm and just the right amount of silence.
Additional tension comes, of course, from Ternan's mistress status, the titular invisibility with which she must live, even long after Dickens has left the world. "Don't be foolish: You can't keep her a secret," says Mrs. Dickens. "Yes I can," replies her defiant husband.
With hardly anything left to prove as an actor, Fiennes' new film makes a strong case for him as a director, after his Coriolanus (2011) was accurately described by Variety as "Shakespeare by way of Michael Bay." In contrast, The Invisible Woman is a wonderful film for lovers of literature. Despite its dark, forbidden-love subject matter (and a desolate look at the destructive nature of infidelity), the film manages to end on a bright note when Jones delivers an excellent, Dickens-less scene that says it all without the need for words.
The Invisible Woman
Dir. Ralph Fiennes; writ. Abi Morgan; feat. Ralph Fiennes, Felicity Jones, Kristin Scott Thomas, Joanna Scanlan, Tom Hollander (R)
Opens January 24 at the Bijou