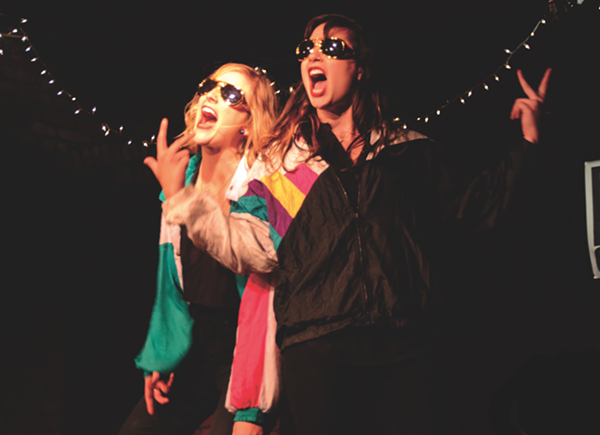 Improv comedy is typically based on audience suggestions, but the founders of Bexar Stage already had a plan in mind.
"We've always had a dream of opening an improv theater," said Tina Jackson, executive producer, artistic director and co-founder of Bexar Stage, "and we both lived in Chicago where there's a ton of improv — it's sort of like the Broadway of improv. Real estate is expensive but also it was oversaturated — there's like a ton of improv theaters in Chicago — so we wanted to go somewhere where there weren't improv theaters and build one."
Seeking a new territory for improv after training internationally and coaching for nearly 10 years, Jackson and her business partner, Dan Grimm, ended up in Grimm's hometown, San Antonio. Bexar Stage opened in May 2017, with improv classes and shows three nights a week featuring stand-up, sketch and improv. Although improv, especially in the long-form narrative format Jackson and Grimm teach, wasn't previously as well known in San Antonio, Jackson said the theater quickly attracted talented students eager to learn.
"It's tooting my own horn a little bit," Jackson said, "but when you bring good teaching to people who have great instincts, the scene has really started taking off in the last six or eight months and growing a lot. Right now, I'm training 50 students in four levels of classes. The fact is, there were always people here interested in improv, they just didn't know what it was or where to find it."
This year, Bexar Stage will host Jackson and Grimm's Big-Little Comedy Fest, which began in Grand Rapids, Michigan in 2010 before moving to Cleveland, Ohio. Jackson said she's excited to use the festival to bring established improv acts, such as Austin-based headliners Parallelogramophonograph (aka PGraph), to her students in San Antonio.
"I want to show them people who are really solid, people who have been performing for over a decade and have really honed their craft," she said. "You have to see what the best in the industry looks like; you have to see this so you know what you're working toward."
The Big-Little Comedy Fest lineup, Jackson said, includes "about a third" locals who regularly perform at Bexar Stage or ComedySportz. San Antonio teams include Grumpy Old Men and the all-female Missed Opportunity. The fest will also include shorter, game-focused improv teams, and family-friendly shows on Saturday and Sunday afternoon, including a musical improv team. Opening night will feature a Valentine's Day-themed show with an improvised romantic comedy and Kismet, Jackson and Grimm's two-person team, which puts on a relationship-themed show. Jackson said she hopes the Big-Little Comedy Fest will introduce more people in the area to improv.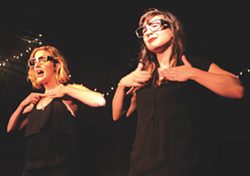 "Improv is not something that is widely known in San Antonio the way that it is to people in Austin," Jackson said. "So I would like to get more people interested in what we're doing, 'cause I think it's universal — laughter at a cheap, fair price and it's always different."
Big-Little Comedy Fest
$15-$135, Wed-Sun, Feb. 14-18, Bexar Stage, 1203 Camden St., (210) 281-4259,
bexarstage.com
Get our top picks for the best events in San Antonio every Thursday morning. Sign up for our Events Newsletter.