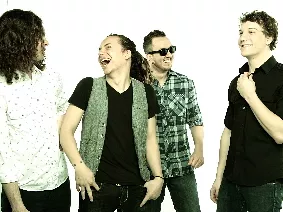 You've already been prodded to hit The Mix tonight by Sound and Fury, but consider this your second warning! Pop Pistol brings their brand of groovy guitar rock, but they're not alone — home after a two-week stint in the Midwest and New York, the band is bringing a touring buddy over for dinner. Kansas City quartet Making Movies will join them in the friendly environs.
Though Making Movies isn't my favorite Dire Straits album — I have Brothers in Arms on vinyl and I spin it on repeat — it's still a great one. This possibly Knopfler-influenced crew met Pop Pistol in June at the Riot Room in KC, part of Pop Pistol's first trek through the Midwest. The two bands have been sharing bills ever since.
"Everything else in between tour dates is pretty fun, and you just enjoy yourself," said Pop Pistol bassist George Garza, recalling how he makes connections on tour. "If clubs want us to show up early, we hang out the entire time and check out all the bands. If there are people there to socialize with, we socialize with them and network with the other bands. It's just like what we do [in San Antonio]. We enjoy building a good rapport with the clubs, so we can have opportunities to go back."
And what better joint for Garza to book his friends at? This budding Rock en Español band splashes their pop vocals and melodic tunes with occasional English verses. You say you want a taste of San Antonio, Making Movies? Welcome to The Mix. The oft-heard Say-Town quote goes something like this: "No, I don't know what I'm doing tonight, but The Mix is always a good idea."
Watch the video below for a preview of tonight's show, which should gets underway around 10 p.m.