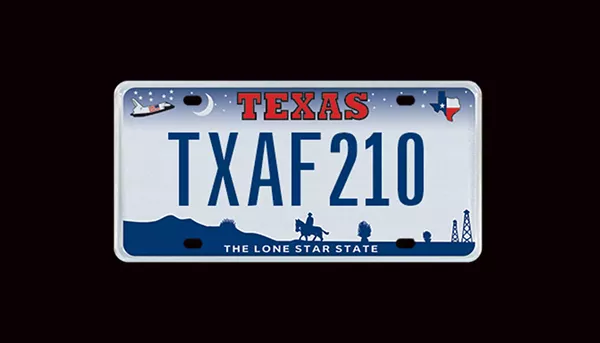 Y'all remember the retired Texas license plates that had the spaceship in one corner, an oil tower in another and, of course, the cowboy riding a horse on the bottom of the plate?
Well you should, because well ... it only stopped being made in 2009 and could only be more Texan if the Whataburger logo was on it or something.
There's good news! At least if you're nostalgic about the plates like I am. You will soon be able to order a customized plate with the classic design!
The state's license plate manufacturer, My Plates, will *soon (read below) begin production on one of Texas' most popular plate designs, known in the industry as Texas 2000. The plate was active between 2000 and 2009, and more than 31.5 million were issued according to
NBC 5 News in Dallas
.
The updated plates will have characters, either a word, phrase, or mixture of letters and numbers (we call dibs on SACRRNT). My Plates said it needs to receive 200 pre-orders to move into production, but we have a feeling that'll be met in no time.
Pre-orders start at $50, so
sign up now
to properly showcase your Lone Star spirit.