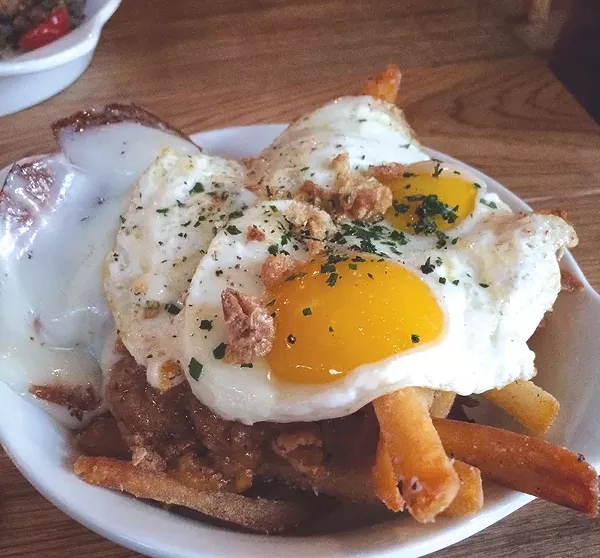 Jessica Elizarraras
Chicharrón fries are a must-have.
The trouble with Beat Street Coffee Co., which now houses the newly opened Old Main Assoc., was that it had a hard time pinpointing exactly what it was adding to their Monte Vista neighborhood. After several iterations, the loss of three separate chefs (that I can remember), the eatery closed, though not for lack of fans.
In its place is the newest concept by The Boulevardier Group, helmed by bartender-partner Jeret Peña and a cast of cocktailians known for such bars as The Brooklynite, Stay Golden Social House and, most recently, The Last Word. With that kind of track record, most bar-goers should know what to expect.
For starters, the bar has ditched its crimson walls for darker hues and a gold dotted wallpaper that commands the room's attention. Large banquettes replaced tables along both walls and wooden communal tables are the seating options — which works well for parties, though it might make for awkward date nights if you can't snag a more intimate seat at the bar. And you'll want to spend date nights here — the dim lighting makes just about anyone look good. Designed in part by bartender/architect Steve Martín and artist Jamie Stolarski, Old Main Assoc. is dark, moody and sleek.
Drinks are moderately priced with house cocktails, a mix of classics and creations from Stay Golden and Brooklynite, all priced at $8. Beers (a very familiar list), bubbles ($6 for a coupe of Spanish cava rosé is a steal) and vinos don't range much higher than the mid-teens. But you'll want to try the happy hour from 5-7 p.m. on weekdays, where menu cocktails are $5, Alamo Pilsner is $4, and a select batch of bubbles and wine (a Chardonnay and a tempranillo) come in at $5.
Over the course of three visits — you can't blame me, the Old Main is 2:30 minutes from my apartment — I sampled a few snacks. Broken down into Teasers, Cravings, Solos and Sweet, the menu comes via chef Lorenzo Morales (previously with Arcade Midtown Kitchen). Chicharrón fries are an early favorite, though you may want to walk to and from Old Main to avoid the calorie pangs of eating fries, Oaxaca cheese, chorizo gravy, chicharrones and two eggs (an additional charge, but we're already here so why not?). Don't pass on the bangers and mash, sweetbreads or the peach cobbler milkshake. Trust me on this one.
Boulevardier Group fans who prefer low-key atmosphere and great bar snacks inside a neighborhood pub should put this bar on their go-to list.
The Old Main Assoc.
2512 N. Main Ave., (210) 562-3440, facebook.com/theoldmainassoc