Nicky Digital
Riobamba doing her thang.
Party politics. If you hadn't had enough of them already four polls and seven Super Tuesdays ago, you're surely sick of them by now. Thankfully, the continent-trekking DJ Riobamba is riding into town Saturday on a platform that prioritizes self-determination, direct participation and making America shake again.
Armed with tunes whose sounds trespass national borders and firewalls with glee, she makes mixes that will radicalize any playlist – no matter whose server they're saved on.
Born to Lithuanian immigrant parents in Ecuador, Riobamba (nee Sara Skolnick) has followed a familiar path in her musical development: punk, to noise, to techno and most recently the postcolonial electronic network she terms "transnational bass." As for many punks-gone-elsewhere, the genesis of
this journey has roots very close to where she's now wound up.
"I think my breakthrough moment, if you could call it that, was at a family party when I was younger," Skolnick wrote in an email to the
Current
. "[I was] setting up next to a boombox with a stack of my grandparents' burned salsa/merengue CDs and shuffling through tracks to keep the party going."
"It was one of those you're-hired-as-a-DJ-by-default moments, but I loved the control that gave me over the energy of the room, also knowing my family and what would resonate (i.e., Elvis Crespo)."
That initial, familial context has remained a guiding principle in her DJing work, which has taken her to gigs across three continents in addition to several broadcasts and parties in her current borough.
"I'm very invested in the idea of listening to what feels right naturally – whether it's what track to play next, who I want to book, what spaces I want to play in, collaborations I want to take on, etc." she wrote. "[H]aving a sensory-based side to my practice I think balances out the cerebral, academic side when I reflect on those experiences."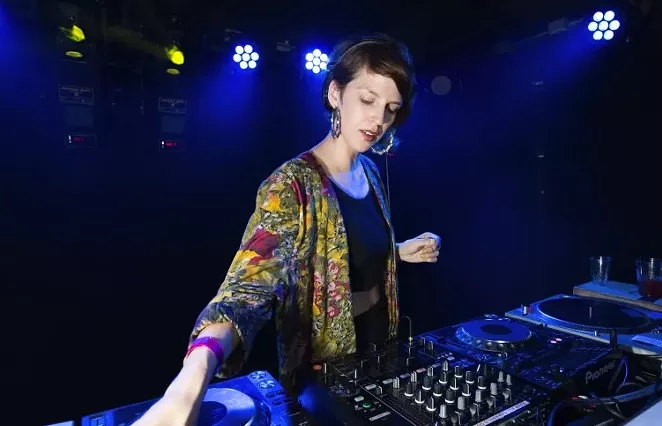 It's not mere conceit to discuss Riobamba's politics. Skolnick holds a degree in political science from Boston University and went on a Fulbright Scholarship to Columbia, where she studied how amateur musicians have changed the sounds of popular music by inserting radicalized electronic-folk hybrids into a mono-musical media environment.
Dance parties are certainly more fun than C-SPAN simulcasts, but they are just as potent spaces (if not more so) to realize the ethics of a just society.
"I think at the heart of everything I do is the value I put on self-determination," she wrote.
"That can translate in so many ways, but in terms of the music industry I just want be part of spaces where people can define the way they represent themselves, for themselves – which opens up dialogue about all sorts of hybridity, spectrums of identity, etc. … ultimately, when I speak to self-determination, I'm also speaking to de-colonization, and autonomy on all fronts."
Skolnick elaborated on the solution to problems of representation in terms familiar to anyone of DIY background.
"I think what's next is building out more infrastructure toward sustainability through booking agencies, labels, licensing, etc., that are directly owned by artists of these distinct identities so that these voices are amplified, and also so that power is kept in our own hands."
Riobama is psyched for her inaugural visit to the Alamo City, which came about through conversation with Bruk Out's Isaiah Reyes. True to her training as an academic and experience as a journalist, she pointed to the two most crucial aspects for assessing any society: good homies and good grub.
"I'm just really looking forward to hanging with the Bruk Out crew and getting to know the local context of the music," she wrote. "And also to eat a lot, because is there a better way to get to know a city?"
Seems like a sure ticket to me.
Free, Sat. March 19, 10pm, Southtown 101, 101 Pereida St., (210) 263-9880