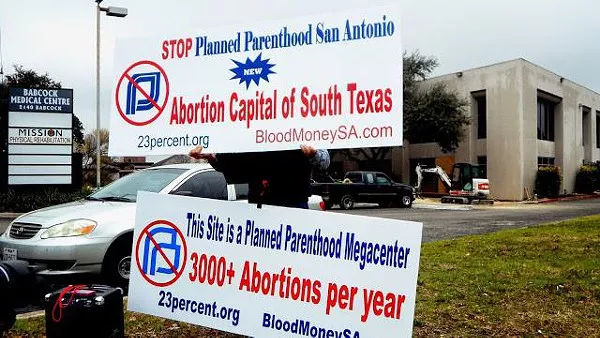 A review contracted by the City of San Antonio concluded that the Planned Parenthood Facility at 2140 Babcock followed all applicable zoning and permitting rules.
At Mayor Ivy Taylor's behest, Mark White, a Kansas City-based attorney and planner, was hired to look into arguments from opponents, who dub themselves BloodMoneySA or the San Antonio Family Association (this is the group that also protests at the MLK march), that say zoning ordinances prohibit the facility from being at its location.
White's review found that the ambulatory and outpatient care facility, which provides abortions, Pap tests, breast exams, male sexual health exams, birth control, pregnancy testing, STD testing and other services, is permitted by the zoning requirements.
The building does exceed the current size limitations, but since it was built in 1984 — before the 2001 size limitations were established — the building is grandfathered. The facility also doesn't have enough windows, but again, since it was built in 1984 and those rules weren't established until 2001, the building is grandfathered.
"Planned Parenthood is not enlarging or extending the building, so the requirements do not apply," the city's press release states.
Finally, White found that the proper procedure was followed for approving the facility. According to the city, opponents say the Director of Development Services needed City Council approval for zoning interpretations. White said that is incorrect as the director may choose to seek ratification by Council, but it's not obligated to do so and hasn't historically done that.
Naturally, the folks over at BloodMoneySA or the San Antonio Family Association, disagree and accuse White of breaking the law.
"White is not licensed to practice law in the State of Texas yet he issued a legal opinion about Texas Law. The City's Unified Development Code (UDC) is Texas Law. White has engaged in the unauthorized practice of law and SAFA will file complaints with the State Bar of Texas," the association says in a press release.
They call the system broken and reiterate that Planned Parenthood built a facility in their suburban neighborhood called Dreamhill Estates.
"San Antonio Taxpayers should be outraged at the waste and cover up that the City is exhausting to sweep this scandal under the rug. The only way that the unlicensed legal opinion was published on the City's website is by directive of the Mayor or City Manager," according to the association. "And, even though the unlicensed 3rd party legal review of the improper zoning of 2140 Babcock holds the City harmless, this opinion was expected."
So was the San Antonio Family Association's reaction.