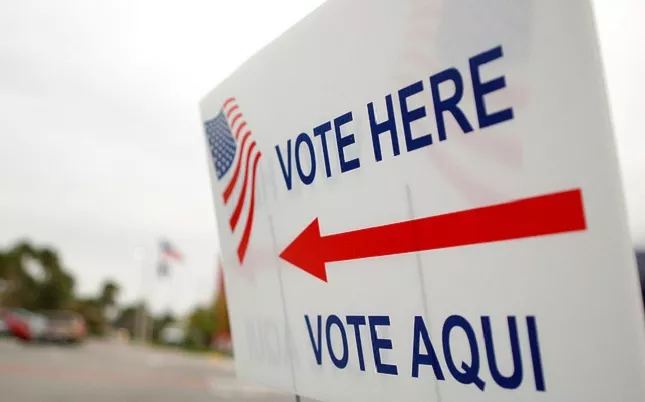 As early voting wraps today,
more than 1 million Texans
have cast a ballot so far. But when the Supreme Court of the United States allowed Texas' voter ID law to remain in tact this election season, the majority of the justices gave Texas the green light to knowingly exclude hundreds of thousands of people, mostly minorities, seniors, and rural Texans, from this most basic democratic process.
Evidence presented during trial showed that some 600,000 Texans do not have
one of the seven forms of photo identification
required to vote under the new law,
a reality that Republicans lawmakers knew
about when initially passing the law in 2011. Still, they plowed ahead, and after a federal district court found the law to be unconstitutional and intentionally discriminatory, a majority opinion issued by SCOTUS on a sleepy Saturday morning allowed the law to stay in place for this election cycle.
In her dissenting opinion, Justice Ruth Bader Ginsburg
penned a scathing takedown of Texas' law
and dredged up our state's horrific history of voter disenfranchisement. She echoed the district court's finding that the law is an effective poll tax, in that it forces Texans who live hundreds of miles to travel to a local DPS office to obtain an ID.
Proponents of the law say voters without one of the acceptable forms of photo ID can get an Election Identification Certificate for free, but
stories collected by the Brennan Center for Justice at New York University
tell a different story. In short, the law is keeping Texans from voting.
Take Jesus Garcia, whose license expired a year ago. After trying twice at a local Department of Public Safety office, he was denied an ID.
"His birth certificate was stolen and he does not have a copy. He wants to get identification, but to get both a replacement birth certificate and a new ID would be more than $30 combined. He is working a lot of hours, but money is tight. With rent, water, electricity, and everything else, Mr. Garcia is not sure he will be able to afford those documents, much less before the election," the Brennan Center writes.
The Brennan Center has also found that poll workers haven't been properly trained on how to help voters without an ID get the EIC.
A Texan identified as "Mr. R" wasn't able to use an expired driver's license to vote early and wasn't properly informed of all the options available to him.
"The poll workers Mr. R encountered were unfamiliar with the basics under the new strict photo ID law. Mr. R. was not told anything about how to get an Election Identification Certificate (EIC), the allegedly free ID available to people who want to vote, but don't have a qualifying ID. Nor was he offered a provisional ballot, which would have given him additional time to obtain ID. Mr. R said he was unlikely to go and get an EIC once he learned that he'd have to procure it from the DPS, a law enforcement agency, because he owes traffic fines he can't afford," according to the Brennan Center's blog.
The Guardian also
tells the story of one native Texan's hurdles
in obtaining not just the EIC but the birth certificate required to get the EIC.
The Brennan Center, which was involved in the legal challenge to Texas' law, is on the ground in Texas this week talking to voters and helping them navigate the new law.