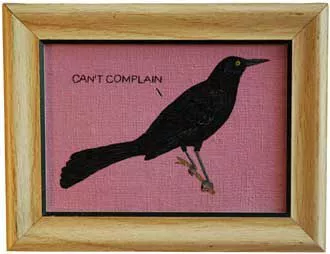 Well, maybe a little: Mario Perez's show, on view at Joan Grona Gallery last month (and featured in a

Current

art review last week) was one of three that inspired fellow artist Nate Cassie to write about SA's art market. This painting, "Can't Complain (Boat Tailed Grackle)" was priced at $350.
I went to October's First Friday because three artist friends had exhibits opening. The artists' work was varied in style and subject matter, though all were youngish painters with solid exhibition records. I didn't intend to make a study of economics as well as artwork; it just sort of all lined up.
The first show was at an artist-run space, one of the places that form the backbone of exhibition spaces in San Antonio, where there are few commercial galleries showing contemporary local work. An artist-run space is just that — a space run by a single artist or small group of artists who do all the work on their own budget. They differ from a nonprofit in their tax status and ability to fundraise. Sometimes artist and director split the costs for mounting an exhibit.
At this particular space, the paintings were well-executed, mid-sized, oil-on-wood-panel works. The artist had until recently lived in San Antonio and had returned for this show as well as to visit. Out of curiosity, I checked out the price list and was shocked. OK, not shocked. Rather, I wanted to be shocked at how little these paintings were being sold for, but I wasn't. Do you know why? Because this artist knew our market. They were good-looking and I thought for a minute about buying one myself; I mean $200?! However, I had just mounted my own show in Dallas and I didn't want to even think about how much money I had just spent making, delivering, attending … you know.
Or maybe you don't if you don't make art. It can be an expensive proposition and its not just about buying paint. This particular artist shipped the work to San Antonio, purchased a plane ticket, took time away from work. Don't get me wrong; I'm sure she had fun, but I bet she used her Visa, too. Six paintings at $200 each is $1200, right? Hey, that's a good night! Although she has to sell all of them. Then, the gallery takes a cut — in this case only 25 percent, half of what a commercial gallery normally gets from a retail sale. At best she clears $900 minus shipping, travel, studio expenses, and materials. Artists never bother to calculate what they actually make an hour. It's too painful.
This first encounter got me thinking as I walked to see the next friend's work, this time in a commercial gallery. Commercial galleries try to pay the bills as well as the proprietor by taking a commission on what they sell. It is a tough business for most, though just like some artists, some galleries make a lot of money.
This artist was from San Antonio and was one of three showing in the gallery. He had made 36 funny, beautiful, small paintings all framed in vintage frames. This was six months to a year or more of work and each piece was priced between $250 and $500. Being a commercial space, the 50-percent rule applies; however, this artist lives here and only has to contend with the costs associated with making the work. Assuming this artist sold all of the pieces for an average of $350, he could expect to gross $5,250 after the gallery took its percentage, minus materials, studio rent, utilities, and office expenses. You can see where I am going with this, and I have to tell you, the reality hurt me much more than it will hurt you.
The final show I saw that night was by a recent graduate from UTSA's MFA program (factor in the cost of tuition). He traveled from Tennessee to bring, install, and try to sell his work. Again, the prices were the same, $300-$500, again at a commercial gallery. He probably hung 15 pieces in the show that were intricate, well-painted smaller-scale works as well as some works on paper. You do the math.
I want to be clear that I am not criticizing the gallery system here. Most galleries work hard to earn the money they make, if they make any. Surely, any artist who has been involved in that system can tell horror stories about things like not getting paid what they are owed. Conversely, gallery owners have similar stories, involving things like artists selling work out of the studio to circumvent the gallery's commission. Stories like this exist because buying and selling art can involve lots of money through word-of-mouth reputations, potentially without contracts, regulation, a standard model, or recompense.
I am writing this as a way of highlighting the artist's generally abysmal business plan. Why do we continue? Most of us can't help it. Some of us depend too much on other jobs to subsidize our art habit. There are bright spots: I am thrilled with the new Artist Foundation of San Antonio, which gives grants to individual artists in much the same way the NEA used to before its demise.
I am reminded all too often of a class in graduate school that was meant to teach certain non-art skills — taxes, law, approaching galleries. A guest speaker asked each of us what we made and why we had decided to be artists. Some smart-ass said he was a sculptor and had decided to become an artist so "he wouldn't become like his old man." The speaker asked what the father did and the sculptor replied that he was a businessman. The guest looked long and hard at the young sculptor and said, "Son, if you stay in this game after you get out of school, you'll find you will have become a lot more like your father than you thought possible." The sculptor went on to open a skateboard-clothing company with backing from dear old dad.
Now you know a bit more about how the economics of art works, at least in San Antonio. Think about it when you wait to buy art at an auction, or if you're an artist, think about it when you price your work. Art in San Antonio is a great value, but don't undervalue it.
Nate Cassie is a painter, sculptor, and multi-media artist. You can find his work online at Natecassie.com.