Page 2 of 2
Courtesy
Blue Star's opening reception for Rosane Volchan O'Connor's 2014 CAM exhibition "Organismo."
Although CAM has been around for three decades, there's some confusion over its 30th anniversary, since CAM has existed as an independent organization for just for 12 years. Meanwhile Blue Star, where it all began, will celebrate its 30th anniversary next year.
"While Contemporary Art Month is celebrating 30 years of CAM happenings in San Antonio, we are not celebrating a 30th-year anniversary," Roberta Hassele, CAM co-chair, noted in a statement. "Instead, the year 2015 marks our 30th year of consecutive key CAM events held in San Antonio. CAM became an independent project in 2003. We received our (nonprofit) designation letter in early July 2012."
The inaugural CAM began in summer of 1986 as an effort by the city's artists to turn a negative into a positive.
The negative came in February 1986 when the San Antonio Museum of Art fired contemporary art curator Stephen Bradley for "gross insubordination" and canceled a planned summer show featuring 25 local artists – many of them respected teachers at local colleges – dubbed "San Antonio Contemporary."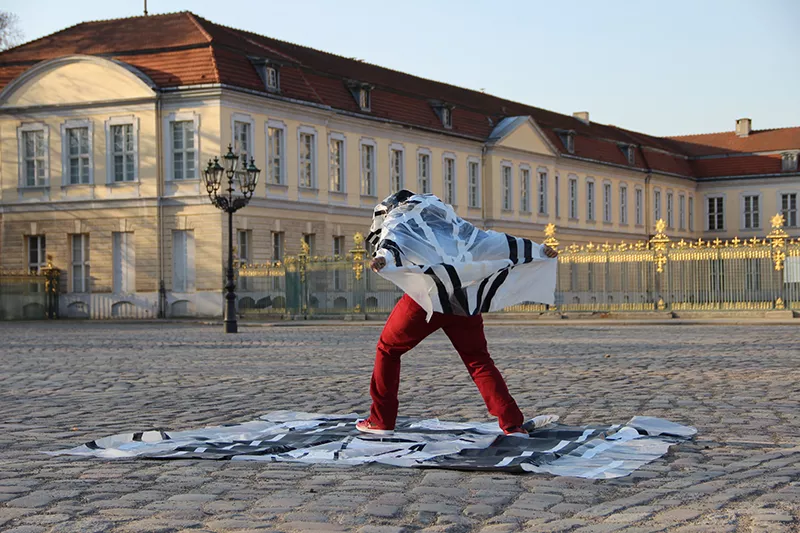 Courtesy
Video work created by UTSA grads Raul Gonzalez featured in the 2015 CAM Perennial exhibition, "Move Me."
Courtesy
Video work by Jimmy James Canales featured in the 2015 CAM Perennial exhibition, "Move Me."
Bradley contended he was falsely accused of making negative comments about John Mahey, then SAMA's director. Mahey, whose taste ran more to Italian baroque than Robert Rauschenberg, couldn't understand why the dismissal of his chief curator even made headlines, since "bank vice presidents have more influence." Mahey proposed to replace the curated contemporary show with a juried exhibit, but he severely underestimated the negative reaction from artists, who were looking forward to a more selective, professional show.
Jeffrey Moore, then director of the Southwest Craft Center (renamed the Southwest School of Art in 2010), became the leader of a loose coalition of local artists who banded together to stage a replacement show in the Blue Star Project, a collection of 1920s-vintage warehouses being developed by Arthur "Hap" Veltman. Artists rolled up their sleeves and shoveled decades of accumulated dirt and debris out of the warehouse, dubbed the Blue Star Art Space. The replacement show, "Blue Star I," opened on June 27, 1986.
"At first, the artists wanted the Craft Center to stage the show, but I thought that would have been political suicide," Moore said in a phone interview from Denver, where he owns a home décor business. "I have to give a lot of credit for the idea of Contemporary Art Month to Suzanne Detwiler (now Scott, head of the San Antonio River Authority) who was my PR person at the time ... We came up with a month's worth of events, created a calendar and got City Council to proclaim Contemporary Art Month. I'm shocked that CAM has lasted 30 years, but it's obviously a good thing."
Scott said Moore still deserves credit for organizing CAM and building support for it, but she saw her job as getting the word out about San Antonio's growing community of artists. And she's still vested in the arts – she's chairwoman of Bexar County's United Arts Fund and has also pushed for public art installations along the Mission Reach.
"The first CAM was the first time the city really focused on contemporary art," Scott said. "People were a little reluctant to deal with 'the shock of the new,' but CAM showed that contemporary art takes many forms and it wasn't all trying to be shocking. To me, CAM still shows how large and vibrant the art scene is in San Antonio."
Among the artists showing at the first Blue Star show were Richard Thompson, John Tweddle, Gary Schafter, Diane Mazur and James Cobb (who'll unveil a solo CAM 2015 exhibit March 6 at Sala Diaz). Along with "Blue Star I," the first CAM included SAMA's "Open '86" juried show featuring 115 artists and the "San Antonio Circumference" at the bygone San Antonio Art Institute. The second CAM in 1987 spotlighted 14 exhibits. This year, the CAM calendar is crammed with more than 120 exhibits, performances, concerts and other events.
Andy Benavides, whose SMART initiative included CAM for a few years, thinks CAM is now better organized than ever. He is touting a new website for the Southtown Arts District (southtownartsdistrict.com) with maps and community-driven pages he hopes will make it easier to find CAM events.
"People have really stepped up to the plate for CAM," Benavides said. "They have a strong, active board and they're raising money. In my 20-plus years on the scene, I've seen a lot of stuff come and go, but CAM is still going strong."