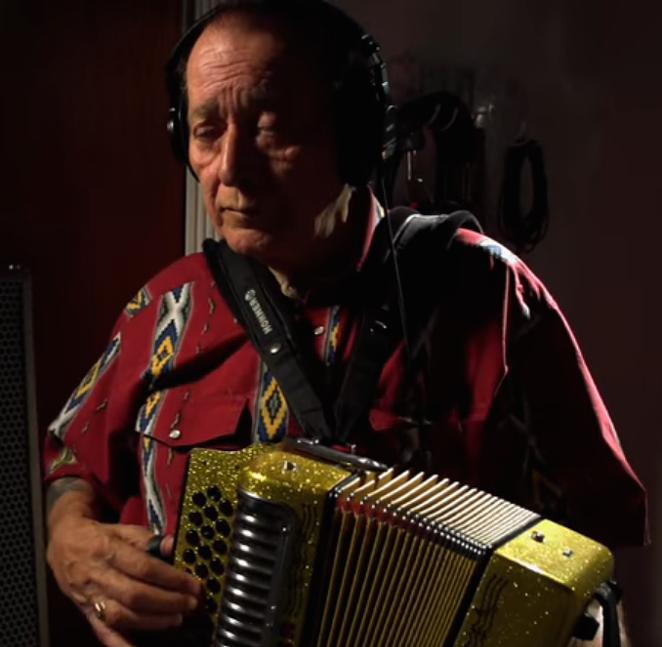 A still from Flaco Jiménez and Max Baca's "Margarita, Margarita" video, off of Legends & Legacies
The 35th annual Tejano Music Awards take place this weekend at the Tobin Center. In honor of three-and-a-half decades of San Antonio hosting the show, which draws 90,000 people to its festivities each year, we have gathered some of the best (and worst) videos from this year's nominees.
Song of the Year
Up for "Song of the Year" are two ballads that both appeal to those that want what they just can't have. One is a little bit country and the other (looks) a little bit rock 'n' roll. As for the better song - you be the judge.
"Atrevete Amarme" by Elida Reyna y Avante

"Atrevete Amarme," had me on first listen. A tale as old as time - a burning desire for the one that alludes you - it has all the right harmonic and melodic necessities to really tug at those heartstrings. I am also totally down with the fireside, tortured song-circle. For the lovelorn:

"Te Llevare" by Siggno


Props to "Te Llevare" for bearing a striking resemblance to Poison's "Every Rose Has its Thorn" video. Further proving the point that "Metal Dudes" hurt, too.
Album of the Year - Tejano


Al Fin Completa by Elida Reyna y Avante
It doesn't take a Spanish Major to understand the sentiment in "Para Toda Las Mujeres," or "For All Women," off of
Al Fin Completa.
A scrub is a scrub is a scrub.

Iconic by Jimmy Gonzalez y Grupo Mazz

"Perdoname," isn't actually on Jimmy Gonzalez y Grupo Mazz's nominated
Iconic,
but they're not the stars of this video off of 2013's
Forever Mazz
, either
.
(Hint: it's not the Immortal shirt)
.

No Regrets by La Tropa F
La Tropa F's reworking of Harry Belafonte's "Jump in the Line" doesn't have Winona Ryder, Alec Baldwin or Beetlejuice, but it is spliced with almost every hilarious Youtube dance video ever, and a badass Dallas Cowboys accordion (note to local accordionists: look into a Spurs version).
Album of the Year - Conjunto
Legends & Legacies – Flaco Jiménez & Max Baca
What it lacks in cleavage and cut-up Youtube dance videos, Flaco Jiménez and Max Baca's "Margarita, Margarita" makes up for in spot-on harmonies and heartfelt, virtuosic playing from the San Quilmas septuagenarian, and his bajo playing protege, recorded live in a single take! Orale!
Nadie Nos Podra Bajar by Da Krazy Pimpz feat. Jessica Sanchez
The title track off of their 2015 release, Da Krazy Pimpz toned down the suits but kept the headgear for their cover of Starship's "Nothing's Gonna Stop Us Now."

Vocal Duo of the Year


Eternamente by Oscar G y Grupo Sol feat. Adalberto Gallegos
Oscar, she's pissed, bro. But, there is always Sunken Gardens and a big, fat jug of wine for random hook-ups that escalate into marriage proposals.
Best New Male Artist

Roel Nava
This video is equal parts Halloween and hobo jungle.
Best New Female Artist


Silvia Navarro of Grupo Imagen
Also nominated in the Best New Group category, Grupo Imagen's "Esto es Adios," works as a fine promotion for female-dominated groups as well as a "Don't text and drive" infomercial. The more you know (sparkle rainbow) - brought to you by Grupo Imagen.