Image courtesy of the New York Times.
The UTSA Roadrunners are making their mark on college football, but they have some catching up to do. The New York Times released an interactive map today outlining which college football teams people root for in their part of the country, based on Facebook Likes.
The state of Texas bleeds the Burnt Orange of the University of Texas at Austin, even in Bexar County, where the brighter Roadrunner Orange will hopefully create a vibrant spot in the middle of South Central Texas. Forty percent of college football likes in Bexar County were for the Longhorns, compared to just 14 percent for the hometown team. Meanwhile, Texas A&M in College Station claims 9.3 percent of local Facebook likes. (Sorry, Aggies.)
You can view the entire map on the New York Times website and search college football fandom by zip code.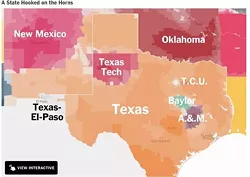 Image courtesy of the New York Times.