The I-10 and UTSA Boulevard area has already gotten a taste for what's to come inside
The Well
, the latest project by Lauren Weissman of Big'z Burger Joint, which opens officially on Tuesday, June 21.
Much like Big'z, which features a sprawling patio for the kiddos and a massive, warehouse-style dining room, The Well is quite the sight to behold. During a recent walk-through with chef Chemo Barrerra who will head the kitchen, I was shown the dining room, private event room for 75 complete with AV needs, cocktail lounge area, bar, beer garden, patio and dog park, and dance hall complete with its own cash-only speed bar.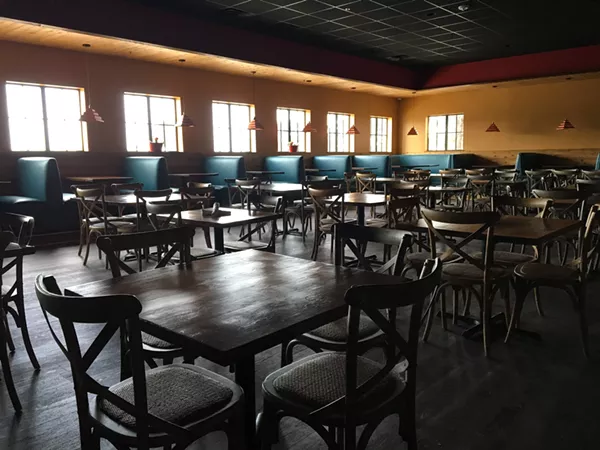 At 20,000 square feet, The Well will have something for everyone and can hold somewhere around 500 people. For now, Barrera, Weissman and bar manager James Tivera have catered to small weekday crowds. Scheduling will kick in once the restaurant is in full swing next Tuesday from 11 a.m. to 10 a.m., but The Well has already hosted a Martini Night (which will continue every Tuesday), College Night (I mean, they are down the road from UTSA) and a dance night complete with instructor is in the works.
On Barrera's side of things, he's got run of a massive scratch kitchen with wife Margeaux Alcorta as sous chef. Barrera and Alcorta met while working for in Jason Dady Restaurant Group. Barrera, a Southside SA native, first worked in chain kitchens and the original Big'z before choosing to attend the Culinary Institute of America-San Antonio. He worked for several of Dady's restaurants before running into Weissman two years ago.
"She told me about the project being in the works, and I had always loved working for her," Barrera said of the chance encounter.
The menu is still in very early stages, but expect 10 to 12 entrees including brisket and chicken fried steak with corn bread service at every table. Sausages, four of them, are ground and cased in-house. All proteins and cheeses are sourced from Texas as Barrera and Weissman try to deliver a Southern cooking feel that hearkens to meals grandma would have made.
On the bar end, Tivera, who spent several years with Glazer's distributor as a mixologist, is tailoring his bars to the clientele he knows will show. There's thoughtful cocktails and 80 beers on tap on the beer wall with an additional 10 for the other bars inside The Well. Beer fans will find local and regional brands ranging from light and refreshing to heady stouts.
Hours for the restaurant will be 11 a.m. to 10 p.m., 11 a.m. to 2 a.m. for the bar and beer garden and 9 p.m. to 2 a.m. for the dance hall Tuesday through Sunday.