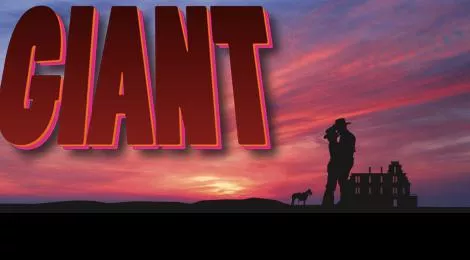 After a mixed reception at Virginia's Signature Theater, Michael John LaChiusa's adaptation of Edna Ferber's Giant arrives in a completely different production at the Dallas Theater Center, where it remains a giant mess. A musicalization of the iconic film, Giant tells—or attempts to tell—the multigenerational saga of the Benedict family, a deep-rooted Texas clan whose fortunes are tied to its ranch, Reata, and the unfurling events of the 20thcentury.
But here's the thing: musicals (or for that matter, operas) are fairly slow narrative vehicles, better suited to slim plots with a few well-chosen moments of heightened emotional intensity. Giant's sprawling narrative matrix—which feels weirdly incomplete even after three hours—means that characters are often introduced, celebrated, and eliminated in about twenty minutes. (Sometimes it's a literal death, sometimes it's a narrative death, but either way, don't get too attached to any one character.) And for a musical so packed with people, it's odd (and off-putting) that characters keep singing about non-people, particularly the ranch Reata and the state that can barely contain it. Even for its genre, this is an awfully long-winded paean to Texas, with endlessly repeated lyrics about the loneliness of Texas, the beauty of Texas, the promise of Texas, the heartbreak of Texas, the cruelty of Texas, etc, etc, etc. (I mean, substitute Iowa for Texas, and you'll get a pretty good idea of what the rest of the country is going to think of this soliloquizing about a single state. Not exactly box office gold.)
Things aren't helped by LaChiusa's consistently earnest lyrics about e.g. racism and class warfare, though his romantic and pastiche score—incorporating various styles of American music, including boogie-woogie—fares better. Allen Moyer's set is anchored by a big, bland water tower—ah, the Beauty and Heartbreak of the Water Towers of Texas!--and a rising scrim that covers (or discloses) the orchestra; for the most part, a turn-table spins us through a variety of spare, functional set-pieces. A top-flight cast has been enlisted here, including Aaron Lazar and Kate Baldwin as the patriarch and matriarch, and Dee Hoty as a flinty Texas gal; PJ Griffith's Jett, however, is far too overly villainous.
Director Michael Greif is best known for his production of Rent, which is also a sprawling saga--but somehow Rent manages to hold it all together. Giant, however, just sort of stops, rather than properly concluding (I actually leaned over to my companion to figure out if I had missed something). I've the feeling that transforming Giant into a musical was always something of a fool's errand, however well-intentioned: as it is, it's a giant production that yields only modest rewards.
--Thomas "I like my giants jolly green" Jenkins, Current Theatre Critic