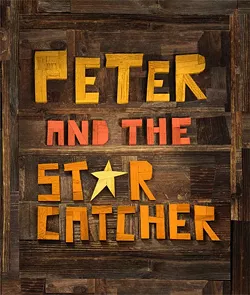 Last week's pre-Tony Awards jaunt to NYC revealed that the go-for-broke style of the English music hall—already a subtext to Mary Poppins—has nearly monopolized the Tony Awards season, as both Peter and the Starcatcher and One Man, Two Guv'nors feature a peculiarly British blend of music, mime, and farce. Of the two, Peter and the Starcatcher—a sort of storybook prequel to Peter Pan—is the more innovative of the two: it's a frothy, low-tech re-imagining of J. M.'s Barrie's familiar characters, including some suspiciously lost boys, a plucky heroine, and a swaggering pirate named the Black 'Stache (played with relish by Smash star Christian Borle). In its pace and energy, it reminded me most often of the recent The 39 Steps, though the second act outshone the first in sheer theatrical inventiveness. (Donyale Werle's verdant Neverland features numerous scenic surprises.) One Man, Two Gov'nors—Richard Bean's version of Servant of Two Masters—is less original, but features some superb physical comedy (from Tony-nominated James Corden) and direction (by Nicholas Hytner). A trip to Nicky Silver's The Lyons rounded out my shows on the Great White Way; I've admired Silver for years, and was somewhat disappointed to find that The Lyons didn't quite match the subversive energy of Lyon's earlier works, like The Food Chain or Pterodactyls. Still, Silver's plays always zig just when you think they're going to zag, and there's nothing conventional about the second act of this dysfunctional-family comedy. (Linda Lavin gives a pitch-perfect performance as the Lyons' roaring matriarch.)
Off-Broadway, I caught Nina Raine's lovely drama Tribes, about the collision of deaf- and hearing-cultures in yet another dysfunctional family. But with excellent acting across the board, and exquisite direction by white-hot director David Cromer, this was certainly the most moving play I've seen in months.
And I rounded off my weekend with a play whose title the New York Times won't print: Cock. (Thanks, Current!) And, yes, with a title like that, it might seem gimmicky, but Mike Bartlett's four person play is considerably smarter and better than it has any right to be. The set-up is simplicity itself: a gay male couple breaks up, and the younger partner starts to date
a girl. He then vacillates between two worlds—gay and straight—even as his partners square off in, well, a cockfight. With no props, costumes, or set (the entire thing is staged in-the-round), the evening boasts terrific direction by James Macdonald, even if the play itself is about 15 minutes too long. (My theater companions felt that the entire thing was way too stagey and British, but I've much higher tolerance for that sort of thing. And it'd be a great choice for one of the more edgy theaters in SA, like the Overtime, or the AtticRep. We haven't had a controversial play since the fairly awful Corpus Christi of last summer. It's clearly time to mix things up again. Cock, for the win!)
--Thomas "This New York Times Won't Print This" Jenkins, Current theater critic.