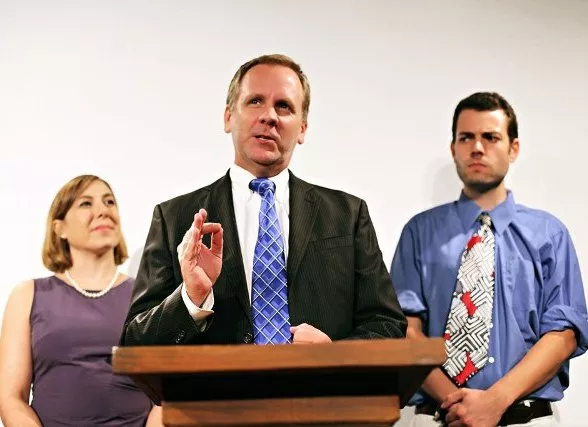 Well, last week's ethically-compromised edition of The Wicked Stage was a hit, of sorts: I think a few people actually read it. (In criticism-starved San Antonio, that's something of a triumph). Intriguingly, author James Venhaus actually wrote in, asking for thoughts on his new play Ugly People, which was reviewed by Scott Andrews here. (I'm a colleague and friend of the director Kyle Gillette, so I recused myself from formally reviewing. Darn ethics.)
But here, on my blog, I generally let the fur fly; and with artists actually asking me for my opinion (instead of demanding that I shut the hell up, which is far more common), well, then, I just couldn't just let the invitation languish there, all by its lonesome. So without further ado:  I sort of thought Ugly People, a satire of the race to the White House, would be uglier. Instead, there's a certain TV-ness to the script, with the level of ugliness about what you'd see on CBS' The Good Wife, which it occasionally resembles. Sure, there is some sleaziness—character assassination, seduction, spying—but I guess I was hoping for some really ugly activities, like cannibalism or sex with lemurs. For a satire of politics, it's also a little coy about its ideological leanings: the rival candidates clearly represent the Democratic and Republican parties, but both are running as Independents, which seems jarringly fairytale. (That's exactly what you don't want in a satire.) In any case, there's nothing particularly ugly about the Democrat—as a politician, he couldn't be more honorable if he had a halo—so the satire's bite mostly sinks into the candidates' media handlers, who are, as promised, ugly, ugly people.
The play's second act is zippier than the first, and also features some clever "gotcha" moments, in which the lines between reality and representation become delightfully blurred: the play works best when it pulls the wool over the audience's eyes. There's an enthusiastic cast (especially good work from Dru Barcus, who nails the go-for-broke amorality of the Karl Rove era) and excellent video work from Bryan Ortiz (his Texas television ads are nearly as disheartening as the real thing). The whole thing clocks in at around two hours, which is far too long for the plot: this is more like an eighty-minute satirical exercise, padded to a 'full-length' evening.
Which brings me to another matter: when the Overtime started, its manifesto proudly declared that the theater was only going to produce new plays of sixty minutes or less (and the wayback machine can prove it, here). Now, I think sixty minutes is a little draconian, but I applaud the instinct: you're already asking the audience to gamble on new work, so the least you can do is make sure that the work is tight as a drum. The Overtime now seems perfectly happy to produce full, two-hour, two-act plays, but I honestly don't think that's playing to its strengths. I've said it before, but what the hell, it's my blog, I'll say it again: I think the Overtime should change its model to a mix of original and non-original work. After all, a play like Smudge—small cast, weird conceit, and with a fringe sensibility—would work beautifully in Overtime's space.  The company is clearly raising its level of acting and production, so why not occasionally showcase that talent on an already fixed and proven script? That way the company can devote plenty of time and resources to the selection, development, and editing of new plays—including four-hour adaptations of Inuit epic, for all I care.
In a previous exchange, the Overtime insisted that the current model—eight or so new plays a year—is the only one that allows for sustainability. Maybe. But I don't think it will ever allow for growth: there's a real hunger in San Antonio for the tried'n'true new plays (and musicals) that the rest of America is seeing (like Circle Mirror Transformation and Spring Awakening), and we're not. Yes, the Cellar occasionally programs a hot play—like this fall's Time Stands Still—and the AtticRep has at least one or two a season; but that's about it. I think there's an untapped group of theatre-goers in San Antonio who are interested in quality contemporary theater regardless of the provenance of the author: a good play is a good play is a good play, and I think Alamo City audiences would clamber to see Clybourne Park at the Overtime if it were mounted in a capable production. (It's a crackling play, it won the Pulitzer, and who cares if the author is from Chicago and not Boerne?). Sprinkled liberally into the season, these proven hits might help build audiences for the Overtime's (understandably) riskier, original work. As is it, I fear that the Overtime will have to work overtime to build up a larger audience base.
-Thomas "Ethics Schmethics" Jenkins