In my expert opinion, 2010 was a great year for sex. More people were talking about it, singing about it, and just plain DOING IT! Unfortunately, there was way too much media attention on the break-ups of celebrity marriages. Lesson learned folks: If you've never been married, keep it that way! You'll be much happier and have a lot more sex.
Here are my Top 5 Femmes of the Year, the ladies who seemed to move mountains (of cash and tabloid TV time) with their ultra femme powers.
5) Elin Nordegren – I would like to publicly declare my love for Swedes right here. Let's just get it all out in the open. Swedes are HOT in an icy, cold kind of way. I've dated some, so I know. Tiger's ex reportedly received a $110 million settlement in her August divorce, but all that cold hard cash hasn't gone to her head. She's studying psychology part-time at Rollins College in Florida and allegedly dating a fellow student. You go girl! Psychology is a great subject for you.
4) Sandra Bullock – I think it's all gone downhill for SB after Speed and Speed 2: Cruise Control but she still won an Academy Award and had quite a controversial 2010. No one was happy when America's Sweetheart married bad boy Jesse James. It all came around to bite her in the ass, but she went and did the only thing a Hollywood star can do: adopt a black baby! Have you seen little baby Louis? He looks like a thug who is going to give momma's ex the biggest pimp slap EVER once he's grown.
210 Twist: Parts of "Miss Congeniality" were filmed here at the lovely Arneson Theatre in La Villita. Some of my friends were extras. That movie is crap.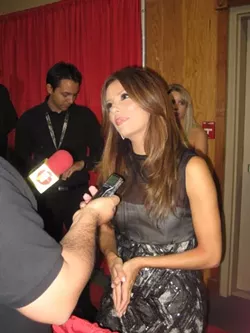 3) Eva Longoria: YES! Eva is back on the market! I couldn't be more pleased. She is a little too small for my taste, but I swear I would never throw her out of bed for that, even though I have the physical strength to do so. I'm hoping she'll adopt a black baby, too. Elin and Sandra already have theirs.
210 Twist: Her ex plays for The San Antonio Spurs. You may have heard of them. Plus she has a wonderful charity called Eva's Heroes that helps young adults with special needs to integrate and flourish in society.
2) Chelsea Handler – To me, she's got it ALL: her hit show Chelsea Lately on E!, a great sense of humor because she makes fun of everyone, a midget assistant named Chuy, a dog named Chunk, she's half Jewish AND she's dating 50 Cent. HOT DAMN. Could her life get any better?
Only if she was friends with me!
210 Twist: She brought her comedy show to SA on October 1, 2010. I didn't go and cried myself to sleep that night. Not. Maybe she'll be back in 2011. She obviously loves dark meat!
And now, the moment only I've been waiting for
The Top Femme of 2010 is
1) The Miner's Mistress – Susana Valenzuela became one of the most famous mistresses (or amante en Español) just because her man happened to become trapped in a mine in Chile for, oh, just a record 69 DAYS! Holy fuck. I find the length of time "trapped down there" ironic. Anyone who goes 69 days without sex deserves an award, 5 million pesos or $9,803 to be exact. I would be standing there holding a photo and a statue of the virgin too. Sweet baby Jesus! 69 days! As he emerged from the mineSHAFT, she ran up to kiss him. They whispered to each other. It's SO romantic. His wife wasn't there, but she did say Susana "was welcome to him." No doubt!
210 Twist – It's a little bit of a stretch, but officials in Atascosa County were sending info to absentee voters using the Chilean flag instead of the Texas flag. EPIC FAIL! How freaking dumb can you be? That is why my make-believe Femme of the Year Award goes to a Chilean named Ms. Valenzuela. She deserves it! Let that be a lesson for the rest of us. Get it together USA/Texas! Sheesh.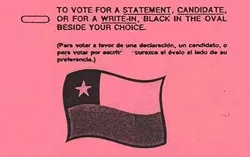 Dr. Anita Appelbaum is a certifiable, if self-trained, doctor of love and of those things often found to resemble amour. She blogs at blogs.sacurrent.com and takes your questions at femmenation@sacurrent.com.