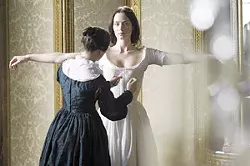 Critic's Pick
The Young Victoria
Director:
Jean-Marc Vallée
Screenwriter:
Jean-Marc Vallée
Cast:
Emily Blunt, Rupert Friend, Miranda Richardson, Jim Broadbent
Release Date:
2009-12-22
Rated:
PG
Genre:
Film
Though life is experienced in forward drive, history is understood in retrospect. The chance to use the movie screen as a rearview mirror accounts for the appeal of films about famous figures before they emerged from obscurity (Coco Before Chanel, The Motorcycle Diaries, PT 109, Young Winston, Miss Potter, Becoming Jane). Watching Young Mr. Lincoln, we revel in our privileged knowledge that, after the closing credits, Henry Fonda's gawky Springfield lawyer goes on to become the Great Emancipator.
At the end of The Young Victoria, the title character still has more than 60 years to reign. We can only marvel at how the lovely, vibrant teenager played by Emily Blunt will morph into the doughty monarch whose name became synonymous with earnest prudery. Emotional paralysis over the early death of her beloved consort, Albert, is still two decades into the future, but screenwriter Julian Fellowes suggests that the root of dour Victorianism lies in Victoria's repressed childhood.
"Some people are born more fortunate than others," she declares in the voiceover that opens the film but soon disappears. Though heir to a mighty empire on the verge of global supremacy, Victoria counts herself unfortunate, a poor little rich girl. "Even a palace can be a prison," she laments, from Kensington Palace, where, pre-Buckingham, she is confined before attaining majority. Under the "Kensington System," the regimen imposed by her widowed mother, the Duchess of Kent (Richardson), Victoria is deprived of privacy and the company of other children. The Young Victoria is the coming-of-age story of a lonely, fatherless girl who summons up the will and wile to outmaneuver those who would control her. Weeks after her 18th birthday, the death of her uncle, William IV (Broadbent), enables Victoria to inherit the throne outright and thwart the plans of a slimy British Svengali, Sir John Conroy, to set up a regency he could run.
Dynasties depend on matrimony, though Victoria, exulting in her new freedom as queen, is reluctant to be shackled to a husband. Public negotiation and private affection, however, result in her marriage to a first cousin, Albert of Saxe-Coburg and Gotha (Friend). The two overcome frictions with political leaders and each other to enjoy a productive, loving union that will eventually produce nine children and populate the monarchies of much of Europe. The history is sometimes twisted; Albert was in fact never wounded by a would-be assassin's bullet, and Blunt's English accent does not betray the way Victoria's speech was inflected by her first language, German. But Canadian filmmaker Jean-Marc Vallée has created a storybook royal romance that celebrates the triumph of domestic bliss and harmony in the realm. Victoria does declare her intention to do something about the poor, but what we see on screen is the costumed pageantry of the English aristocracy — the sumptuous spectacle of regal dinner, ball, coronation, wedding. The grimy Dickensian world of grinding poverty is, like Scrooge, pushed far off-screen. Missing is any reference to the disastrous British invasion of Afghanistan that began in the first months of Victoria's 63-year reign. This is a glimpse into the glamorous life of imperial majesty likely to please even a republican. — Steven G. Kellman