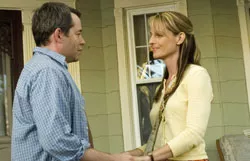 Then She Found Me
Director:
Helen Hunt
Screenwriter:
Helen Hunt
Cast:
Helen Hunt, Bette Midler, Colin Firth, Matthew Broderick
Release Date:
2008-05-14
Website:
http://www.thinkfilmcompany.com/
Rated:
R
Genre:
Film
"Did you ever meet someone and know in a heartbeat you'll do whatever they say?" April Epner's birthmother asks her in the street in Then She Found Me, grasping for the words to describe her birthfather. As Bette Midler, playing an octave below her usual range, turned up the last word of the sentence, I knew I loved Helen Hunt's directorial debut, a loose-ish adaptation of Elinor Lipman's eponymous novel. The question vaguely resembled the way I seem to remember Katharine Hepburn describing her connection to Spencer Tracy in a magazine article I can no longer find.
In Then She Found Me, the bewitching and ultimately exasperating connection exists between a perfectly intelligent, independent woman (Hunt) and a man (in the harmless packaging of Matthew Broderick; isn't that always the way?) who hurts her repeatedly, but who she can't help but let back in. The story of April, a middle-aged schoolteacher whose marriage falls apart just before her adoptive mother dies, all while she's trying to get pregnant, might be considered a romantic comedy except that it takes into consideration the complexity of actual life and is filmed in something like the verite, cringe-y, long-take-happy style of Noah Baumbach. As in The Squid and the Whale or Margot at the Wedding, Then She Found Me's lines are written and delivered so naturalistically it's almost awkward; to watch it is to feel like a puppy seeing itself in the mirror.
The film's screenplay has existed in several incarnations in Hunt's hands for a decade, all of them rejected until this particular version. Life experience won out, and it was worth the wait: Hunt's final product deftly depicts the complexity of relationships. How romantic ones, especially, don't begin and end at specific points — they run together like too-quickly painted sections of watercolor. Vocally, it's the most intricately feminine film I've seen since Lost in Translation, twisting and turning into unforeseen territory. It isn't that treacly, too-straightforward, vomit-inducing bullshit men "make for us" that we "empathize with" when we're at our lowest or because it's all that's available to us … kind of like when that Britney Spears song about being stronger makes perfect sense when you've had the worst day and lowest-common-denominator is all that's playing on the radio. Then She Found Me is cinematic Neko Case.
— Ashley Lindstrom
As of press time, Then She Found Me's open date has been pushed back at the Bijou. See sacurrent.com for updates.