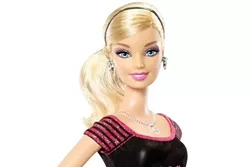 Someone on Reddit
 has redefined the phrase "on point" with a collection of dolls that can only be described as 
puro
 San Antonio. They've inexplicably highlighted a collection of 
Alamo City-themed Barbie dolls
 that embody the very best (or worst) of their respective parts of town.
Rather than try to figure out the why of this whole exercise, let's just trot out the girls so you can decide if they are serving up some San Antonio realness or are just exaggerated representations of their stomping grounds.
But first, we're immediately deducting points for not featuring Teresa, Barbie's feisty Latina sidekick. Points are meaningless and arbitrary. Also, note the following "package descriptions" are from the original Reddit poster, DeviantLycan.
Shavano Park Barbie
What her packaging says: "The modern day homemaker Barbie is available with Ford Windstar minivan and matching gym outfit. You can buy children for Shavano Park Barbie, but they only come in packs of 3 or more. She gets lost easily and has no full-time occupation. Traffic jamming cell phone sold separately."
The only reason to venture into Shavano Park unless you live there is to stop by Broadway Daily Bread for some cinnamon rolls or bacon and cheese scones, so I can't speak to this Barbie's accuracy. But I can definitely be sure that she's not cruising around in a Ford Windstar. A Chevy Tahoe, maybe, but a Ford Windstar? Do they still even make those? Plus three points for the multiple kids and what I am assuming is a police radar detector, because, seriously, those Shavano Park cops need to chill out.
The Dominion Barbie
What her packaging says: "This yuppie Barbie comes with your choice of BMW convertible or Hummer H2. Included are her own Starbucks cup, credit card and country club membership. Also available for this set are Code Monkey Ken and Private School Skipper. You won't be able to afford any of them. Sold only at The Shops at La Cantera."
I'm loving her sleek, black business wear. Let's just assume it's from Neiman Marcus. Still, I'm not entirely sure that whoever created this locally inspired line of dolls has ever stepped foot behind the gates of San Antonio's most elite address. Minus five points for the Hummer H2, because you know homegirl's making her way through Leon Springs in an Audi RS5. And the Code Monkey Ken? Yeah, no. It's more likely he's an insurance executive or owns a car dealership or something.
Universal City Barbie
What her packaging says: "This pale model comes dressed in her own Wrangler jeans two sizes too small, a NASCAR T-shirt and Tweety Bird tattoo on her shoulder. She has a six-pack of Bud Light and a Hank Williams Jr. CD set. She can spit over 5  feet and kick mullett-haired Ken's butt when she is drunk. Purchase her pickup truck separately and get a confederate flag bumper sicker absolutely free."
I'm deducting all the points for this little lassie. She seems too try-hard. Her wardrobe and accessories venture into a cliched territory that isn't tied to any particular zip code. It would make more sense if she had a KB Dream House or was enlisted in the Air Force.
China Grove Barbie
What her packaging says: "This tobacco-chewing, brassy-haired Barbie has a pair of her own high-heeled sandals with one broken heel from the time she chased beer-gutted Ken out of her trailer house.  Her ensemble includes low-rise acid-washed jeans, fake fingernails, and a see-through halter-top." 
Before you ask, and I know many of you are going to, China Grove is about 12 miles east of downtown San Antonio. There is nothing Chinese or grove-like about it, but there is a Doobie Brother's song about it. But is China Grove Barbie serving up some far Eastside realness? Maybe? I don't know. There are a lot of manufactured homes, but her acid-washed jeans and translucent top seem to be a bit too much. I'm deducting four points.
78229 Barbie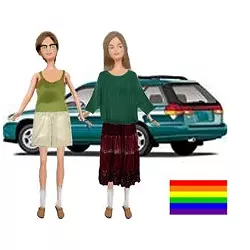 What her packaging says: "This doll is made of actual tofu. She has long straight brown hair, archless feet, hairy armpits, no make-up and Birkenstock with white socks. She prefers that you call her Willow. She does not want or need a Ken doll, but if you purchase two 78229 Barbies and the optional Subaru wagon, you get a rainbow flag bumper sticker for free."
We're deducting 10 points for the tired lesbian stereotypes and another 10 points for not even putting her in the right neighborhood. 78229 is the Medical Center. In what Sapphic fantasy do Willow and her partner belong there? Move them to Monte Vista or King William and get back to me.
Southside San Antonio Barbie
What her packaging says: "This Barbie now comes with a stroller and infant doll. Optional accessories include a GED and bus pass. Gangsta Ken and his 1979 Caddy were available, but are now very difficult to find since the addition of the infant."
It's one thing to recognize that San Antonio has a teenage pregnancy problem, but it's another thing to acknowledge it in doll form. There's enough blatant racism in this edition that I'm glad that whoever created this didn't use Teresa.
Main Street Barbie/Ken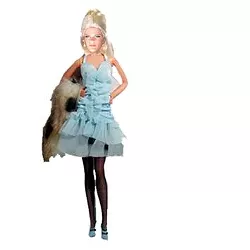 What her packaging says: "This versatile doll can be easily converted from Barbie to Ken by simply adding or subtracting the multiple snap-on parts."
We're deducting five points for being crass and offensive, but giving it five points for accuracy. Miss Main Street is serving up something fierce with her faux-fur wrap and synthetic fabric evening wear. You can totally imagine her throwing shade as she does her twirl through the Heat, Sparky's and Pegasus. A minor quibble: You're more likely to find her one block over on Ogden after last call, or over on Lexington next to The Saint.
Some of these Barbies are pretty horrible right? We think some of these creations are horrible, too, and don't endorse any of the offensive stereotypes some of these dolls perpetuate, but we're letting you judge for yourselves. Don't shoot us. We're just the messenger.