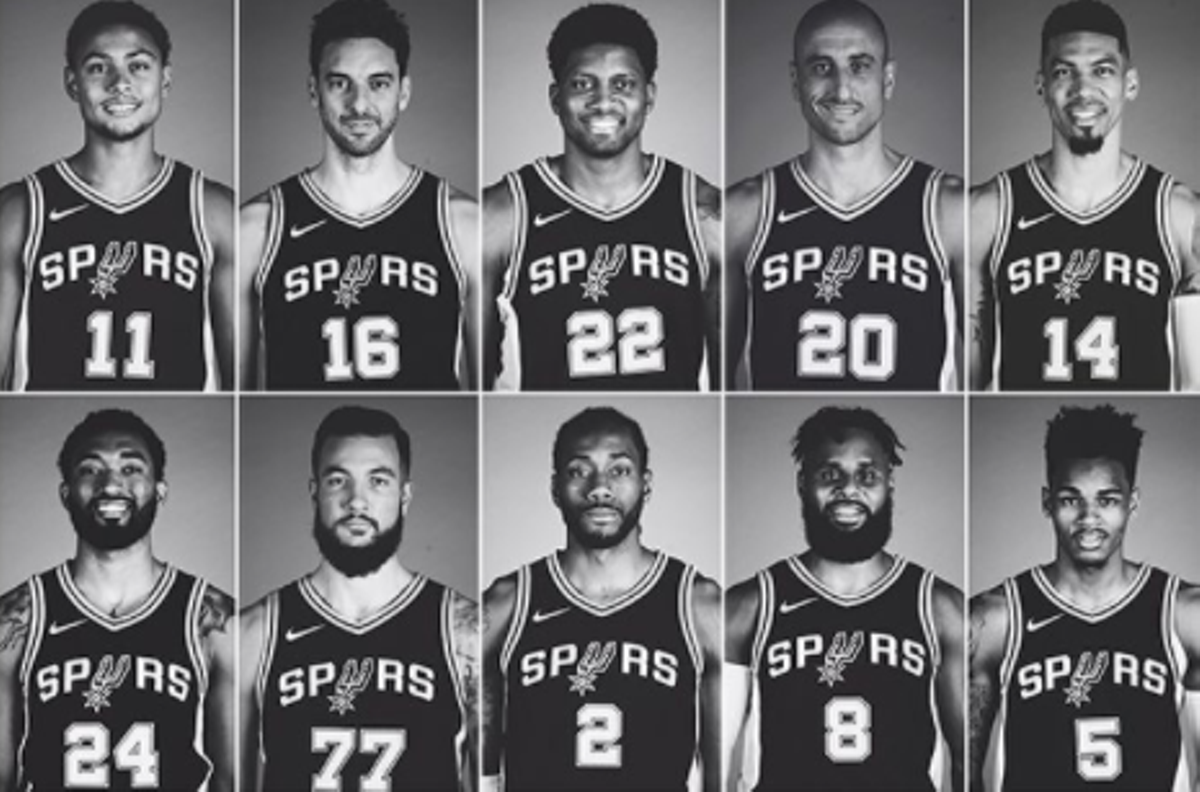 Courtesy
Wed 10/18, Spurs v. Timberwolves
Spurs basketball officially tips off at the AT&T Center on opening night with San Antonio hosting Minnesota in an early season showdown between prospective Western Conference contenders. During an off-season marked by player movement, the Timberwolves landed All-Star Jimmy Butler in a trade with the Bulls, along with standouts Jamal Crawford, Taj Gibson, and Jeff Teague via free agency. NBA general managers recently voted Karl-Anthony Towns, the centerpiece for the young Wolves, as the player "most likely to have a breakout season." Towns has put up Tim Duncan numbers in his first two seasons and is hoping for his first glance at playoff glory. For the Spurs it's all about Kawhi Leonard, who, after sitting out the preseason with a thigh injury, will likely make his season debut challenging Butler. $18-$661.25, 8:30pm, AT&T Center, One AT&T Center Pkwy., (210) 444-5000, attcenter.com. — M. Solis
Thu 10/19, Josiah Media Festival
Named after 20-year-old Josiah Miles Neundorf, a film/media student who passed away in 2006 from osteosarcoma, the Josiah Media Festival serves as a reminder that, oftentimes, youth films are more daring and original than those made by more experienced but derivative filmmakers. This year is no exception: the four winners (chosen out of a pool of 1,800 international 20-minutes-or-less shorts directed by auteurs 21 and under) in narrative, documentary, experimental and animation categories are a feast for the eyes. But the doc and animation winners are must-sees: Gente di Mare (USA, a gorgeous yet gloomy look at the Italian-American fishing community in Gloucester, Massachusetts) and iRony (Australia, by 18-year-old Radheya Jegatheva, who wrote, drew, shot, scored, directed and produced this trapped-by-technology gem) easily stand out. Full disclosure: my wife (and other local educators) will be a panelist in the "State of Youth Media Panel in Bexar County" roundtable on Saturday at 3:30 p.m., and her SAY Sí students will participate in the local youth screenings at 2 p.m. on the same day. The festival ends with an awards ceremony and Skype conversation with the international winners. In total, 54 films will be screened, including second and third prize winners. $10 per screening, $30 for a festival pass, 7pm Thu-Sat, URBAN 15 Studios, 2500 S. Presa St., (210) 736-1500, josiahmediafestival.com. — Enrique Lopetegui
Thu 10/19, Family Film Series: Ghostbusters
Make the most out of your #ThrowbackThursday with a free screening of the classic 1984 Ghostbusters. Whether you're an old fan of the film or are watching it for the first time, we're sure you'll enjoy watching this flick in the former drive-in movie theater. Free, 7-11pm, Mission Marquee Plaza, 3100 Roosevelt, (210) 207-8612.
Fri 10/20, Thievery Corporation
For more than 20 years, DJs/producers Rob Garza and Eric Hilton have, with assists from a whole society of avid collaborators, invited listeners on the global musical journey that is Thievery Corporation. The duo's supremely chill electronic music ranges in flavor and styles from album to album, but they never fail to find a hazy sweet spot between stoned-out relaxation vibes and intimations of the dance floor. Using a mind-blowingly diverse spectrum of samples, Thievery Corporation offers up a sound that includes elements of dub, acid jazz, reggae, Indian classical, hip-hop, bossa nova and more. The duo's recently released tenth album, The Temple of I & I, explores familiar and outré sounds from Jamaica and beyond. $22.75-$115, 9pm, Aztec Theatre, 104 N. St. Mary's St., (210) 812-4355, theaztectheatre.com. — James Courtney
Fri 10/20-Sat 10/21, All Hallow's Eve Dinner and Ghost Tour at the Haunted Menger Hotel
There's plenty of ghost tours in San Antonio to choose from, but Sisters Grimm is arguably the best one. After enjoying a literal feast (three courses and all) in the haunted Colonial Room Restaurant, you'll explore the hauntings within the historic Menger Hotel and downtown San Antonio. $59-$79, 6:30-10pm, Menger Hotel, 204 Alamo Plaza, (210) 638-1338, sistersgrimmghosttour.com.
Fri 10/20-Sun 10/22, The Biggest Bounce House in the World
That's right. The biggest bounce house in the world is coming to San Antonio for three days, giving you the chance to get jumping. Get your tickets for a full day (or three) of jumping, games and music. $5-$19, 8am-7:30pm, Wheatley Heights Sports Complex, 200 Noblewood Drive, (210) 714-0017, thebigbounceamerica.com.
Sat 10/21, San Antonio Beer Festival
Beer guzzlers of every expertise can't miss this festival - the largest of its kind in San Antonio. Take your pick from more than 400 premium and craft beers made at 125+ breweries all over the world. To compliment the beer, there's also live music, games, a wine garden, food trucks and booths as well as vendors. $35-$75, 1:30-6:30pm, Dignowity Park, 701 Nolan, sanantoniobeerfestival.com.
Sat 10/21, 'The Black Lodge: A Twin Peaks Art Show'
The recent finale of Twin Peaks: The Return, which saw David Lynch and Mark Frost revisiting their iconic, cult classic TV series Twin Peaks after 25 years, left fans and newcomers alike asking some pretty important questions. Will this really be the end of this beloved, transcendental mystery? How is Dale (the real one) such a badass? Also: what the fuck even happened at the end there? While you might not find any answers to these questions at this weekend's Twin Peaks-inspired art show (appropriately dubbed "The Black Lodge"), you will have the opportunity to view/purchase sweet themed artwork, to enjoy/endure some fittingly surreal live music from Porridge Fist and The Midnight Cleaners, and to feast your eyes upon projections from/inspired by the series. Real Ale Brewing Company will be serving up adult beverages, and, of course, there will be coffee (presumably damn good and hot!) as well as pastries. Free, 9:00pm, Pan Dulce Gallery, 1005 N. New Braunfels Ave., (210) 797-2628, facebook.com/pandulcegallery. — JC
Sat 10/21, VIVA Cultural Adventure
Nathan Felix, a recent transplant from Austin who locals might remember from his old band The Noise Revival Orchestra, is up to some exciting things with his DIY choir From Those Who Follow the Echoes. A large collective of singers and (sometimes) musicians, Echoes is something of a guerrilla operation, bringing pop-up choral/orchestral concerts to unconventional spaces, often with little warning. In honor of Museum Month, Felix and company have teamed with Blue Star Contemporary, San Antonio Museum of Art, the McNay Art Museum, and VIA VIVA to present a progressive opera performance right on the 11A culture buses (see viainfo.net for exact scheduling). You'll be able to catch the special performance in full if you board the bus at Blue Star or the McNay at approximately 1 p.m. However, you can also pop in anywhere on the route for a choose-your-own-adventure kind of effect. Free, 1-3pm, McNay Art Museum (6000 N New Braunfels Ave.), San Antonio Museum of Art (200 W. Jones Ave.), Blue Star Contemporary (116 Blue Star), (210) 824-5368, mcnayart.org. — JC
Sat 10/21, Los Lonely Boys
How far is heaven? We're not sure, but Los Lonely Boys will be in Boerne this Saturday. Grab some tickets for a night of smooth rock tunes. $32-$37, 8-11pm, The Roundup Outdoor Music Venue, 531 FM 3351 N., Boerne, (830) 428-3231, theroundup.com.
Sat 10/21, Hocus Pocus
It's time to start planning your costume for Fiesta Youth's fourth annual Halloween Hocus Pocus fundraiser, slated for October 21 at Arbor House Suites in the heart of downtown. The city's only gay-owned bed and breakfast, Arbor House consists of four, 125-year-old two-story Queen Anne-style Colonial Revival homes with beautifully landscaped gardens. Partygoers (21 and up only) are invited to partake in finger food, an open bar, music, dancing and a silent auction — not to mention a costume contest with prizes for scariest, funniest, sexiest and most original costumes. The mission of Fiesta Youth is to provide "a safe, non-judgmental, affirming place for LBGT teens to express and explore who they are through education, peer-support, advocacy and friendship." Fiesta Youth also sponsors Fiesta U, a twice-monthly support group for young adults aged 18 to 24. $25 in advance, $35 at the door, 7:30pm-midnight, Arbor House Suites, 109 Arciniega St., (210) 802-1373, hocuspocussa.com. — Sam Sanchez
Sat 10/21, Grand Opening of Social Spot
Social Spot, which has been open since late August, is finally celebrating its grand opening and it seems like this party won't disappoint. Bring your friends and be social with live music, drink specials, games and prizes. Free, 6pm-2am, Social Spot, 930 Broadway, (210) 263-9009.
Sun 10/22, Walking Dead Premiere Watch Party
Reserve your front row seat to one of television's best zombie apocalypse shows. Southtown 101 will offer up drink and food specials in honor of the season eight premiere. Just try not to scream and get too scared, or else you'll spill your drink. Free, 8-9 p.m., Southtown 101, 101 Pereida St., (210) 899-4667, facebook.com.
Mon 10/23, The Rocky Horror Picture Show
Ordinarily, a good screening of The Rocky Horror Picture Show is all about not being judged for doing pretty much anything, but when we're talking about a costume contest with the winner selected by Barry "Brad" Bostwick, we'll allow it. Released in 1975 and remade to very little acclaim last year, Rocky Horror is the legendary glam-rock musical celebration of basically everything uptight people have been clutching their butt muscles about since David Bowie sang "Starman" on Top of the Pops. Plagued by the nonspecific car trouble that seems to always haunt horror protagonists, lovebirds Brad and Janet look for help in the only place available in such films, a creepy-ass Victorian castle, where Dr. Frank-N-Furter, the "Sweet Transvestite from Transsexual Transylvania" (Tim Curry in the role he was born, or possibly genetically engineered, to play) and his henchmen are performing all sorts of erotic experiments and de-thawing Meatloaf amongst repurposed Hammer Films sets. Throw in an alien takeover plan, a King Kong-referencing cabaret show, and a convention of assorted other freaks and weirdos and … you know the story. Unless you're a virgin, in which case, better catch up quick 'cause not only are you gonna be surrounded by cosplaying fans (hence the contest portion of the evening), they're gonna be yelling obscenities at the characters, dancing in the aisles while chanting "group sex" and throwing stuff at the screen — though because of the venue's electric floor, ticket holders are asked not to bring rice, water guns, hot dogs or prunes. When they feel the need to prohibit prunes, you know it's a party. $29.50-$128.50, 7:30pm, Tobin Center for the Performing Arts, 100 Auditorium Circle, (210) 223-8624, tobincenter.org. — Jeremy Martin
Tue 10/24, Tinder Live!
Combining sex and painful awkwardness, dating apps are common fodder for stand-up material. Comics often wring laughs from bad profiles and worse dates, but Lane Moore actually opens her Tinder account onstage, projecting the app on a screen behind her to make fun of potential matches in real time. She lets spectators vote whether to swipe left or right (accepting or rejecting their profiles, if you're fortunate enough to not need the app), and gives everyone a voyeuristic thrill by texting and calling would-be suitors while the audience listens in, ensuring every show is one-of-a-kind, localized, and has an element of actual danger. If you're on Tinder and don't want to become part of the evening's entertainment, Moore cautions at the start of the show, you should probably turn off your phone. $24.50, 7:30pm, Tobin Center for the Performing Arts, 100 Auditorium Circle, (210) 223-8624, tobincenter.org. — JM