Editor's Note: The following is The Big Spoon, an opinion column on San Antonio's food and drink scene.
Night markets hold a long tradition in Asia. But around these parts, the concept of strolling among vendors and chowing down on international cuisine came along as recently as 2015.
It took the kismet meeting of two San Antonio natives who had explored the country — one went east to the globally-infused streets of New York while the other traveled west to La La Land as a young ingénue.
Valeria Hernandez and Jovanna Lopez saw a dire need for a market that appealed to all palates and wallet-sizes. They created the People's Nite Market at La Villita, and cobbled together a group of vendors hawking organic bath and body products, arts and crafts, jewelry and more while hosting food vendors serving Mexican, Ethiopian, Puerto Rican and Saudi fare. Finally, they teamed up with River City Produce to hand-select fruits and vegetables available to market goers.
The market eventually relocated to Avenida Guadalupe, where the women felt they could fill a void in the area, one of several of San Antonio's food and nutritional deserts where residents have limited access to affordable and nutritious foods.
Come September, the Avenida will light up once more with eight markets produced by the People's Nite Market, bolstered by a grant from Woodforest National Bank. The money allowed Hernandez and Lopez to secure rent for the location, which means the organizers can buy much-needed signage and focus on marketing the eight events.
It's not just about partnering with local farmers and vendors. Enticing farmers to come to the West Side was half the battle.
"They basically told us no, they didn't want to sell at our market. I understand people have a bottom line, and they have to survive, too," Lopez said.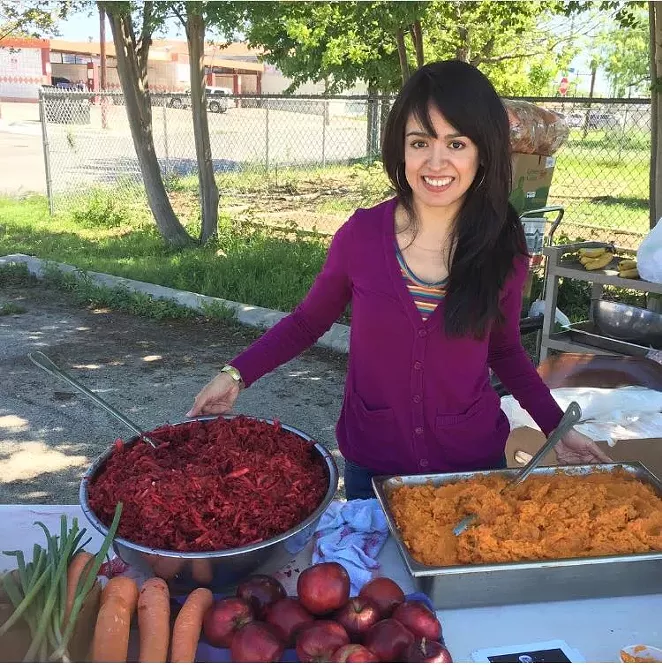 The partnership with River City grew out of a need to provide the vegetables. And several thousand dollars from the grant have been allotted to get produce at wholesale prices both for sale and free to residents of the 78207 zip code. Close to 1,200 families live in the area.
Drawing people in means turning each event into a carnival of sorts, with culturally relevant programming, which Hernandez says could mean anything from DJs to Zumba classes to visits from local lowriders to appearances from board member and hometown hero Jesse Borrego (
Blood In, Blood Out
). A little eye candy for las señoras doesn't hurt, either.
Programming this season will also include a partnership with MetroHealth for cooking demonstrations and recipe cards to ensure the vegetables don't go unused. They also cater to the area by carrying culturally relevant produce — caldo packs are sold in the winter, and there's plenty of chile, tomate and cebolla to go around.
Have a surplus of peppers in this year's crop? The People's Nite Market has a place for you.
"We just want people to eat better," Hernandez said.
When they return September 13 (and September 27, October 11 and 25, November 8, 15 and 29, and December 13), the pair of small but fierce women will load up their hybrid cars with all manner of market materials such as tents, display boards and tables.
Vendors are still being recruited, as are food trucks, and though this market is filling a specific need, it's still open to all. And if you stick around late enough, they might put you to work. Email
peoplesnitemarket@gmail.com
for more information.
So many restaurants, so little time. Find out the latest San Antonio dining news with our Flavor Friday Newsletter.