via Facebook, with permission from Koren Mercer
We're suckers for a good stray animal story – especially one with a happy ending – and this is definitely the best we've heard in a while.
According to
Koren Mercer
of Lone Star Saddlebreds in Magnolia, at around 7:30 a.m. on Sunday, Nov. 15, she was alerted to the presence of a stray dog in her yard when one of her own dogs started barking.
"When I got to the front door," she wrote in a post on Facebook, "I saw a rather tough-looking black and white bull dog standing two feet from the door, and behind him, peeking around the corner, a large pair of fuzzy ears attached to a sweet-faced Jenny. She was hiding behind the shrubs, trying to be discreet. It was obvious they were looking for help."
Mercer said that when the dog saw her, he ran off toward a nearby wooded area, and the donkey followed him. It was obvious that the two were traveling together. "I thought I was dreaming," she said. "I thought, if nobody else sees this besides me, they're going to think I'm psychotic."
She took the two travelers to her nearby farm for the night, and the next day she started looking for their owners. Apparently, the duo had been seen roaming together for about a week. People who spotted them told her they had lived together on a piece of property with some other animals (the
Bremen Town Musicians,
perhaps?), and someone would come to deliver food a couple of times a week. But when the owner stopped coming to feed them, the dog and the donkey somehow broke loose and struck out on their own. Nobody put up signs to look for them, and no reports were made with local police or animal control. Mercer said there was no sign that any other animals still lived on the property, either.
"I think the property was probably abandoned," Mercer said. "Whoever owned it, they were either incapacitated or maybe they passed on, but we don't believe they have anything to do with the property anymore."
So now the dog and the donkey are living in her barn at night, and they're in the pasture by day. On her posts on Facebook, which have now gone viral, Mercer wrote that the two are inseparable. They sleep together in a stall at night, and they play during the day. The dog runs through the donkey's legs and licks her face, and she responds by rubbing her face on his back.
It's clear, she said, that this isn't some fluke – the two animals are bonded. "It's very strange, but it's adorable," she said. "I can see why, if they were abandoned, they would have taken to one another. They needed each other to survive. She eats his dog food when I give it to him – I try to keep her away from it because it's not good for her – and he'll try to eat her grain. It's obvious they are used to sharing."
Mercer plans to adopt the two out, but only to the perfect home – one that's local, equipped to care for a donkey and a dog, and that's committed to keeping them both for the rest of their lives. "They have to stay together," she said. If no home comes along, they're welcome to live at her farm for good.
"I have a really good vet who has a lot of clients who are horse people in my area," she said. "My hope is that I'll find somebody through her client list who will take them, so she can keep track of them, or I can keep track of them. I really don't want them to go too far."
via Facebook, with permission from Koren Mercer
via Facebook, with permission from Koren Mercer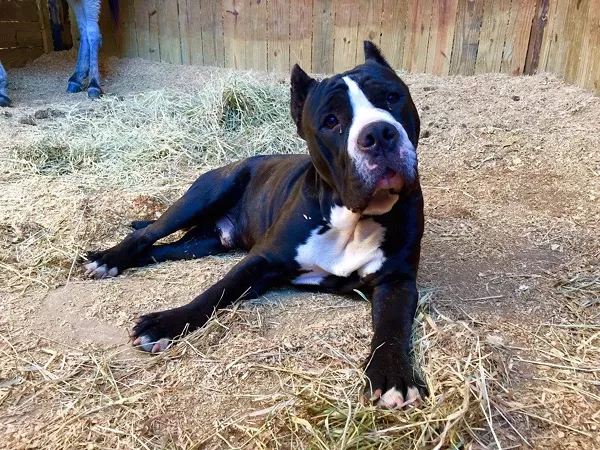 via Facebook, with permission from Koren Mercer
<!———EndFragment———>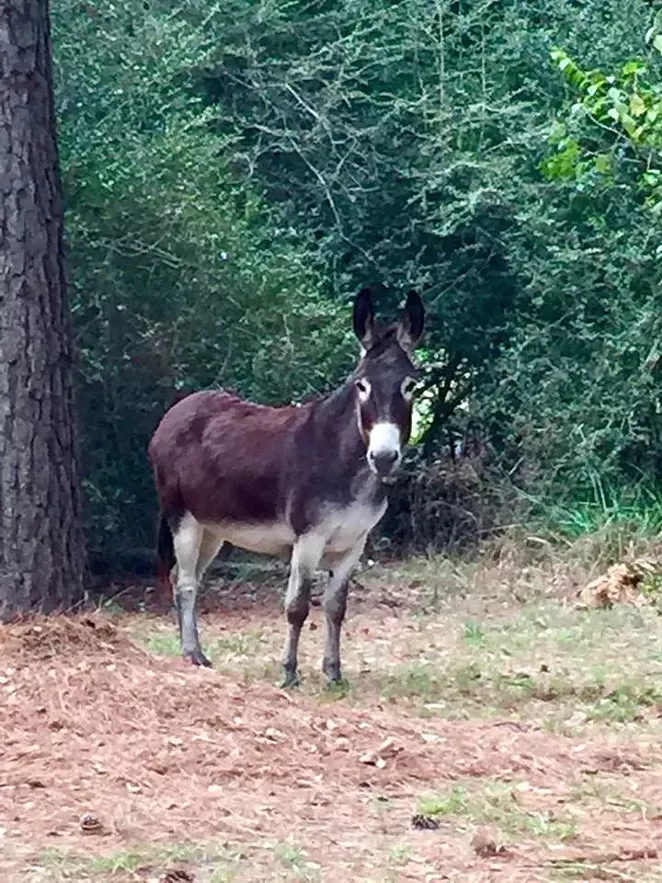 via Facebook, with permission from Koren Mercer