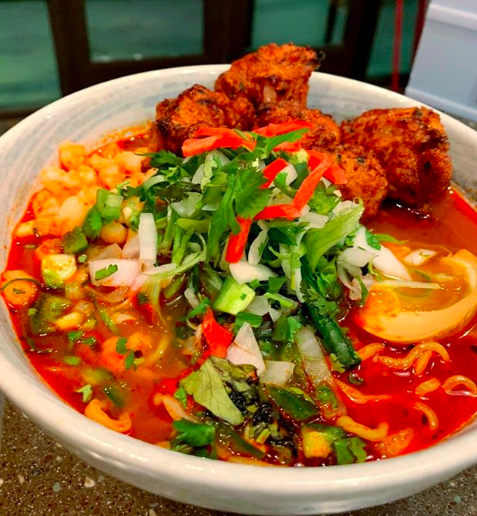 Blüm Coffee & Tea is
connecting highly-trained baristas with state-of-the art technology
for the best cup possible. Expect to see the homegrown boutique expand to new locations throughout the U.S. in the coming months.
Need more caffeine in your vida? Bandera Rosa returns to Tobin Hill this weekend with another specialty coffee pop-up, from 9 a.m.-2 p.m. Stop by the pop-up on July 20 and 21 for house-brewed cascara, iced coffee and more. Check
Bandera Rosa's Instagram
for updates.
Following unexpected development delays in Austin,
Pinch Boil House
announced plans to open its second restaurant in 2020. (Here's hoping they bless San Antonio with more Vietnamese-Cajun crawfish boils and Southeast Asian popups.)
Maverick Distillery will officially open to downtown San Antonio with whiskey, beer and dishes next week. In the meantime, the distillery will offer nightly speakeasy-style libartions and bites, from 3-8 p.m. A
sneak peek of the downtown distillery is available here
.
National Ice Cream Day arrives in San Antonio this weekend, and we scouted around for the
best ice cream deals
.
second location
in 2020, where it offer the kind of seasonal and sustainable artisan ice creams that made its Pearl location so popular.
Taco Land is gone, but a
Dallas-based chain restaurant
is ready to bring a new taco wave to the Pearl area by 2020. Or something like that.
This also seems like a good time to
meet the Compost Queens
, a mother-and-daughter team that's taking out the trash to create a more sustainable and food-savvy San Antonio.
We
also profiled
Chef Mike Nguyen, a local chef who plays for keeps. His UTSA-area ramen shop Noodle Tree is here to win.
Pour out a cup for the ones we've lost too soon. After four years of caffeinated excellence,
White Elephant Coffee Co. will close
its Southtown location at the end of July.
So many restaurants, so little time. Find out the latest San Antonio dining news with our Flavor Friday Newsletter.