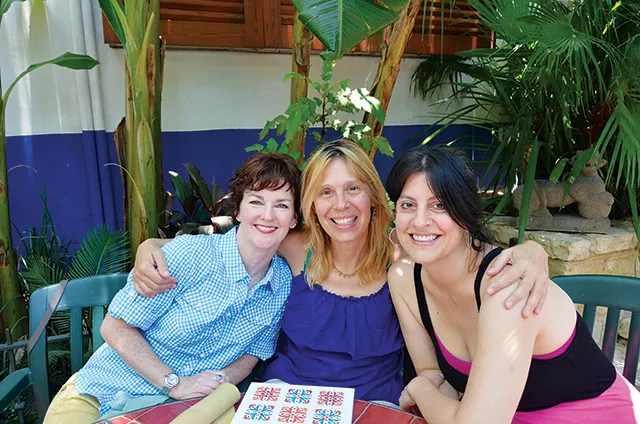 Courtesy Photos
Lester, Lawrence, and Monseau
With a terse three sentences sent in late June, Michele Monseau simultaneously cleared the air and paved the way forward for her Three Walls gallery: "Three Walls announces that it has declined to accept a space at Blue Star Arts Complex. Founder/Director Michele Monseau plans to continue Three Walls. The first new project is the curation of the July exhibition at Sala Diaz along with Leigh Anne Lester and Jayne Lawrence, Co-Directors of Cactus Bra Space."
Only slightly more long-winded, Lester and Lawrence soon followed suit, in a release that noted "The reason for our not taking the space is the complex's move to a more commercial, restaurant and upscale shopping experience, a down time of almost one year, the past and future losses of major art entities in the complex, road constructions present and future in the area."
While the co-announcements might cause a lump to rise in the throat of SA's collective alternative art scene, it wasn't exactly shocking. Three Walls and cactus bra SPACE, artist-run galleries that went strong for 14 and 19 years respectively, closed last summer during renovation construction at the Blue Star Arts Complex, and even back then the founders seemed hesitant to return to a smaller footprint amid a more commercial atmosphere.
Lifting them out of their dollar bill blues was Hills Snyder, director of Sala Diaz, who proposed that the longtime Complex neighbors get literal by co-curating 2013's installment of the non-profit art space's Duplex series.
"He gave us something to focus on," said Lawrence, over lunch with Lester and Monseau last week. The curators agree that Duplex, which invites two different artists to show in each of Sala Diaz' two exhibition rooms, seemed especially appropriate.
"There's always been this great, serendipitous, sympatico quality to [both] our shows," said Lester of Three Walls and cactus bra's often unintentionally complementary exhibits. "We'd meet in the hallway [during openings] going 'isn't this great?'"
In curating their Duplex show "Dust My Broom/Settle In," Monseau said "I picked J. [Derrick Durham]." "And we responded [with Leona Scull-Hons]," replied Lester. Both artists focus on performance, with what Lawrence calls Durham's "guttural, very visceral" exploration of personal mythologies (using motorcycles, death metal, and punk as metaphor) contrasting to Scull-Hons' "softer, intimate" participatory experiences involving tent forts and dreamy recollections of childhood freedom. "In that opposition," explained Lawrence, "what becomes apparent is the commonalities."
It's interesting to hear that both selected artists focus on the concept of liberty, as the curators themselves finally confront life after Blue Star.
"The thing that kept us excited was unanswered possibility," said Lawrence of cactus bra's run. Monseau concurred, admitting that "I wasn't having that feeling of freedom thinking about going back."
Now the three have a glint in their eye when discussing future plans. Lawrence and Lester aren't looking for another brick and mortar establishment, but haven't ruled out freelance curatorial gigs. "We've been thinking about critical discourse," hinted Lawrence. Monseau will continue Three Walls, which she views as part of her work as an artist, but has no confirmed new location, yet. The Duplex show is, according to Monseau, "a nice little springboard for the next chapter."
Dust My Broom/Settle In
Free
Opening reception 6-9pm Fri, July 12
Sala Diaz
517 Stieren
saladiazart.org