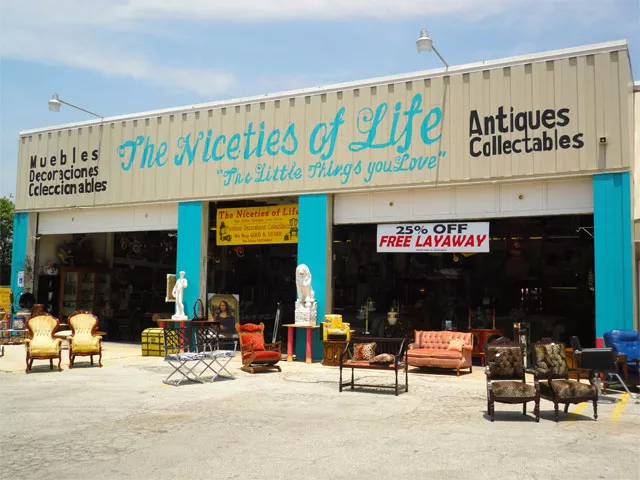 Courtesy photo
The Niceties of Life
Whether it be your deep-seeded need for a unique piece for your home or your newfound love for Macklemore that brings you there, thrift shops are the treasure and trash troves for the millions. Regardless of economic background, a person can enter a thrift shop and be transported to childhood memories, inspired by vintage design or maybe just get that couch for the side room, cheap. Either way, the nucleus of thrift stores can be found on Hildebrand and West Olmos, a city block apart, centrally split by San Pedro. The streets are lined with hole-in-the-wall shops that may be bare bones or secret stashes, all within walking-distance of each other. — M. R. Brown
Antiques on Hildebrand
With its sprawling assortment of furniture, both antique and sidewalk-worthy, Antiques on Hildebrand has a constant rotation of pieces for any home. Planted among the scattered thrift stores of this antiques haven, if something doesn't strike your fancy, you can leg it to the stores across the street and nextdoor.
521 W Hildebrand, (210) 734-9337
Boysville Auxiliary Thrift
In the shadow of H-E-B rests a clothing and furniture mecca for the thrifting masses. Though carrying an array of jewelry, kitchen items and records, Boysville Auxiliary Thrift has that discarded shirt your cousin spilt Big Red on last year and those shoes your aunt never knew were worth a few hundred dollars.
307 W Olmos, (210) 826-2195
The Niceties of Life
With venerable art installations hanging from the ceiling and filling cabinets, this local haunt is home to some of the most desirable pieces, historical or whimsical, in the city. The Niceties of Life, the last in the long line of thrift stores along Hildebrand, is a warehouse deserving of its own History Channel show.
1125 W Hildebrand, (210) 736-6661
Debbie Silver Consignment Vintage
A thrift shop with an eye for vintage clothing and accessories, Debbie Silver Consignment Vintage is an ornately dressed woman in a city of dull grays. This thrift shop offers clothing from a variety of generations so you can always match the monthly trend.
248 W Olmos, (210) 214-3989