Via Britney Spears' Facebook page
After a long stretch entertaining in Vegas, Britney Spears is hitting the road again — with some high-priced tickets.
If you're seeing any of this summer's top music tours, here's hoping you managed to keep your wedding ring and grandpa's antique pocket watch out of hock.
The average price of concert tickets selling on exchange site
TickPick
so far this year is $132.02. But for some of the season's most-anticipated tours, don't be surprised to see prices well above $300.
TickPick's numbers reflect the secondary market for tickets, meaning prices can exceed their original sale price based on how willing fans are to buy from scalpers, brokers and other individuals.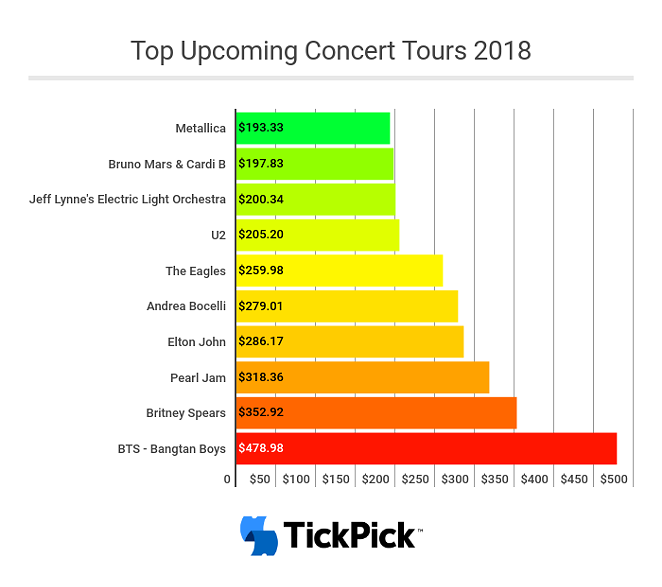 Tick Pick's average prices reflect how much buyers are willing to pay for them in the secondary market.
Driving this year's higher average price are a number of acts that are playing in a limited number of locations or hitting the road after a long absence, explains TickPick data analyst Kyle Zorn.
For example:
Korean boy band BTS has the highest average ticket price, nearly $479, in part because it's only doing five U.S. shows as part of its tour.
Britney Spears, whose average ticket price of almost $353 ranks her second on the list, is undertaking her first major road trip since a four-year run of performances in Vegas.
Jeff Lynne's ELO, the 7th-ranked act on TickPick's list, hasn't hit the circuit in three decades.
"When an artist tours every year, you're not going to see that same kind of demand," Zorn said.
Stay on top of San Antonio news and views. Sign up for our Weekly Headlines Newsletter.