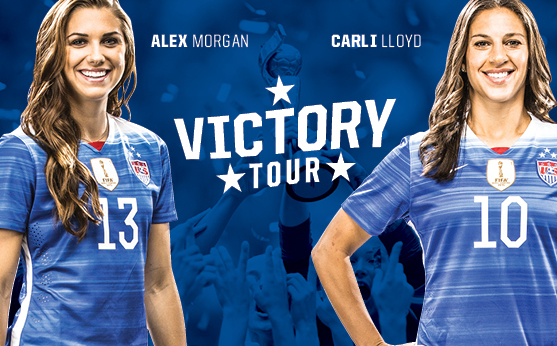 Courtesy of The Alamodome
See U.S. Women's National Team stars Alex Morgan and Carli Lloyd tomorrow at the Alamodome.
The champs are here!
And you can still get tickets to see them — for now, at least. The U.S. Women's National Soccer team will continue its World Cup victory tour tomorrow, December 10 with a friendly match against Trinidad and Tobago.
Tickets are still available
, and range from $28 to $295. The match kicks off at 8 p.m., and will be broadcast on ESPN2.
If you can't swing tickets to the game, the squad will host an open practice from 5 to 6:30 p.m. tonight at the Alamodome. Parking at the stadium costs $10, but admission to the practice is free. Doors open at 4:30.