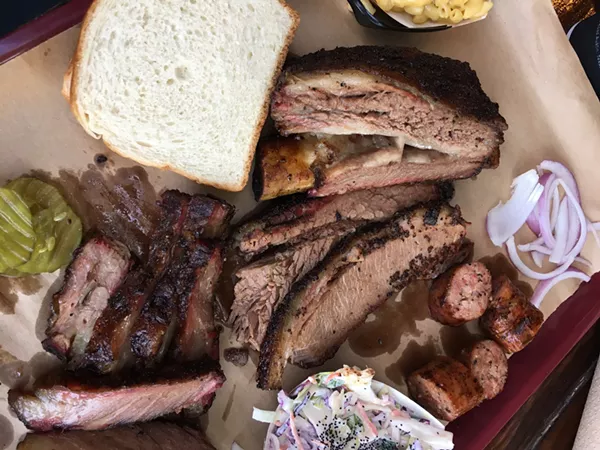 Courtesy of Texas Monthly
The ninth annual beefy bacchanal known as Texas Monthly's BBQ Fest returns to Austin November 3 and 4, and tickets are now on sale.
The usually sold-out event brings out meat-lovers and barbecue-heads from across the nation to sample some of Texas' best from the magazine's Top 50 BBQ Joints in Texas.
This year's lineup starts with a 'Cue Course hosted in partnership with Texas A&M University's Animal Science Department on Saturday, November 3 from 11 a.m. to 1 p.m. at Stiles Switch BBQ & Brew. The workshop "dives deep into the secrets of meat science," in case you're wanting to nail amazing brisket at home. Tickets are $95 each.
That same night, James Beard Award winner Aaron Franklin hosts Franklin & Friends from 6 to 9 p.m. at Franklin Barbecue (900 E 11th St). "Attendees can expect an exciting evening of cold beer and live-fire cooking from Franklin himselfas well as pitmasters Evan LeRoy of LeRoy & Lewis, Sam Jones of North Carolina's Sam Jones BBQ, and Bryan and Nikki Furman of B's Cracklin's BBQ in Atlanta," per a press release. Tickets to Franklin & Friends are $95 each.
Finally on Sunday, November 4 from 1 to 4 p.m., the 30 of the Top 50 BBQ Joints in Texas (including San Antonio's 2M Smokehouse) collide for an afternoon of smoke and meaty goodness at the Long Center for the Performing Arts. General admission tickets are $80, and VIP tickets (which also include a one-hour advanced entry, a pair of complimentary drink tickets, annual subscription to Texas Monthly Magazine, and a special Texas Monthly gift) are $165.
Tickets are available now at
texasmonthly.com/tmbbqfest
.
So many restaurants, so little time. Find out the latest San Antonio dining news with our Flavor Friday Newsletter.