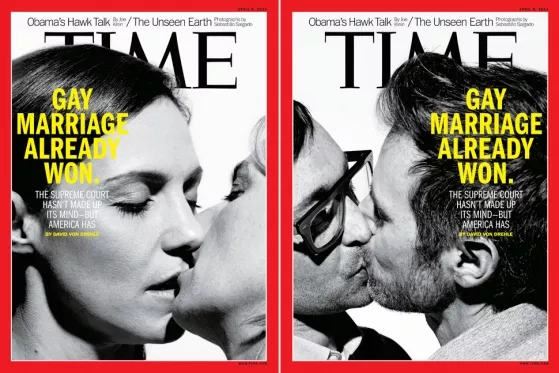 On March 28, Time magazine's double cover reflected the fact that, fortunately indeed, the times they are a-changin'. It featured two gay couples, one male, one female. The latter was that of Kristen Ellis-Henderson (bassist for badass, all-female country-rock band Antigone Rising), and her spouse Sarah Kate Ellis-Henderson. They both got pregnant at the same time, and their children were born three weeks apart on February 2009 (Kristen had a boy, Sarah a girl). Their amazing story is told in detail in Times Two: Two Women in Love and the Happy Family They Made (Free Press).
On April 1, Kristen spoke to the Current from her home in Long Island, NY. She told us how she ended up in the cover of Time, gave us hints on the upcoming Antigone Rising EP due in the Spring, and even read from her book. She also agreed with what we all know: as The New Yorker's Jeffrey Toobin aptly put it, when it comes to marriage equality "the country has changed, and it's never going back to the way it was. Though the battles continue, the war is over."
What's the story behind that Time cover?
It happened very quickly. A little over a week ago we got a phone call from a friend who works at Time Inc., and he said Time magazine was looking for a lesbian couple for their marriage equality cover story they were doing the following week. "Would you be interested?" Sure, we said. "They need you to come in on Monday, the photographer will be in touch with you." He never got in touch, so we figured, "They're not interested." And then way late Friday night we get an email, "so sorry, but we're very interested in you guys coming in ... This is what you need to wear: tan khaki, neutral clothing, so please come on Monday." We did, and there were several other couples involved. There were so many couples they were shooting, that we thought, "What are the odds that they will choose us?" Over the course of the photo shoot, which maybe lasted 40 minutes tops, including hair and make up, they asked if we would be comfortable kissing, and we said, "Sure, we're married." [Photographer Peter Hapak] asked us if we wanted him to clear the room, and we said, "No, we're comfortable kissing." They shot the photos and that was the end of it. We found out later they were going to do a split cover, a male couple and us.
When did you first see it?
We got a phone call Wednesday night saying we got the cover, but we weren't allowed to tell anyone. It was supposed to be revealed on Morning Joe on MSNBC.
Right before the reveal, I looked up online and it popped up, and 30 seconds later it was revealed on Morning Joe. So I had it on my computer and practically at the same time it flashed on my TV screen. At first I didn't recognized myself, and Sarah thought we didn't get it either, she didn't think it was us. I had to really focus until I realized, "Oh, my God, that is us!"
I see Antigone Rising as mainly, a rock band with country overtones, but the country element is very strong. It seems the most provocative acts of defiance come from female country artists. The Dixie Chicks (in a completely different situation) got a huge backlash after the Bush incident. But the waters are refreshingly quiet this time. They times are a-changin'...
I do think the times are changing quickly. We haven't had a backlash. If anything, by coming out and being open about it has only helped our career and opened doors for us, it attracted more fans. I think that, for the most part, people prefer you live an honest life. People have responded very positively to it. Does that mean there won't be any backlash? I don't know. Even Time magazine is actually surprised at what little reaction they're getting from the right on the issue. Everybody's a little surprised with the lack of outrage over the cover, and relieved and happy. And you're right, the Dixie Chicks' is a different situation, but they're also a very specific country band, whereas we're a rock band that happens to have a little bit of a country influence, even more so recently. But when our big record, From the Ground Up, came out, there was a big country push. Our latest, 23 Red, definitely take us closer to country music than ever before. It's where we're going naturally. At this stage in our career, the music industry is such that you can be wherever you want to be and whoever you want to be, and a record label or a city like Nashville can't hold you back anymore. So if people want to be open to our sound, and we happen to be gay, and that kind of does fly in the face of what country music represents or stands for, then we're offering an alternative, I guess.
I'm not going to ask you who voted for who in the band, but do you all pretty much agree with each other politically, or is it a mixed bag?
Mixed bag, I can tell you that. We didn't all vote for the same guy, and that's the way it goes in our band.
So it was a non-issue
Totally a non-issue. I'm related to several Republicans and I love them all very much. Most of them support my life. In fact: all of them do. They were at my wedding, and I have an uncle who is the head of the Republican Party in Long Island, where I live, and he's my closest uncle. There he was, videotaping at my wedding. For the most part, to be quite honest, the Republicans I know are more liberal on social issues and aren't opposed to marriage equality. Even Dick Cheney supports marriage equality.
The New Yorker was right: "The battles continue, [but] the war is over."
I agree with that sentiment, it feels that way. The tide is changing.
Will the upcoming and still unnamed EP continue the band's country direction?
Yes, it will probably focus even further on the country vein. We're sort of naturally shifting in that direction. I would call it more alt-country, but you have to listen to it. In a lot of ways, we're right up the middle, it's pop-country-rock.
Yeah, but "That was the Whiskey" rocks!
OK, that's good. We don't want to be pigeonholed. We're a rock band with country undertones.
Any plans for a full-length after the EP? It is about time...
The way the industry is nowadays, we could very comfortably release one song at a time. We could release two EPs and then release all those songs in one collection, but in this day and age we could even do one song at a time.
You don't happen to have your book with you, do you?
Times Two?
Yes.
I'm home now. I could get a copy of it.
Can you read me your favorite part or just open the book and read whatever pops up?
That's so nice! OK, let me get it and see what happens. One second.
[She returns in 11 seconds, and she's suddenly speaking at 100 miles an hour; when she starts reading I have to ask her to slow down a little bit because I couldn't understand a word]
This is one paragraph that actually made me cry, so I don't know if I'll be able to get through it. This is the very final chapter called "One Small Year," on page 195. It says:
So on June 7, 2009, Thomas and Kate, surrounded by their godparents, Aunt Mora, Uncle Tommy, Aunt Kathy and Uncle Spencer, were baptized at St. John's Episcopal Church. One hundred of their friends and family members celebrated with them afterwards at the Richmond County Country Club on Staten Island, and everyone was welcome.
I could back up a couple of paragraphs, but you get the point: it's about all being welcome, they're baptized, and everybody happy.
I can't leave you without asking you about the pregnancy. You both got pregnant on the same day by marvelous accident?
We were both trying to get pregnant, but it was an accident in the sense that we both got pregnant on the same day. Sarah had been trying to get pregnant for almost two years and had several miscarriages and a lot of heartache along the way. So I started simultaneously in the hope that one of us could get pregnant. And on this one particular month it looked as though it was going to fall on the exact same day. We both went for it because I had been doing some drug therapy, as was Sarah. We had no other choice, so we went ahead and tried. We both had the exact same pregnancy every step of the way. I gave birth two weeks early, and she gave birth two weeks late. So Thomas and Kate were born three weeks apart.
Do you remember the day when you both found out you were pregnant?
Oh, yes. We found out on different days, because Sarah had done IVF [in-vitro fertilization] and the treatment is a little bit different. But three days later I found out I was pregnant too and we both went into this state of shock. But it was an exciting shock, of course.