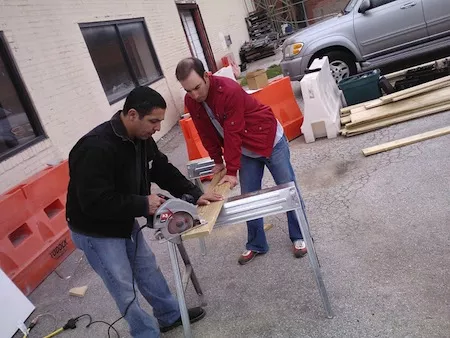 Team Better Block takes the new urbanism term 'placemaking' literally, constructing temporary mock-ups of people-friendly cityscapes in blighted blocks at cities across the country. The idea is, if investors can get a look at a better future, they just might build one. And after the demo, they often do, turning abandoned buildings to boutiques, sandwich shops, and other pedestrian friendly amenities.  Sometimes even famous city spots need help, too.
A vision of a better Alamo Plaza will be on view for comment next weekend, August 17-18, after local volunteers put out some effort to translate the streets in front of the Alamo into a walking space with music, food, and history tours.
As part of the City of San Antonio's Center City Development Office's place-making initiative, the community is invited to help build a Better Block at Alamo Plaza between East Houston and East Crockett Streets. Community members can get involved with the Pre-Build Workshop on Friday, Aug. 10, from 5 p.m. to 11 p.m., and Saturday, Aug. 11, from 9 a.m. to 1 p.m. To participate, meet at he former Express Store, Rivercenter Mall, located at 849 E. Commerce. 
During the pre-build weekend on August 10 and 11, Team Better Block and volunteers will be building tables, chairs, kiosks, and shade structures for the event. Volunteers are asked to bring hammers, nails, work gloves, and closed-toe shoes. Water will be provided. All are welcome to come and join in on the pre-build fun, and to participate in the Better Block event on August 17 and 18.
To get involved with the project, or for more information, visit teambetterblock.com/alamo.