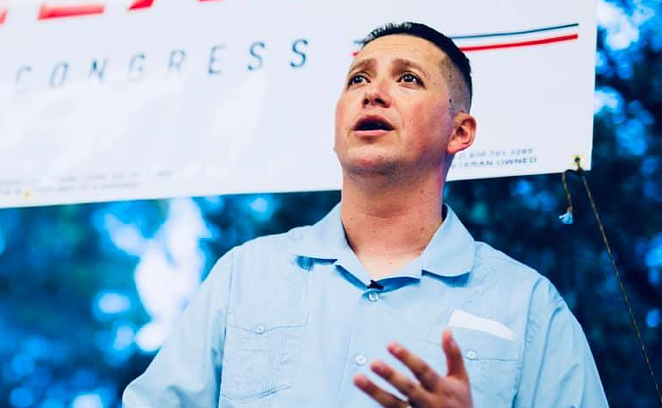 Twitter / @TonyGonzales4TX
U.S. Rep. Tony Gonzales defended Border Patrol agents shown in a viral video appearing to whip the reins of the horses they were riding at Haitian migrants along the U.S.-Mexico border.
U.S. Rep. Tony Gonzales has a knack for saying stuff that gets people wound up. Case in point: his
refusal during an 2020 interview
to identify the KKK as a "terrorist organization."
The pro-Trump Republican, whose district includes San Antonio, made headlines again this week by saying the mounted Border Patrol agents
captured on now-viral video
whipping their horses' reins at Haitian migrants were "doing God's work." So many folks read our piece on the congressman's odd utterance that it ended up being the
Current
's most-read story of the week.
The other stories on our most-clicked list ran the gamut from a local man being indicted for a stabbing at the Palladium theater to a new haunted attraction coming to Rolling Oaks Mall to the legal fallout from a San Antonio doctor deliberately violating Texas' restrictive new abortion law.
10.
Despite winning Texas in 2020, Donald Trump demands Gov. Abbott prioritize election audit
9.
San Antonio doctor says he violated Texas' near-total abortion ban to challenge its legality
8.
The Lincoln Project buys TV ad during UT-Rice game to blast Gov. Greg Abbott's COVID-19 record
7.
Analysis: Abbott's 'steel wall' is one more spectacle as he desperately panders to the GOP base
6.
Two separate suits filed against San Antonio doctor who performed abortion in violation of Texas law
5.
Man indicted for June stabbing at San Antonio's Palladium theater, faces 20 years in prison
4.
Baltimore's 'success story' should offer warnings for San Antonio as it attempts urban renewal projects
3.
Black jogger wrestled into back of patrol car last year by San Antonio police has sued over the incident
2.
New haunted attraction will debut at San Antonio's Rolling Oaks Mall in October
1.
San Antonio Rep. Tony Gonzales says agents filmed whipping reins at migrants 'doing God's work'
Stay on top of San Antonio news and views. Sign up for our Weekly Headlines Newsletter.