Chocollazo

Multiple locations, chocollazo.com

Maybe it's nostalgia that makes us want to grab for every milk chocolate bar inside Chocollazo. Maybe we're eating our feelings after a long day at work or after simply remembering every horrible thing that happened in 2016 and we're reaching for something, anything that will make everything feel OK. Whatever the case, a visit to Chocollazo's Boardwalk on Broadway will leave you wanting more.
Owned by chocolatier Mary Collazo, the family-run establishment is a lesson in decorative restraint. The stark white and black walls let you focus on the task at hand: not blowing your paycheck on boutique chocolate treats and fun candy. Those familiar with Chocollazo's food trailer roots will find familiar items — Collazo calls them yum yums with good reason — in the cases and shelves.
There are oodles of truffles and bon bons inside the gleaming display case with favorites such as the chipotle toffee crunch, peanut butter, caramel macchiato and bacon-German chocolate. Of course, presentation matters and Collazo knows that. Collazo toils endlessly making sure each geometric truffle has just the perfect amount of sheen or colorful cosmic dust (you can sneak a peek at her truffle splatter board on the opening spread).
Baked goods were a staple of the truck but the opening of the brick-and-mortar shop called for skilled hands to give the desserts some oomph. Enter pastry chef Jenni Williams who baked her way across country clubs in West Virginia, North Carolina and Florida before moving to San Antonio earlier this year. Though she specializes in custom cakes, Williams has also revamped all of the baked goods on the menu. The added flair makes them almost too cute to eat — almost.
Whether you're stopping in for crepes on weekend mornings, or picking up gifts for co-workers or just restocking your Pocky stash, Chocollazo's got you.
—JE
Bok Choy

5130 Broadway, (210) 437-2200,
eatbokchoy.com
Opened in May of this year, Bok Choy is the Cece's stir-fry manifested into a restaurant: by no means authentic, but bearing enough veggies that you'll leave feeling less guilty than if you'd opted for a burger and fries. You're there for the quick-service fare (no doubt the systems have been perfected through its predecessors Green and Earth Burger), but do notice the massive chopstick wrapper that serves as anchor for the restaurant. It's just plain fun.
The menu is simple enough to navigate, though still extensive. On the sides and appetizer front, spring for the Vietnamese fried spring rolls, which are a must. Hand-rolled and stuffed with an almost surprising amount of shredded carrots, potatoes, and mushrooms all still bearing a toothsome snap, the spring rolls are served in pairs with bright orange duck sauce that can, and should, go unused. The cheese rangoon, delivered both a pliable crunch and creaminess not often found in other variations.
I can sing the praises of a pad kee mao, or drunken noodles, which was garlicky and served steaming hot in a traditional to-go carton. It retained its heat through my drive home and even after digging in to the mound of wide noodles (cooked al dente), fragrant Thai basil, tender bell pepper, chunks of onion and fried tofu.
I took a gamble on the beef and broccoli for later visits. The texturized vegetable protein used creates a chewy, but tender nibble, and the "brown" sauce toes the line of soy-filled and too salty while effectively covering the carrot slices and broccoli florets that accompany the dish.
I'll stick with the basics and keep enjoying my movie-night snacks. The fare at Bok Choy falls in line with Green's palate-pleasing offerings and we shouldn't expect anything else.—JE
Hawx Burger Bar & Electro Lounge
2603 Vance Jackson Road, (210) 320-4299, hawxburgerbar.com

San Antonio has another burger master on the rise, and this one is entirely self-taught.
Christian Hawx, the 24-year old owner of Hawx Burger Bar and Electro Lounge on Vance Jackson Road, previously worked four jobs simultaneously to support his self-started, struggling insurance company. The persistence paid off. So much so, that he was able to sell the company at a profit and open a restaurant this past February that is now growing a rapt audience for its burgers, cocktails and beer.

How exactly does an insurance broker become a restaurateur? Pretty much by accident. Hawx was entertaining friends one night, cooking dinner. He made burgers. They raved. He listened.
He grinds the meat himself, mixes the spices by hand and plays around with ingredients and flavors. His meticulousness shows, with an Angus chuck burger that's savory and juicy. Want cheese? You'll get two slices, not one — hand-sliced, at that. The veggies are fresh from local area farmers and all hand-sliced in-house, as well. And you'll find those veggies on the bottom of the burger, not the top, so they keep the bottom bun from getting soggy.
And then there are the buns. You'll find two types on the menu – one is a shiny, fluffy brioche topped with both white and black sesame seeds, well buttered and delicious. The other is a whole-wheat brioche variety, complete with a smattering of toasted oats on top, also impeccably slathered with butter.

Hawx's favorite item on the menu is The Norteño burger.
"It's what burgers want to grow up to be," he correctly surmises.
Inspired by the rich flavors of Mexico, the Norteño was the first burger he created. Cheddar and Oaxaca cheese, hickory-smoked ham, avocado, applewood smoked bacon, grilled onions, grilled jalapeños and homemade chipotle aioli all adorn this masterpiece. It's a spicy, pungent and over-the-top celebration for the senses. –CS
Michelle Claire Lorentzen

Mariscos El Marinero
1819 McCullough Ave., (210) 465-9178
After more than a year of will-they-won't-they open tension, El Marinero finally opened its doors off McCullough in mid-September.
Much like at sister restaurant Taqueria Chapala Jalisco (which formerly sat in the remodeled Pizza Hut structure), the flavors are on point and at reasonable prices.
The interiors are, of course, decked out with seascapes both above and under the sea (mermaids, sharks, orcas, a sea-weathered boat captain that looks strikingly like the former Most Interesting Man in the World, what have you) and the space is still relatively cozy, which help harken back to days of El Bucanero's first location off S. W.W. White Road. The menu comes bearing a slew of dishes reminiscent of other Mexican seafood joints that came before it such as El Buc, Camaron Pelado and Las Islas Marias, but with its own unique twists.
Michelle Claire Lorentzen
Find delicately battered and fresh shrimp tacos, oyster shots for bivalve fans, fried platters, over-the-top micheladas and camarones aguachile.
If those aren't enough to entice, let the Saladitas Gamesa serve as vessels for one of the molcajetes the mariscos, or the especially eye-catching Torre Imperial. Layered ceviches, octopus, scallops, shrimp, and avocado combine for an impressive bite worth topping said tower over.
–JE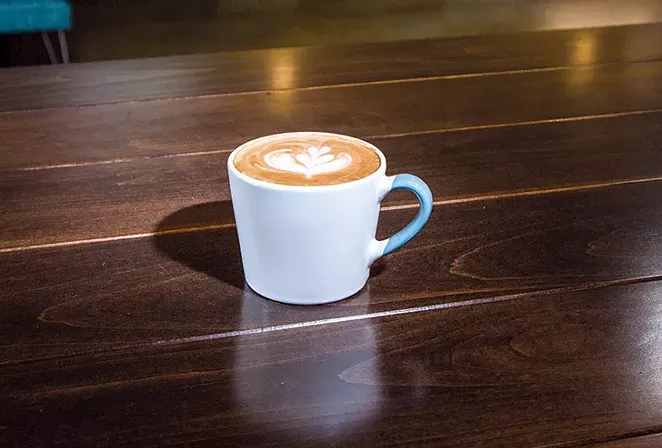 Summermoon
3233 N. St. Mary's St., Suite 102, (210) 320-1773, woodfiredcoffee.com
Wood-fired coffee beans and Moon Milk are just two things that make San Antonio's newest coffee shop so addicting and unique. This Austin-based shop that is Summermoon Coffee, which opened in October.
So what is this mysterious Moon Milk all about? It's basically a combination of seven secret, all-natural, all-organic, sweet ingredients they add to your milk (or any non-diary alternatives) to create a magical flavor that can only be explained as … heavenly.
Their most popular drinks are their Moon Milk lattes, which they call Wintermoon for iced and Summermoon for hot. Getting a latte with a Full Moon (full strength of Moon Milk) might be more sweetness than you're ready for but you can adjust that by asking for Half Moon (think vanilla latte on the sweetness scale) or even a Quarter Moon.
A good quality cup of coffee is one that's smooth and not bitter and that's exactly what you can expect from Summermoon. To achieve this perfect flavor they stepped back in time (to around the 19th century) and built a brick hearth when they opened their first shop in 2002 to roast their beans in. And it's not powered by gas or electricity, but rather a wood fire, fueled by Texas Oak and three people hand-roasting the beans daily in south Austin.
Aside from Moon Milk and smooth-flavored coffee, you can also order blended drinks such as an espresso milkshake, frozen hot chocolate or an organic fruit smoothie. To eat, they have pastries from Bird Bakery, tacos from El Milagrito Café and a few sandwiches. Located next to the TriPoint, the space inside is trendy and welcoming with plenty of tables and chairs and even a few outside. Each Summermoon Coffee shop has a unique vibe of its own but the quality of the product remains the same.
–LL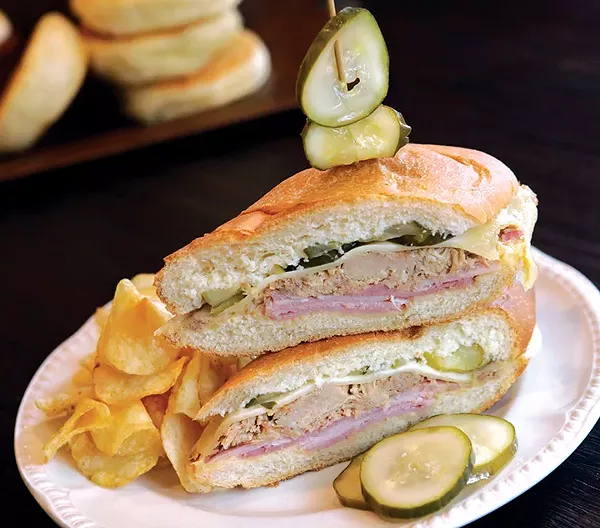 The Bread Box
555 W. Bitters Road, Suite 1115, (210) 277-8612, thebreadboxsa.com

Delicious bread, warm soups, and freshly baked deserts are foods that just scream fall. The Bread Box in the Alley on Bitters has now been serving up all of these, and more since their restaurant opened last November. The eatery serves a plethora of great sandwiches, salads and breakfast options on the menu, all prepared in house by co-owner Lucas Kent.
The Bread Box offers up many daily specials, including cupcakes, cakes, pies, soups and entrees. Typically these specials will reflect the season; on my particular visit they had a delicious curried potato soup. Other fall options they've had have been curried zucchini, chicken noodle, and other autumnal favorites. The entrees have been seasonal spicy gumbos, and roasted turkey dishes that are excellent for keeping us warm and toasty in the chill of fall and winter months.
The desserts however are what complete the menu and make the Bread Box shine. With permanent menu items like apple pie, pecan pie and bread pudding, the daily offerings expand the menu even more with seasonal favorites. The shining star of the menu though is the Bambino Huey dessert.
The Bambino Huey is a dessert that is perfect for later in the year. It's a dish that is similar to a sugar cookie, but made in a small glass dish (like a pie) the center is filled with custard and then topped with whipped cream. It was a dessert that was popular at Bambino's back in the '90s and after the restaurant closed, the dessert was unavailable. The Bread Box received permission from the creator to have it offered on their menu, and it's not to be missed.
There isn't a bad item on the menu at Bread Box, and with so many delicious options, it's a place you'll keep going back to again and again.
–EW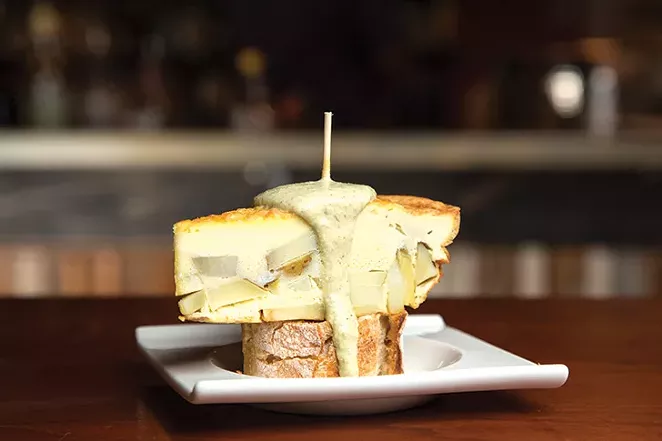 The Bin

511 E. Grayson St., (210) 994-8099

At 40, Jason Dady most definitely still has some tricks up his sleeve. And he knows San Antonians love a tipple or two or three …
After announcing the opening of The Bin in mid-September as a way to bring back the Artisans Alley eatery he opened in 2006 only to close it later to make way for Umai Mi, Dady and co have delivered a new concept to the area. Who knew we needed a chill, mostly inexpensive and authentic tapas bar?
And unlike his other efforts with specific audiences, The Bin is laid-back and staffed by knowledgeable employees who will help you achieve any task at hand whether you're hoping to have a few snacks before heading out for the night or you're looking for a cozy date night spot or you're in search of a place for a few pals to share a couple of wine-filled porrones with.
Visits (and there should be multiple) to The Bin must include an assortment of bites. Broken down into small, medium and large tapas, the menu includes deviled eggs, olives wrapped in piparra peppers and anchovies, a tortilla Española with crunchy potato chip bits, Spanish olives, stuffed piquillo peppers and mini baguette sandwiches.
You'll want to double your order of the grilled goat cheese sandwiches with tomato jam (a crossover item from Bin 555) because sharing won't be an option. The Spanish octopus, with extra virgin olive oil and smoked paprika is also a must, and if you're feeling the treat-yo-self spirit, an order of thinly sliced Iberico or Serrano ham is also in order. Split a porron, order the Jose Andres G&T or the grapefruit variety and enjoy. It's not a ticket to España, but it'll most certainly do.
—JE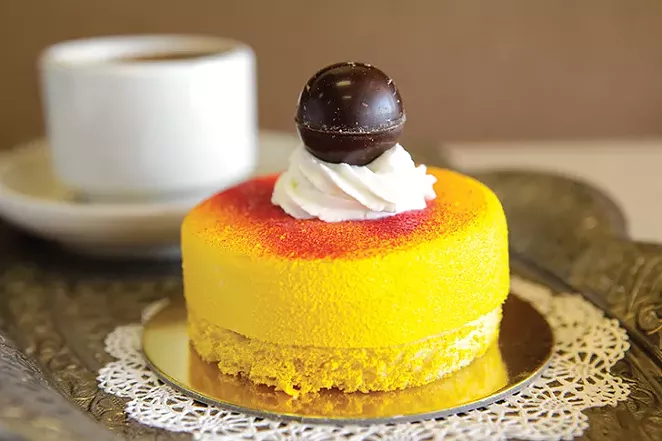 Baklovah Bakery
9329 Wurzbach Road, Suite 104, (210) 982-3231
This October San Antonio gained yet another bakery. But where we've got plenty of panaderias and a few French bakeries already filling bellies, a hole remained to be filled. These days, we're filling it with assorted baklavas from Baklovah Bakery.
Opened by the same owners as Pasha Mediterranean Grill (multiple locations), Baklovah Bakery sits in the same complex as sister eateries Pasha and Naara, and Ali Baba's International Market. In case your sweet tooth strikes after noshing on hummus and kebabs or after finishing a hookah, make your way over to the gleaming bakery. What lies before you are several cases worth of Mediterranean baked goods, and you'll want to show restraint or risk blowing your budget on dessert.
There are oodles of cookies to choose from — grab a few of those for your morning coffee. A case of almost-too-cute mousses, cream puffs, large macarons and opera cakes Pick up a few of these too, as flavor combinations change often (the traditional chocolate and matcha lime shouldn't be missed).
But the stars of the show are in the large display case in the corner. One look at the spread in front of you is euphoric and overwhelming at once. Choose between Turkish baklava nests, walnut baklava, pistachio baklava or rolled pistachio lady fingers so dainty you'll wonder who's tasked with coiling these two-bite cuties. Asked for a warmed kanafeh, a cheese pastry delicately bathed in rose water for an extra special treat.
–JE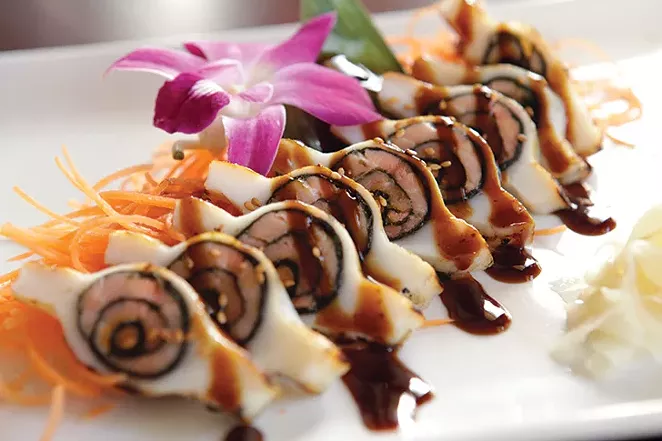 Sukeban
1420 S. Alamo St., Suite 101, (210) 562 3231

Sukeban, Blue Star's sushi and sparkling wine bôite with an anime vibe, has been open long enough now to get its groove. The cheeky boss-girl and Samurai sword-wielder murals suggested irreverence from the get-go, while the shou sugi ban (charred wood) wall cladding, suggested a nod to the traditional past. Where does that leave us? Right about where you think it might: deliciously in between attitudes.
For starters, sparkling wine isn't what most of us first think of when Japanese cuisine comes to mind; for those of a classic bent, several sakes, and a number of fine Japanese whiskies are available. But it's the sparklers that are the true passion of Gerry Shirley, who, along with his wife Mon, are the twin poles of the place.
Place an order of nigiri or sashimi, take a tiny bit of the wasabi that will appear alongside (you can dilute it with soy sauce), and then follow it with a sip of your sparkler. Does it work for you? It did for me, with the bubbles racing along the tongue in pursuit of the sharpness of the wasabi. The irony, however, is that the wasabi-soy dip, which most of us are used to using no matter what, is often not needed or wanted at all.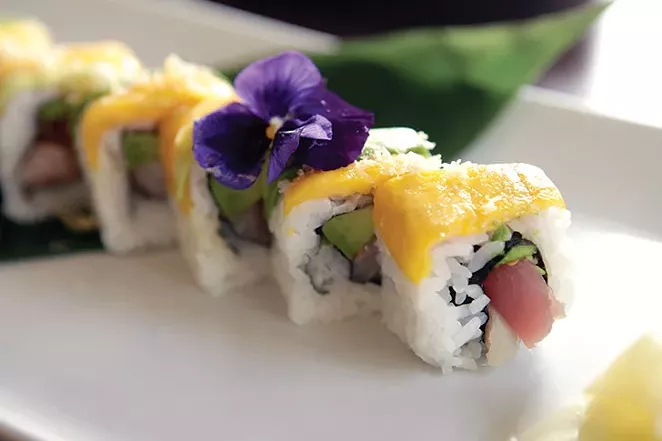 DaIf it's the pure taste of fish you're after, head straight for the sashimi — and if your server suggests that a particular offering is good right now, pay attention. The suggestion landed me an especially fresh and delicate order of silky, sliced yellowtail. It was so pristine, in fact, that I almost totally resisted dunking in the soy-wasabi. Again, the bubbly was boss. I'd also have it with the Japanese omelet, done expertly here, that many consider to be another real test of a sushi joint.
–RB


Snopioca
6423 Babcock Road, Suite 104, (210) 455-8638, snopioca.com

San Antonians with sweet tooth are getting their fill of Taiwanese shaved snow when Snopioca opened in early September.
The shop, opened by Texas transplant Steven Lee and business partner Jerry Han, occupies 2,000-square-feet of utilitarian space. Asian shaved snow or ice uses dairy products and flavoring, which are frozen and then shaved into ribbon-like layers. The result is fluffy and soft, milky but not yet creamy and customizable.
Snopioca's starting lineup of flavors include the basic cream, mango, strawberry, taro root, honeydew and matcha green tea. As customers come into the shop, they fill out a paper slip with choice of ice, fruits, toppings and syrups. A regular serving will cost $5.25 plus tax for one topping and one drizzle and a large will cost $7.25 for 2 toppings and one drizzle.
But the specialty treats aren't confined to the usual flavors or just sweets (they've added Korean sushi and Spam musubi recently).
This October, Lee and Han whipped up a delectable batch of pumpkin spice shaved ice topped with Teddy Grahams, cinnamon and candy corn. Here's how one writer described it: "The snow stretches and works like a membranous type of cotton candy, pulling apart before each crystalline crunch. The syrupy milk, beeswax in color, warms what it touches and lends a calming viscosity to the textural topography. The Teddy Grahams work well, soft with a fine bite and a good snort of cinnamon, but the candy corn (often an exception to my dormant sweet tooth) becomes unpleasantly stony when cold, though a warming period in your mouth softens them into edibility. The cumulative effect of the snow and toppings is a textural mélange, though one that favors the softer side of the spectrum, accompanied by dulcet pumpkin undertones, soft cinnamon and spice accents, and just enough sugar to remind you that you're treating yourself."
–MS