Page 5 of 5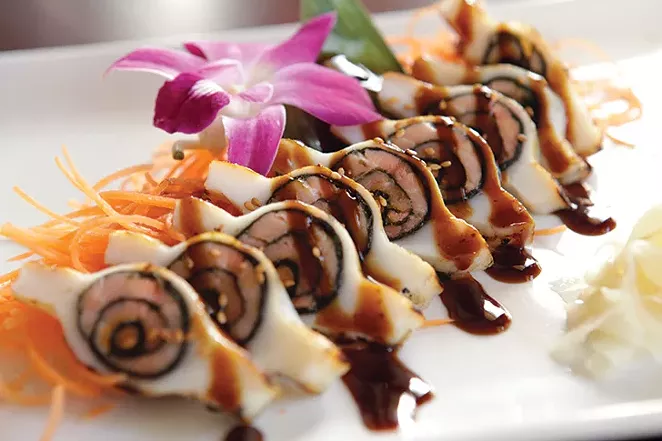 Sukeban
1420 S. Alamo St., Suite 101, (210) 562 3231

Sukeban, Blue Star's sushi and sparkling wine bôite with an anime vibe, has been open long enough now to get its groove. The cheeky boss-girl and Samurai sword-wielder murals suggested irreverence from the get-go, while the shou sugi ban (charred wood) wall cladding, suggested a nod to the traditional past. Where does that leave us? Right about where you think it might: deliciously in between attitudes.
For starters, sparkling wine isn't what most of us first think of when Japanese cuisine comes to mind; for those of a classic bent, several sakes, and a number of fine Japanese whiskies are available. But it's the sparklers that are the true passion of Gerry Shirley, who, along with his wife Mon, are the twin poles of the place.
Place an order of nigiri or sashimi, take a tiny bit of the wasabi that will appear alongside (you can dilute it with soy sauce), and then follow it with a sip of your sparkler. Does it work for you? It did for me, with the bubbles racing along the tongue in pursuit of the sharpness of the wasabi. The irony, however, is that the wasabi-soy dip, which most of us are used to using no matter what, is often not needed or wanted at all.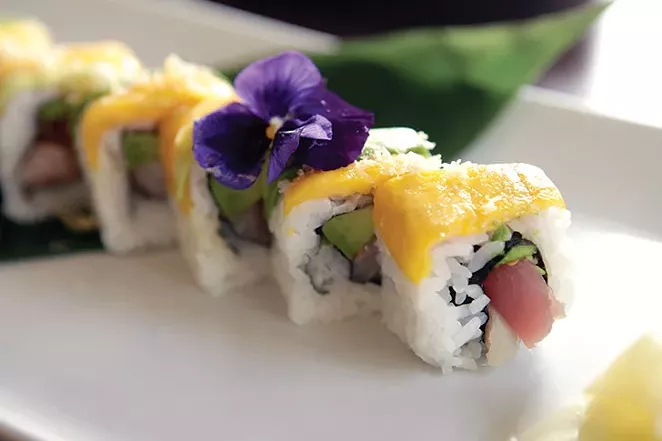 DaIf it's the pure taste of fish you're after, head straight for the sashimi — and if your server suggests that a particular offering is good right now, pay attention. The suggestion landed me an especially fresh and delicate order of silky, sliced yellowtail. It was so pristine, in fact, that I almost totally resisted dunking in the soy-wasabi. Again, the bubbly was boss. I'd also have it with the Japanese omelet, done expertly here, that many consider to be another real test of a sushi joint.
–RB


Snopioca
6423 Babcock Road, Suite 104, (210) 455-8638, snopioca.com

San Antonians with sweet tooth are getting their fill of Taiwanese shaved snow when Snopioca opened in early September.
The shop, opened by Texas transplant Steven Lee and business partner Jerry Han, occupies 2,000-square-feet of utilitarian space. Asian shaved snow or ice uses dairy products and flavoring, which are frozen and then shaved into ribbon-like layers. The result is fluffy and soft, milky but not yet creamy and customizable.
Snopioca's starting lineup of flavors include the basic cream, mango, strawberry, taro root, honeydew and matcha green tea. As customers come into the shop, they fill out a paper slip with choice of ice, fruits, toppings and syrups. A regular serving will cost $5.25 plus tax for one topping and one drizzle and a large will cost $7.25 for 2 toppings and one drizzle.
But the specialty treats aren't confined to the usual flavors or just sweets (they've added Korean sushi and Spam musubi recently).
This October, Lee and Han whipped up a delectable batch of pumpkin spice shaved ice topped with Teddy Grahams, cinnamon and candy corn. Here's how one writer described it: "The snow stretches and works like a membranous type of cotton candy, pulling apart before each crystalline crunch. The syrupy milk, beeswax in color, warms what it touches and lends a calming viscosity to the textural topography. The Teddy Grahams work well, soft with a fine bite and a good snort of cinnamon, but the candy corn (often an exception to my dormant sweet tooth) becomes unpleasantly stony when cold, though a warming period in your mouth softens them into edibility. The cumulative effect of the snow and toppings is a textural mélange, though one that favors the softer side of the spectrum, accompanied by dulcet pumpkin undertones, soft cinnamon and spice accents, and just enough sugar to remind you that you're treating yourself."
–MS