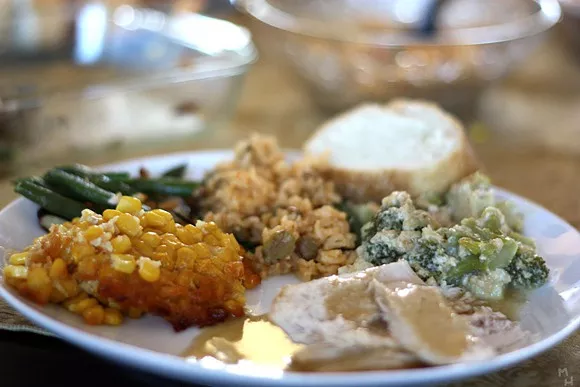 Marcus Quigmire via Wikimedia Commons
None of the above, apparently.
More than 9,700 people were polled on the all-important topic of Thanksgiving side dishes by opinion site
Ranker
, and according to this very, very scientific survey, America's favorite Thanksgiving side dishes are as follows (drum roll, please):
Mashed potatoes

Stuffing

Gravy

Bread

Green bean casserole

Corn on the cob

Macaroni and cheese

Baked sweet potatoes

Sweet potato pie

Crescent rolls
The people have spoken! Mashed potatoes win, surprising literally nobody.
(I'd like to point out a couple of very important things: One, please notice that there is no marshmallow-topped sweet potato abomination casserole anywhere on the list – good for you, America; now let's get rid of its henchman, the green bean atrocity casserole – and two, crescent rolls? Really? Please don't buy your bread in a can. You're better than that.)
More slicing/dicing of the results?
MEN voted stuffing as their favorite side, and included brussel sprouts and garlic bread in their top 10.

WOMEN included yams and green beans in their top 10.

MILLENNIALS chose stuffing as their No. 1 Thanksgiving side.

BABY BOOMERS included cranberry jelly in their top 10
See our list of easy side-dish recipes (coming soon!), where to buy your turkey this year, and where to buy your sides if you don't feel like cooking.