Gov. Rick Perry announced yesterday
, after
humble-
bragging about all his accomplishments in office for the past 13 years, that he will not seek reelection as Governor of Texas. And he did it right here in San Anto, at the HoltCat facility on the city's southeast side.
Perry was coy about future plans, though his announcement already has tongues wagging about another presidential campaign. During his speech he merely said the next 18 months in office would see him, "pray and reflect and work to determine my own future path."
Sounds like he could use some advice, no? On our Facebook page, we asked you for your opinion on how Perry should spend his years after being the longest-serving governor in Texas. And boy, did you respond. Here are the top 20 tips from more than 150 entries.
20. Roland Casares President
19. Hugh Donagher Enjoy retirement. Away from humanity.
18. Eli Aguirre Go sell snow cones!!
17. Rusty Thurman Consider donating all of his wealth to charity and live out a pious life like the Christian he claims to be.
16. Olga Pineda Zuniga Don't run for any public office. Adios Mofo!!!!!
15. Michael N Linda Attwood Enjoy your retirement and try to focus on doing good. Donate to education, get to know the real Texas - not the select few, focus on family and open your mind. LA
This is clearly Gov. Perry's future park statue pose
14.  Betsey Garland Park statue.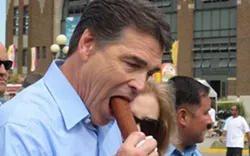 13. Conrad Soriano Jr. He should be a gay pornstar for he can get FUCK like the way he Fuck all Texans. Get fuck Perry! Yeah I said it.
12. Allison Fink I hope he enjoys a quiet, private, non-influential retirement!
11. Laurel Sagebiel Maybe he can go around from school to school and apologize to our teachers and students for really screwing them over.
10. Edmundo Martinez Arkham Asylum
Pro-choice activists come out to protest Perry's anti-abortion policies. Photo by Mary Tuma.
9. Michelle Klusman Disappear Please! And leave women alone—he doesn't know what's best for us!!
http://www.youtube.com/watch?v=0uvmKnFY4uk
8. Michael Fierro He can go back to school and learn what departments exist within the government (i.e. education, energy, commerce, transportation, etc.)
7. Lynn Knapik Find a private sector job for a change.
6. Rosalie M Hinojosa Maybe work for the Border Patrol....keep us Mexicans out
5. Albert Davila Sell cars on S.W. Military...Now what's it gonna take to getcha into this car today?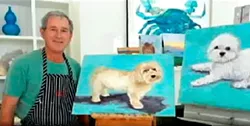 4. Rene Molina Hang out with George Bush and paint dogs, and never be heard from again.
3. Jeff Turner He should burn down the Governor's Mansion AGAIN.
2. Steve Alper Memo to self: look for wizard: ask for a heart and a brain.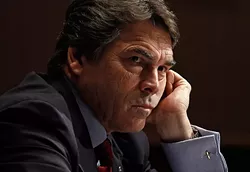 1. Sean Knox Just a thought but, maybe he could stop praying and use his brain to solve problems...I know it sounds crazy but it works...lol
What's your advice for Gov. Perry? Leave it in the comments below.