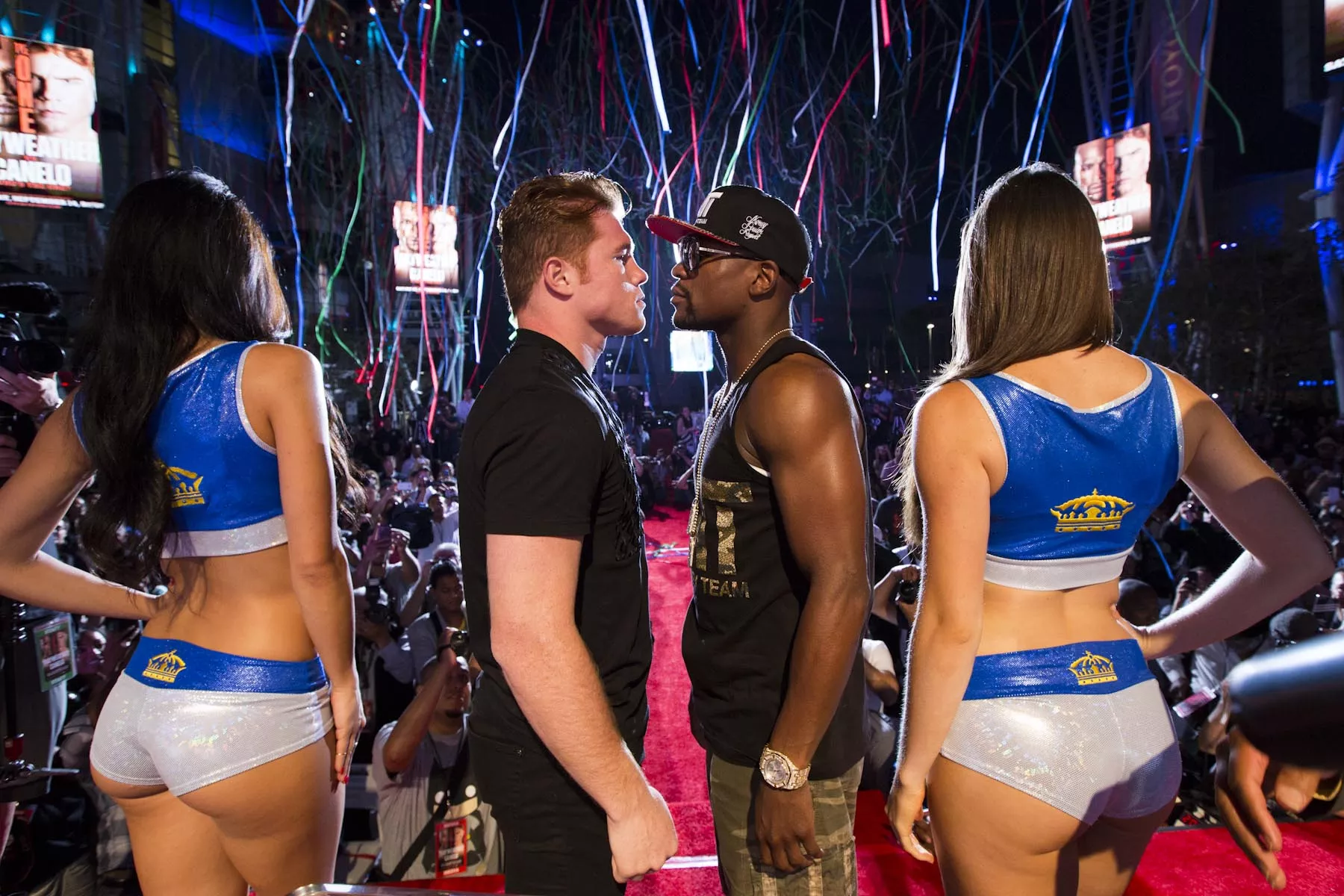 At this point, you might think my obsession with the Floyd Mayweather Jr.-Canelo Álvarez fight is due to some contractual obligation I may have with Showtime, but you'd be wrong.
For starters, the fact that this fight is happening at all has nothing to do with boxing's desire "to give the fans what they want." That's baloney. If boxing (and that includes Mayweather, who is the face of boxing) wanted to give fans "what they want," then the Mayweather-Manny Pacquiao fight would've happened several years ago, when both fighters (especially Pacquiao) were in their prime. The real reason why we have two terrific fights tomorrow in Las Vegas is because boxing got tired of getting its ass kicked by UFC and similar cage fights. And because Mayweather, who is quickly approaching the end of his impressive run, wants to make a lot of money fighting a high-profile, marketable opponent he thinks he can beat.
In other words: boxing is full of shit, and the only reason I'm pushing this fight with such enthusiasm is that it's going to be a terrific one that may or may not change the history of the sport, but has plenty of interesting hooks.
Here's my personal top three reasons why we just can't miss this one:
# 3: Jimmy Lennon Jr.
When it comes to boxing announcers, Michael "Let's Get Ready to Rumble!" Buffer has the voice, the looks, and the reputation as the most popular boxing announcer. But he's far from the best.
That title belongs to the classy Jimmy Lennon Jr., the son of arguably the greatest boxing announcer ever. "My father once told me every man has the right to have his name pronounced properly," Lennon Jr. once said, and that's why he's so great. Buffer has a tremendous voice and delivery but, on the other hand, has made a career of slaughtering foreign names (and some English ones too). Can anyone please tell him the difference between "r" and "rr" in the Spanish language? It's not "Marrgarrito," you fool! Either no one told him, or Buffer just doesn't give a damn.
Fortunately, Saturday's fight will be announced by Lennon Jr., in what will be his moment of glory. He deserves it.
# 2: Matthysse-García is almost as good as the main event
We've all been talking about the Mayweather-Canelo fight, but lots of people will be surprised by the undercard: Argentina's Lucas Matthysse (34-2-0, with 32 KOs, which makes him the active fighter with the highest KO percentage in the world) will face undefeated Danny García (26-0 with 16 KOs). It is a unification bout for the light welterweight title between to world champions who can't stand each other.
Matthysse is a brawler with above-average boxing abilities, and García a tough, all-around boxer with decent hand power.
Matthysse's finest hour was his demolition of highly regarded Lamont Peterson in May.
García's moment was a KO upset of Amir Khan in July of 2012.
Here's Yahoo Sports! Expert Kevin Iole and his prediction:
# 1: It's anybody's fight, really
I learned my lesson: Never again bet against Floyd Mayweather Jr. Love him or hate him, the 36-year-old champion has always found a way to win his fights, even those that some haters believe he lost. No, he didn't. Mayweather, still considered the best pound-for-pound boxer in the world, is just too good defensively and an accurate counterpuncher with more power than he gets credit for.
But if there is one fighter who could beat him, that's Canelo. Against Justin Trout in San Antonio, the 23-year-old Mexican showed enough punching power to drop a man who had never been on the canvas before and enough boxing skills and ring generalship to stay out of trouble when the going got tough. The question is: will he score enough combinations and step back in time before the Money Boy scores against him? Will he catch Mayweather, something no one has been able to do before?
Mayweather is right: Canelo has never fought anyone like him, but the opposite is also true: Mayweather has never fought anyone with such a perfect boxer-puncher combination: Márquez had a glass jaw; Castillo and Hatton were bums; De La Hoya was past his prime; Cotto wasn't fast enough. And we could go on forever. Canelo, on the other hand, is the rare case of a puncher that won't get desperate if the knockout doesn't come soon. He'll go to the body and wait patiently for his chances.
The key in the fight is the catch weight: Canelo, who is the 154 lb champion, will go down to 152, and Mayweather (who usually fights at 147), will go up. Will Canelo be drained? Will Mayweather be stronger? Or will it be a case of Canelo being faster and Mayweather being slower? We'll see. My heart is with Canelo, but my brain keeps telling me Mayweather is just too good. If Canelo pulls it off, we'll be in the presence of the most important Mexican fighter since the great Julio César Chávez.
Remember: if you don't want to pay almost 80 bucks to watch the fight at home, click here to find a theater or bar near you.
Here's Iole and Lennon Jr.'s take on the fight.
Finally, go to the next page to hear the opinion of Sugar Shane Mosley, who fought both Mayweather and Canelo, losing to both by unanimous decision.