It was a dismal year for women's health in Texas— the state legislature passed a sweeping package of some of the most
restrictive reproductive health laws
in the country, including a ban on abortion at 20 weeks, regulations on abortion medication and rules that creates hurdles for abortion physicians and clinics. While an ongoing court challenge waged by health advocates hopes to block part of the law, it couldn't be stopped in the interim and went into effect earlier this year. Abortion clinics and patients are already feeling the law's painful impact. With little to no scientific evidence to back up their claims, bill authors adamantly defended the restrictions as a way to improve women's safety during the controversial debate at the Capitol this summer. The same legislators simultaneously vocalized their vehement anti-abortion stance, bringing into question their true intentions. We rounded up some of the most jaw-dropping statements from the mouths of your elected officials who, either authored, sponsored or supported the latest Texas abortion law— don't be surprised if they have you asking how the @#$! are
these
are the people in charge of legislating women's health?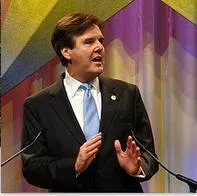 Via State Sen. Dan Patrick Campaign Web Site
5. "We talked about the choice, you ask us, well don't we put ourselves in the place of the woman and her choice, what choice does the baby have? Who speaks for the baby? Do you think if the mother had a conversation with the baby and said, 'you know, this just isn't really convenient to give birth to you right now, do you mind dying?' - State Sen. Dan Patrick (R-Houston) on the Senate floor lobbying for the Texas abortion law (Dan Patrick Has God on His Side, According to Dan Patrick, Texas Observer, July 16, 2013)
CONTINUED ON NEXT PAGE
Via Lt. Gov. David Dewhurst Twitter Feed (Yep, this one's still up there.)
4. "We fought to pass SB5 thru the Senate last night, & this is why!," alongside an infographic from Planned Parenthood that shows the bill would "essentially ban abortion statewide."
 -A Tweet from Republican Lt. Gov. David Dewhurst, who claims the purpose of the bill is to protect the life of the abortion patient (
House Approves Anti-Abortion Bill Despite Hundreds of Protestors, June 24, 2013
)
CONTINUED ON NEXT PAGE
Via State Sen. Donna Campbell Web Site/Facebook
3. 

"When I hear your argument—you were not aborted. I'm amazed at those who make a point of promoting abortion. They're all alive, your mom didn't abort you."
-State Sen. Donna Campbell (R-New Braunfels) to a pro-choice advocate during a Senate Education hearing on a bill banning abortion-affiliated groups like Planned Parenthood from teaching sex ed  (
How To Close Abortion Clinics Under the Guise of Women's Safety, SA Current, March 25, 2013
)
CONTINUED ON NEXT PAGE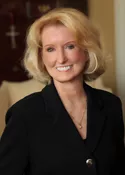 Via Texas House of Representatives
2.
"
We have funded what's called rape kits that will help the woman, basically clean her out. And then hopefully that will alleviate that."
– Rep. Jodie Laubenberg (R-Parker) suggesting rape kits are the same as abortion procedures while challenging an amendment to the abortion law that would make exceptions for cases of rape or incest. (
House Approves Anti-Abortion Bill Despite Hundreds of Protestors, June 24, 2013
)
CONTINUED ON NEXT PAGE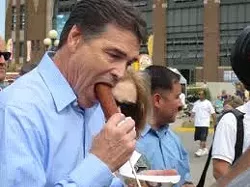 Via Creative Commons Images
1. "My goal, and the goal of all of us gathered here today, is to make abortion, at any stage, a thing of the past." -Gov. Rick Perry during a January anti-abortion rally at the Capitol. A few months later, Perry called a special legislative session to push through the abortion laws. (Gov. Perry: We Must Continue Working to Make Abortion a Thing of the Past, Office of the Governor, Jan. 26, 2013)
CONTINUED ON NEXT PAGE