Related
:
A Day in the Life: SA Pops
Let's not kid ourselves. Soon, the rain will make its way out of town and we'll go back to triple digit temperatures and triple digit humidity. But we can manage, like we always have, with cool treats.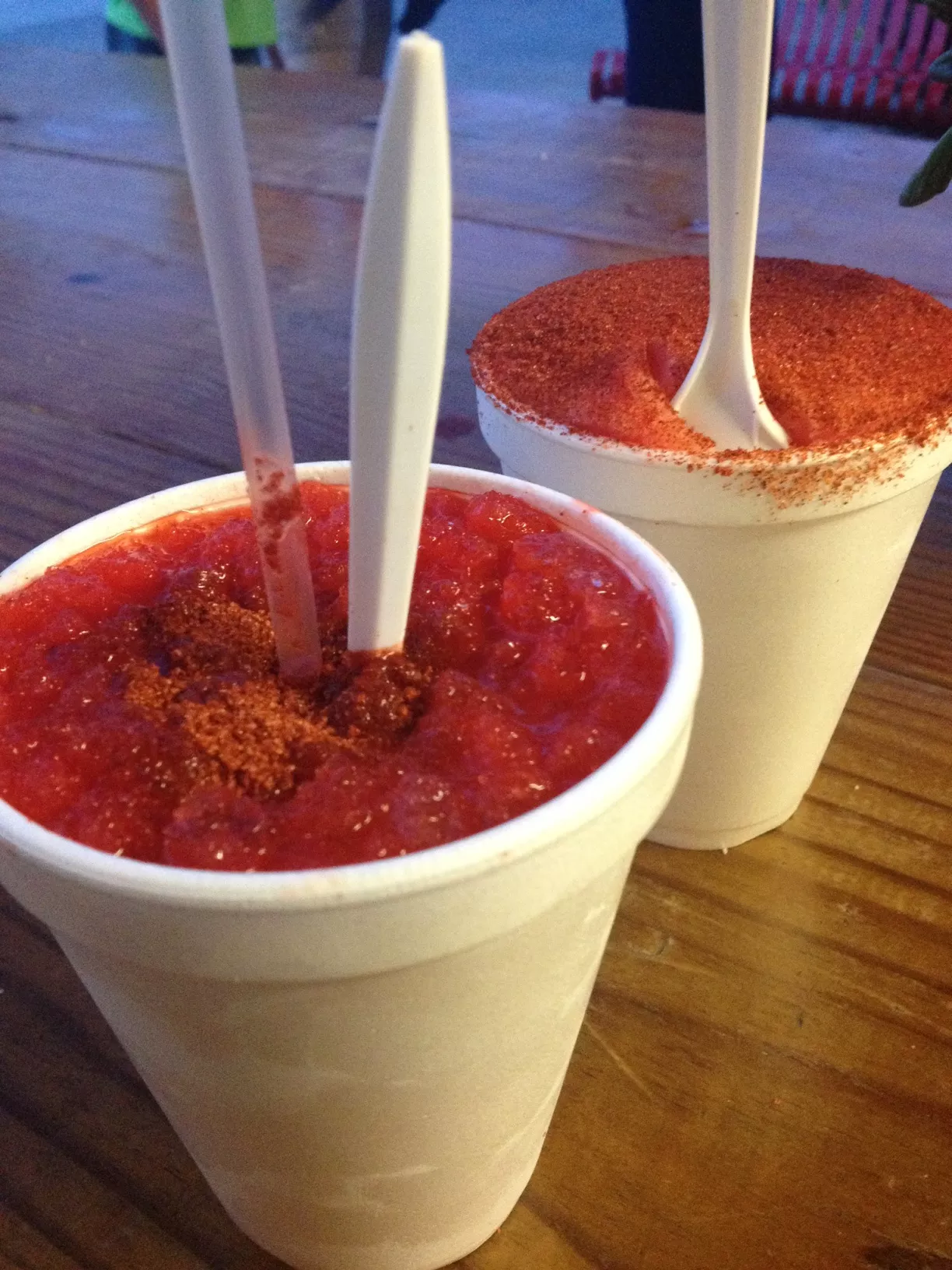 A small chango at Las Nieves (don't forget about the natural shaved ice).
1. Chango from Las Nieves (1118 W Hildebrand Ave/4310 Blanco Road): This is honestly a toss up. Grab a cold Chango with its mix of crushed ice, pickle juice, chamoy, and Lucas and satiate your  need for a sodium-rich icy treat, OR, grab a nieve. Pureed, frozen fruit shaved down to resemble a fresh blanket of snow, nieves (or natural shaved ice) come in several flavors including watermelon, mango, cantaloupe, pineapple, lime, blackberry, chamoy, cucumber with Lucas and lime and strawberry. You won't pay more than $3 for either dessert, and that's always great.
2. Coconut Paletas from El Paraiso (1934 Fredericksburg): You've got a boatload of other pops to pick from, sure, but coconut has it all. You're getting some fiber from the shaved coconut, you're getting dairy from the milk used in the pop, and you're getting...ummm sugar. Still, this refreshing treat won't weigh you down.
3. Orange Freeze from Burger Boy (2323 N. St. Mary's St.): Whether you're stopping in for a complete Bates special or just in the mood for something nostalgic and refreshing, Burger Boy's got you covered. Bonus: The Orange Freeze goes well with rum and/or vodka. Just sayin'.
4. Almond Froyo from Chill Out SA (4718 Broadway St): It's difficult enough to try and zero in on the best yogurt places in town (let's save that for another blog post). Having said that, the almond froyo is one of the shop's best-selling flavors. Owner Jackie Beretta has perfected the ratio of almond extract to cultured yogurt, making the froyo one of the creamiest and dreamiest flavors around.
5. Shiner Ice Cream  (Amy's Ice Cream, 255 E Basse Road): One of the rotating alcoholic flavors available at the ice cream shop, Shiner Ice Cream blends two of our favorite things into one magical scoop. Don't go in expecting to get sloshed off a large scoop, but do expect a pleasant hint of Shiner mixed with Amy's sweet cream. The flavor isn't available 24/7, so make sure to check the shop's Facebook for weekly updates, or call the shop and order a pint for pick-up within the week.
Did we miss your favorite? Let us know in the comments below.